Highlights

The transport industry has played a critical role in the rise and fall of the human empires over centuries.
The need of the hour is to develop and advance the next generation of transport infrastructure and operations innovations.
EarlyBirds is open to helping businesses to capitalise on actionable innovations currently underway in the transportation space.
EarlyBirds, an Australian company engaged in fostering innovation, can benefit businesses that depend on transportation infrastructure for delivering goods and services. EarlyBirds can help such companies to draw benefit from the actionable innovations that are currently in the development pipeline in this space.
EarlyBirds helps in bring to spotlight innovators working to boost the flexibility, resilience, efficiency, and profitability of the transportation modes, operations, and infrastructure.
RELATED ARTICLE: EarlyBirds helps digital government initiatives keep pace with innovation speed
EarlyBirds is calling small, mid-sized, and large companies in the industry to sign up as an early adopter organisation. Through this, they can become a part of the many programs that focus on fostering and nurturing technological and process-based innovation.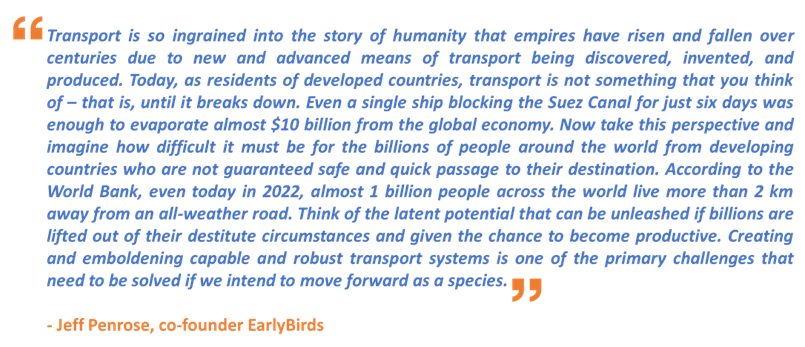 Source: EarlyBirds
RELATED ARTICLE: How EarlyBirds helps companies harness retail tech to up their game
Future of transportation through the lens of EarlyBirds
Painting a bright outlook for the future of transportation, EarlyBirds emphasises on how the upcoming couple of decades are shaping up to be an exciting time for transport technology.
EarlyBirds believes that the worldwide focus on curbing greenhouse gas emissions will result in enhanced interest in electric vehicles and various other vehicles with greener carbon footprints.
Source: © BiancoBlue | Megapixl.com
RELATED ARTICLE: How is EarlyBirds enabling customers to solve wicked problems of the future?
Given this backdrop, EarlyBirds expects following key developments to take shape in transport domain:
Ride-sharing apps will gain traction more than ever and broaden the concept of on-demand transport.
High bandwidth and high speed 5G network spanning across countries will facilitate communications between moving vehicles.
The high-speed network-enabled ecosystem could lead to a future where self-driving vehicles on the road would be able to interact with each other, eradicating traffic challenges and accidents that occur due to human error.
Scientific computing could open doors to new possibilities in the realm of simulations and data modelling, with quantum computers solving route planning issues.
RELATED ARTICLE: How is EarlyBirds helping biotech companies leverage innovation from start-ups?
How can EarlyBirds help?
Kris Poria, the other co-founder of EarlyBirds, has highlighted the ways EarlyBirds can support innovators in making a lasting impact on the ongoing advancements in transport technology.
He says, "If you are an innovator organisation, your main focus is likely on getting enough funding to keep the lights on and see your research through to its logical conclusion. The early adopters have the resources to make it happen. You will not only get the monetary support you need, but you will also be able to leverage the vast networks that they have painstakingly built over the years to find an audience that is ready and willing to adopt your innovation the moment that is ready for commercialization."
Source: EarlyBirds
Besides this, EarlyBirds will also help by getting innovator organisations in touch with subject matter experts (SMEs) that will act as mediators. Using their sophisticated knowledge of a technological domain, these SMEs assist innovator organisations throughout their journey and help the early adopters make wise investment decisions.
RELATED ARTICLE: How EarlyBirds enables businesses to embrace cleantech innovations
If your work is concerned with the future of transportation, you can sign up with EarlyBirds and watch your innovation transform into a truly game-changing phenomenon. For more information, you can visit the EarlyBirds website.