Summary

Creso Pharma has expanded its distribution agreement with Route2 Pharm to distribute its hemp-derived therapeutic products in Ecuador.
The Company has now extended its distribution agreement with Route2 Pharm to 14 countries.
Ecuador provides a significant market opportunity for Creso as the South American country recently passed legislation for the use of cannabis for medicinal purposes.
The cannabis player will leverage its global marketing and financial strength to unlock growth opportunities with Route2 and Highnoon.
Creso Pharma Limited (ASX:CPH, FRA:1X8) has announced the expansion of its distribution agreement with Route2 Pharm Pvt Ltd, a leading nutritional supplements player. The extension would allow the distribution of Creso's innovative hemp-derived therapeutic products, marketed under the cannaQIX® and CannaDOL brands in Ecuador.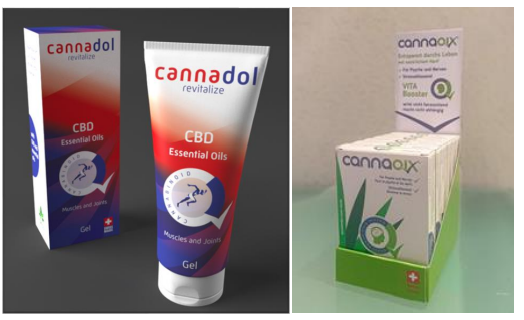 cannaDOL 0.5% and 1% 100mL gel tubes and CannaQIX10 (Source: CPH update, 9 March 2021)
ALSO READ: Legislative tailwinds to bolster Creso and Halucenex's entry into US psychedelics market
The extension provides Creso Pharma with access to the fast-growing Latin American CBD market. The extension follows the Company's initial distribution agreement, secured with Route2 Pharm in February 2021. Notably, Route2Health has a strategic association with one of the most successful and progressive pharmaceutical companies in Pakistan, Highnoon Laboratories Limited (PSX:HINOON).
Under the extended contract, both parties have agreed to leverage their combined global reach to include Ecuador to the existing markets of Afghanistan, Azerbaijan, Bangladesh, Cambodia, Georgia, the Maldives, Myanmar, Pakistan, the Philippines, Tajikistan, Turkmenistan, Uzbekistan, and Vietnam, subject to further regulatory approvals. All other agreement terms remain unchanged.
MUST READ: Creso in high spirits as Halucenex readies to enter the US market with new deal
The extended agreement follows the initial deal finalised in February. Under the terms of the three-year deal signed in February, Route2 has exclusivity rights for cannaQIX® and cannaDOL in the Exclusive Territories, subject to the Lahore-based firm accomplishing minimum order quantities for each product during the first contractual year (1 January to 31 December).
Ecuador to provide a firm footing in the US$300M Latin American market
Creso Pharma believes that Ecuador presents a significant market opportunity as the country provides a favourable operating jurisdiction. Notably, the Ecuadorian National Assembly passed legislation in 2019 to approve the production, commercialisation, use and consumption of cannabis for medicinal or therapeutic treatment.
Ecuador has a population of more than 15 million and is part of the rapidly evolving medicinal cannabis market in the Latin American and Caribbean region, which has an estimated population of 655 million.
Furthermore, Creso is confident that Ecuador will offer the Company a solid foothold in the lucrative Latin American cannabis market. It is noteworthy to mention that the Latin American cannabis market is anticipated to grow to more than US$300 million in value by 2024.
DID YOU KNOW: Creso Pharma expands its European footprint with Polvet Healthcare commercial agreement
Creso's product portfolio focuses on four important areas - therapeutics, animal health, nutraceuticals, and cosmetics. Currently, the Company has a product portfolio of 13 products, eight of which have been commercialised and generating consistent revenue. Creso plans to commercialise the other products shortly.
ALSO READ: A snapshot of Creso Pharma's nutraceutical products portfolio
Route2 in a nutshell
Route2 is a subsidiary of Route2Health located in Lahore, Pakistan.
The group has more than 30 years of experience in pharmaceutical science and focuses on manufacturing and distributing top-notch dietary supplements and herbal remedies.
Route2 has several notable national and international partnerships, including the collaboration with Highnoon Laboratories, Himalaya, and Engelhard Arzneimittel.
Management Commentary
Adam Blumenthal, Non-executive Chairman of Creso, commented-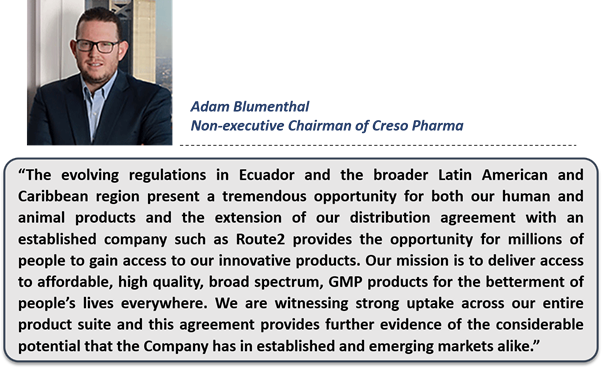 Tausif Khan, the Chairman of Route2 and Highnoon Laboratories, stated:

Shahnawaz Baig, Managing Director of Route2, added:
On 4 June 2021, CPH shares were trading at AU$0.167 at 3:13 PM AEST.
ALSO READ: Creso Pharma (ASX:CPH) to foray into global livestock market with anibidiol® swine