Source: © Andreyyalansky19 | Megapixl.com
Summary

Creso Pharma is set to raise A$18 million, with a heavily oversubscribed Placement, to advance value-accretive opportunities.
The Placement was strongly supported by leading Australian and international institutions, with John Langley Hancock being a key participant.
Creso would utilise the funds to conduct clinical trials, boost cannabis product marketing in Canada, and expand nutraceutical product sales globally.
Creso Pharma Limited (ASX:CPH, FRA:1X8) has received commitments from investors to raise ~A$18 million. The Placement was announced a few days after the Company disclosed its plan to dual list on the US OTC market. Creso revealed that ~94.7 million new fully paid ordinary shares would be issued at a per-share issue price of A$0.19.
Australian tycoon throws his weight behind Creso Pharma
Creso Pharma stated that the Placement was oversubscribed and firmly supported by various local and international institutions, including S3 Consortium Holdings, L1 Global Master Opportunities Fund, and Australian businessman Mr John Langley Hancock.
The issue price represents a 17.4% discount to the last traded price of A$0.23 on 23 March 2021 and an 8.8% discount to the 15-day volume-weighted average price (VWAP).
Other details:
The Placement will be undertaken in a single tranche within CPH's existing placement capacity under ASX Listing Rule 7.1A.
Creso Pharma also anticipates seeking shareholder approval to issue placement participants an option for every four shares issued.
The options will be exercisable at A$0.38 each on or before 12 months after the date of issue.
DO READ: Creso Pharma (ASX:CPH) seals a transformative deal to foray into psychedelics space
EverBlu Capital, the lead manager of the Placement
EverBlu Capital, the Placement's lead manager, would earn a 6% fee plus one million broker shares per A$5 million raised, subject to shareholders' approval.
On the successful completion of the capital raising, the Company has extended its engagement term with Everblu Corporate Pty Ltd by 24 months, with other terms and conditions remaining constant.
Creso Pharma is well-funded for psychedelic clinical trial
CPH is well-funded to execute its revenue-generating initiatives, including Phase II and Phase III clinical trial programs with its acquisition target Halucenex Life Sciences Inc. The acquisition is subject to shareholder approval.
The clinical trials would explore the efficacy of psychedelic molecules on several mental health indications, including depression and Post Traumatic Stress Disorder (PTSD), and create a new profitable vertical.

Source: CPH Presentation (15 March 2021)
Use of funds
Creso Pharma will use the capital raised to conduct psychedelic clinical trials upon completing the Halucenex transaction, besides expanding the marketing of cannabis products in Canada.
The funds will also be deployed:
To expand the Company's current nutraceutical offerings and global sales of nutraceutical products.
To scale up operations at Mernova Medicinal Inc, its wholly-owned Canadian subsidiary, in-line with recent rising demand for Mernova's products.
To advance the dual listing on the US OTCQB (OTC).
Creso Pharma stated that the OTC market is anticipated to offer greater access to the North American investment community.
ALSO READ: Creso Pharma's acquisition target Halucenex readies for PTSD trial
Management Commentary
Creso's Non-executive Chairman, Mr Adam Blumenthal, said that the well-bid Placement puts the Company in a strong financial position to progress several near-term revenue-generating activities. Mr Blumenthal highlighted the short-term focus would be the completion of Halucenex acquisition and clinical trials initiation.
He also emphasised that the acquisition provides Creso with access to a new lucrative vertical and a potential revenue stream.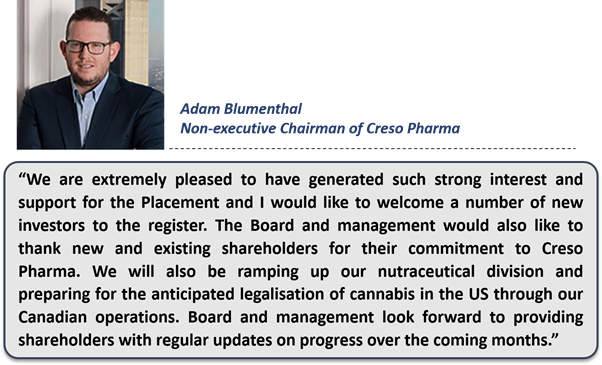 With a robust balance sheet, Creso Pharma serves as an appealing partner and is well-positioned to benefit from complementary acquisitions and opportunities if the federal legalisation of cannabis takes place in the US. Further, the Company is confident that the US OTC market listing, expected in Q2 CY2021, would provide additional global exposure.
On 31 March 2021, CPH shares last traded at A$0.200.