Summary

Gold is trading near US$1,800 oz, and more upside movement is likely on the cards.
Weaker dollar and rising inflation are also considered to be powering the recent bull run of the yellow metal.
Citigold Corporation operates the Charters Towers Gold Project in northern Queensland with an estimated resource of 14 Moz.
Charters Towers is Australia's highest-grade goldfield and has produced nearly 6.6Moz in the past.
Gold is in the news lately for all the right reasons. The precious metal edged up 8% during May, which is the highest monthly gain since July 2020. The macroeconomic factors, including weaker dollar and rising inflation, are fueling the current price uptrend of the yellow metal. Analysts are bullish on the prices of gold and are forecasting it to breach the all-time high of US$2074.88/ounce.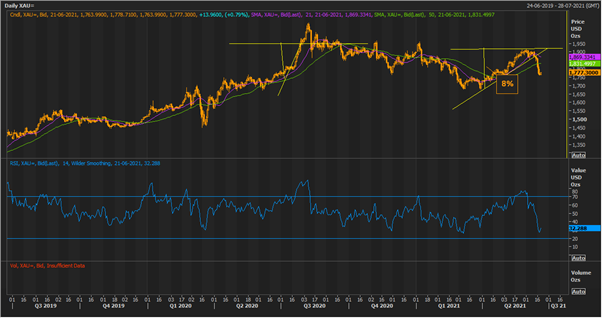 Technical chart for gold (Image source: Refinitiv Eikon, Analysis: Kalkine Media)
Read here: A kaleidoscopic view of Citigold's (ASX:CTO) Charters Towers Gold Project
Gold explorers and traders are capitalising on the gold bull run and are hopeful that the yellow metal will sustain its glitter for the long-term. Gold attracts huge investment in the form of physical purchases, commodity markets, through gold ETFs or gold stocks.
It's a no-brainer to invest in well-established gold companies that have big gold mines, churning out millions of ounces of gold every year. The large and mid-cap gold miners are also safe bets to invest, and a decent return could be expected.
Then there are junior mining companies which have comparatively smaller reserves and resources and have a scope of tremendous growth opportunities if their lease strikes gold. In this article, we will discuss one such junior gold miner that holds mining licenses in Australia's highest-grade gold deposit - Charters Towers.
Also read: A snapshot of Citigold's exploration program at Charters Towers, QLD, Australia
Citigold Corporation Limited (ASX:CTO) owns and operates a production-ready Charters Towers Gold Project in Queensland. Citigold has embarked on the development of a low-cost and long-life gold project with an Inferred Mineral Resource of 14 Moz. Citigold has already invested AU$200 million in the exploration and development of the project, and now seeking major project funding to commence the commercial production from the project.
Charters Towers Gold Project: An Ace in the making
The success story of Charters Towers Gold Project dates back to the late 1800s. The region has produced nearly 6.6 Moz of gold historically, reaching its highest level of 320,000 ounces in the year 1899.
It was the vision of Mr James "Jim" Lynch, the founding father of Citigold, who believed that modern mining methods coupled with adequate capital infusion could help the gold mine repeat its glorious past and rev up its gold production. The gold companies operational during the gold rush period in the area did not have access to the modern-day technologies, which can dig deeper and explore larger and deeper zones.
Good read: Citigold Corporation Ltd (ASX:CTO) gears up to commence gold production at Charters Towers, Australia
The Central Mine
Citigold has put in place all required infrastructure on the Central Mine site of the project. Underground mining has been chosen as an optimal method for extracting gold from hard rock formations. The Company has already produced 100,000 ounces of gold during gold production test mining.
Source: Citigold Corporation Limited
The management of Citigold is working on a dual strategy to develop the gold project- commercial production from the Central Mine area and continuous exploration on the tenement package to add more resources. The sampling program, conducted during December 2020 quarter, has yielded encouraging results with the potential of precious metals including, gold and silver, with a trace of base metals too.
Good read: Citigold Corporation Limited (ASX:CTO) in sweet spot to leverage the gold market
In its last quarterly report, CTO had disclosed a plan for the construction of a new ultra-modern process plant in close vicinity of the Central Mine area. The technical and engineering team is looking into a design that can be energy-efficient with minimum footprint.
Production-ready Central Mine (Image source: Company update, 8 April 2021)
Citigold's long-term plan is to produce 300,000 ounces of gold from the project. The Company management is leaving no stone unturned in bringing the best technologies and processing methods to maintain the project as a low-cost venture.
Share price
Citigold traded at AU$0.011 a share on 1 July at 1:22 PM AEST with a market capitalisation of AU$30.58 million.