Image source: Company presentation, Feb 2021
Summary

The Court of Queen's Bench of Alberta has ordered Blackspur Oil Corp to seek shareholder approval of its merger with Calima Energy Limited (ASX:CE1).
A special meeting of Blackspur shareholders will be held on or around 23 April 2021.
Calima Energy can possibly relist on the ASX in late April 2021.
Calima Energy Limited's (ASX:CE1) binding agreement to acquire 100% of the issued share capital of Blackspur Oil Corp is progressing well. The Court of Queen's Bench of Alberta has granted an interim order to Blackspur to seek shareholder approval of the merger.
Notably, a successful merger with Blackspur would mark Calima Energy's transformation into a high margin oil and gas producer leveraged to WTI pricing targeting more than 5,500 boe/d by December 2022. The merger will also ensure Calima's exposure to escalating natural gas prices through its strategic holdings in the Montney Formation.
GET MERGER DETAILS HERE: Calima Energy (ASX:CE1) Announces Transformative Merger with Blackspur Oil Corp.
Image source: © Artistashmita | Megapixl.com
What will happen at Blackspur's special shareholder meeting?
The Court of Queen's Bench of Alberta has set out an interim order that directs Blackspur to conduct a "special meeting" of shareholders. In the meeting, Blackspur will seek shareholder approval of the merger with Calima Energy under section 193 of the Business Corporations Act (Alberta).
The meeting is likely to be held on or about 23 April 2021.
At the Blackspur Meeting-
Blackspur Shareholders will take into consideration, vote on a special resolution in order to approve the merger arrangement.
The arrangement necessitates at least 66 ⅔% of the votes to be cast by Blackspur shareholders (74% of Blackspur shareholders have already voted in favour).
The above can be done either in person or by proxy.
Blackspur will then be authorised to continue with an application for a final Court order (approving the arrangement on 23 April 2021).
Calima to relist on the ASX?
Calima Energy can relist on the ASX in late April 2021. However, this remains subject to the standard closing conditions of a transaction of this nature. The relisting will also be based on the schedule and timing of the special meeting.
Investors have been advised to consider the Prospectus (and any supplementary or replacement prospectus issued by Calima Energy), seek independent professional advice, and then decide whether to apply for shares pursuant to the Prospectus.
Merger overview
The deal between Calima Energy and Blackspur is valued at C$60 million. Upon the merger, the parties plan to combine their management teams in Canada. Jordan Kevol will be the CEO as well as President.
RELATED READ: What does Blackspur Merger Mean for Calima Energy (ASX:CE1)?
Some Blackspur details-
Blackspur has a couple of core production areas in Southern Alberta; Thorsby (produced ~740 boe/d in Q4 2020) and Brooks (produced ~1,860 boe/d in Q4 2020).
Together, the assets have a liquids ratio of 70%.
Liability Management Ratio rating is ~4.63.
Undiscounted ARO is projected at ~A$14.2 million.
The merger can create an emerging oil and gas producer with production and current operating cashflow of ~C$1.8million/month, plus a substantial reserve and resource base for future growth.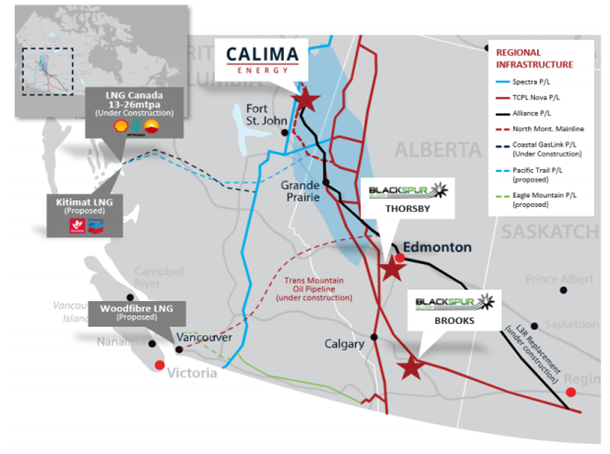 Consolidated assets of both parties (Source: Company announcement, Feb 2021)
Recent developments
In mid-March 2021, Calima Energy received firm commitments totalling A$37 million. This further validates the quality of Calima Energy's asset base following the acquisition of Blackspur.
READ MORE HERE: Calima Energy Raising A$37M to Fund Blackspur Oil Acquisition
Last week, Blackspur completed the drilling of a three well program targeting the Sunburst Formation at Brooks. The program was part of its strategic plan to increase production to 3,400 boe/d by year end.
GET DETAILS HERE: Calima Energy Updates on Blackspur's Three Well Drilling Program at Brooks