Summary

Boab Metals' recently completed Phase IV drilling has catapulted Sorby Hills' status to DFS.
The recent rise in silver prices appears highly conducive for the highly prospective Sorby Hills project that hosts extensive silver resources.
Phase V drilling is expected to commence during the June quarter this year.
The developments at Boab Metals Limited (ASX:BML) are going full blast with the Australian explorer fast-tracking the advancements in its course to develop an open-pit Sorby Hills project.
Appreciably, mineral resource at Sorby Hills substantiates the Company's competence to successfully grow both the resource size and confidence with each drilling program.
It is noteworthy that the positive project developments have occurred amidst exciting lead-silver market opportunity while the Company continues to leverage critical advantages associated with its project portfolio. The global transition to a green economy has been particularly encouraging for lead and silver resources that find substantial application in emerging environment-friendly alternatives.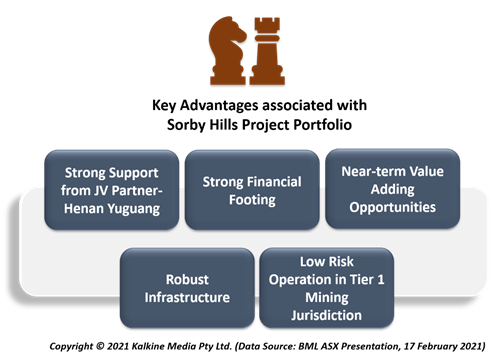 With this backdrop, let us look at the critical driving factor that together with Sorby Hills's major strengths, continues to boost Boab's shareholders' value.
Extensive Silver Resources Backing Sorby Hills
In addition to the primary lead metal content, Sorby Hills boasts of 54 Million Ounce Silver Resource. The project is one of Australia's most extensive undeveloped Silver Resources.
BML share price reflected the recent uptick in the Silver price, highlighting the cruciality of the precious metal in enhancing Sorby Hills' value.
The Company plans to produce a single Lead-Silver Concentrate. Furthermore, the increasing industrial demand for silver is expected to drive the Company's diversified revenue stream, thereby supporting robust project economics.
READ MORE: Boab Metals (ASX: BML) to kick off Phase V drilling to examine Sorby Hills potential
Boab Buoyed Up on Encouraging Outcomes
Positive Results from Pre-feasibility Study
The Sorby Hills Prefeasibility Study released in September Quarter last year has underlined the project's technical robustness and impressive economics. Key highlights of the PFS include:
Low-risk nature of the Sorby Hills
Extensive and well-defined Mineral Resource
A conventional crush-mill-float processing circuit
High recoveries of metal
Receipt of key approvals

Source: BML Presentation, 17 February 2021
The PFS Base Case incorporates the mining from four deposits, namely Omega, A, B, and the southern portion of Norton, with 92% Ore Reserves underpinning a low-risk Mine Plan.
Source: BML Presentation, 17 February 2021
The PFS outcomes have facilitated a smooth transition into the Definitive Feasibility Study and early discussions with lenders and off-takers.
Impressive Assays from Phase IV drilling program
The Phase IV drilling program results in December quarter 2020 and early 2021 have unveiled significant opportunities for materially expanding the mining inventory at Sorby Hills.
The drilling program over 4,803 metres was designed mainly for collecting geotechnical as well as metallurgical samples, underpinning standard testwork for the DFS. Furthermore, up and down-dip mineralisation extensions have been confirmed to sit beyond the current open pit designs and Mineral Resource envelope.
Also, the company's Mineral Resource Estimate is being updated through incorporating Phase IV drilling assays.
Phase V Drilling on the cards
Boab Metals intends to conduct a high-impact Phase V drilling program, aimed at maximising the Sorby Hills' value extraction for the DFS. The program will include up to 6,000m and has the express objective to investigate the potential for expanding Sorby Hills-based proposed processing capacity.
Phase V drilling program is expected to kick off in the second quarter this year.
At Eight Mile Creek (EL- E80/5317), Phase V drilling and soil sampling are planned for Q2 2021, focusing on gravity targets and prospective stratigraphic horizons. The Company is currently interpreting data from high-resolution gravity survey conducted over the northern half of Eight Mile Creek.
Source: BML Presentation, 17 February 2021
BML shares closed at AUD 0.450 on 17 February 2021.