Summary

BlackEarth has sealed an agreement with Austria-based Grafitbergbau to sell up to 2,500 tonnes of expandable graphite annually from its proposed plant, to be built in collaboration with India-based Metachem Manufacturing Company.
Grafitbergbau is recognised as an industry leader in Europe with an extensive supply chain to Tier 1 companies and the electric vehicle sector.
The agreement with Grafitbergbau has been facilitated by the Company's sales and marketing partner, LuxCarbon, which is a world-leading graphite supply chain group based in Germany.
As of 30 June 2021, BlackEarth has a projected cash position of circa AU$6.7 million.
BlackEarth Minerals NL (ASX: BEM) is ticking all the right boxes to unlock its potential in the exciting high-growth battery market.
In a significant development, the Company has announced the signing of an offtake and sales agreement with Austria-based Grafitbergbau Kaisersberg GmbH, which holds extensive experience in developing graphite downstream products. The agreement has been facilitated by the Company's sales and marketing partner, LuxCarbon, which is responsible for assisting with product sales to Tier 1 buyers in Europe.
The deal is intended to be the first of numerous planned offtake and supply agreements.
Triggered by the update, BEM stock was trading 15% higher during midday on 21 June 2021.
ALSO READ: Why is BlackEarth Minerals Poised to Excel in the Battery Market?
The agreement sets the stage for the development of an expandable graphite plant in India as well as BlackEarth's proposed large-scale graphite concentrate plant in Madagascar.
Grafitbergbau, which holds a sizeable interest in expandable graphite supply into the growing European market, will use the product acquired from the India-based expandable graphite plant to make specific application and materials for its extensive market and client base.
The agreement is being considered as a strong catalyst to BlackEarth's upcoming plans.
BlackEarth recently signed a Memorandum of Understanding with Metachem Manufacturing Company Pvt. Ltd of India to construct a plant to produce expandable graphite.
READ MORE: BlackEarth Minerals (ASX:BEM) partners Metachem to develop expandable graphite plant
In line with its organic growth strategies, the agreement with Grafitbergbau would enable BlackEarth/Metachem to sell up to 2,500 tonnes of expandable graphite per annum (worth around US$7.5 million) from the proposed expandable graphite plant. The sales will kick off as soon as the proposed plant development is completed.
The deal endorses the product quality of Metachem and the proposed BlackEarth/Metachem supply of expandable graphite, while also ensuring commitments in advance for the Company's future production in India.
Armed with a projected cash position of around AU$6.7 million as of 30 June 2021, BlackEarth is well-positioned to expand its operations.
ALSO READ: BlackEarth Minerals kicks off extensive drilling program at Maniry Graphite Project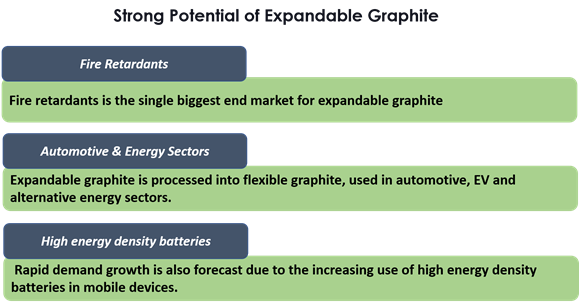 Source: Copyright © 2021 Kalkine Media, Data Source: BEM update, dated 21 June 2021
Grafitbergbau has a robust graphite supply chain
Grafitbergbau has been operational for more than 50 years and is a European industry leader with an extensive supply chain to the electric vehicle (EV) sector and Tier 1 companies.
As a result of its focus on developing new applications over the past 30 years, Grafitbergbau has created high-quality graphite downstream and niche products for both the national and international markets, earning itself a global competitive advantage.
Grafitbergbau has developed and enhanced products used in fire-resistant applications and radiation controls along with several other downstream uses and implementation into the EV and alternative energy markets.
ALSO READ: Membership in European Battery Alliance Stands BlackEarth Minerals (ASX:BEM) in Good Stead
BlackEarth advancing well with strong synergies
Buoyed by recent developments, BlackEarth is all charged up and steering its efforts to widen its footprint in the European EV market and broader graphite markets significantly.
The Company is working in close collaboration with LuxCarbon for securing and expanding supply agreements for downstream graphite products (including expandable graphite). It is eyeing to initiate many downstream product offtake agreements with Tier 1 users in the short term.
BlackEarth is highly encouraged by the demand and interest in graphite products, potentially to be produced by the Company in collaboration with Metachem.
READ MORE: BlackEarth Minerals (ASX:BEM) Share Price Balloons 139% on Luxcarbon Deal