Summary

BlackEarth Minerals and India-based Metachem Manufacturing Company have entered into an agreement to develop an expandable graphite production plant.
The development will position BlackEarth as the first ASX-listed player to produce expandable graphite at a commercial level.
The partners also plan to enter a joint venture, and each party proposing a 50/50 equity and profit share arrangement with capital expenditure (CAPEX) estimated at US$3.5 million.
Critical commodity developer BlackEarth Minerals NL (ASX: BEM) has joined hands with India-based Metachem Manufacturing Company Pvt. Ltd for the construction of an expandable graphite plant.
Notably, expandable graphite, which is experiencing strong demand, is chemically stable, non-toxic and can expand consistently when exposed to heat, making it an ideal precursor for applications in diverse industries.
The parties have signed a Memorandum of Understanding (MOU) in line with the current objectives of commencing the plant construction and the production of expandable graphite. They also have the intention to complete and sign an operational Joint Venture (JV) agreement within up to 180 days.
Significantly, the joint venture plan complements the existing strong and productive bilateral partnership between India and Australia.
BlackEarth Managing Director, Tom Revy commented: "This is a ground breaking agreement between two Companies committed to the growth and development of this important high value commodity to fuel the worldwide demand for downstream graphite products."
Following the significant update, BEM share price surged over 4% mid-day, trading at AU$0.12.
ALSO READ: How BlackEarth Minerals is planning to make a mark in the exciting battery market
BlackEarth and Metachem to build a new expandable graphite plant
Metachem is a leading producer of expandable graphite and other downstream products, with graphite concentrate sourced from India as well as Madagascar. The Indian company has several divisions and holds 20 years of production experience and sales in Asia, Europe, and the US.
As part of the MoU, BlackEarth and Metachem will invest in a new processing facility to meet the demand from Europe-based groups. Meanwhile, BlackEarth's Germany-based partner, LuxCarbon, would assist with product sales to Tier 1 buyers in Europe.
BlackEarth and Metachem are working towards executing the JV agreement within 90 days, following the due diligence and discussions. This is expected to fast-track development to kick-start the production within 9-10 months.
The parties are committed to additional plant developments in the high-growth markets of Europe and Asia.
ALSO READ: BlackEarth Minerals (ASX: BEM) delivers an excellent March quarter, marked by exciting graphite developments
Robust market demand continues for expandable graphite
The 'expanded graphite' produced from the expansion process of expandable graphite can be pressed into sheets and used for heat and fire protection, with diverse applications ranging from building materials to fuel cells and consumer electronics.
ALSO READ: BlackEarth Minerals (ASX:BEM) raises $4.9M to amp up its graphite project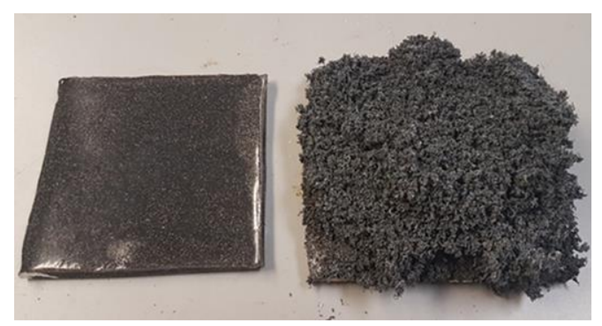 Graphite from a Concentrate form to Expanded Graphite (Source: BEM Update, dated 8 June 2021)
Around 35% of expandable graphite production is processed into fire retardants, which is the single biggest end market for expandable graphite. Meanwhile, the remaining product is processed into flexible graphite, which is the precursor to several end products such as graphite foils used in alternative energy, EV, and automotive sectors.
Expanded graphite is also an important precursor for manufacturing flexible graphite foils and papers, providing shielding properties and very lightweight heat dispersion. Besides, graphite foils are used in many mobile electrical devices to safely disperse heat from the battery source.
ALSO READ: BlackEarth Minerals kicks off extensive drilling program at Maniry Graphite Project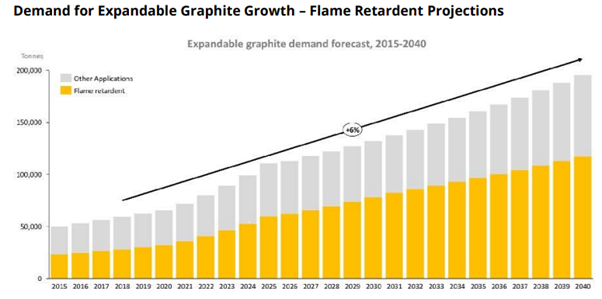 Expandable Graphite demand and growth – Source: Benchmark Mineral Intelligence
(Source: BEM Update, dated 8 June 2021)
The increasing use of high-energy density batteries in mobile devices has led to rapid demand forecast for expandable graphite.
ALSO READ: Why is BlackEarth Minerals Poised to Excel in the Battery Market?
BlackEarth to work collaboratively with Metachem and LuxCarbon
Early this year, BlackEarth secured a supply and marketing agreement with LuxCarbon, a globally leading Germany-based graphite supply chain group.
BlackEarth, together with LuxCarbon, would source high-quality graphite concentrates for treatment for the new expandable graphite plant. BlackEarth will provide large and jumbo flake graphite to the JV following the completion of its own plan.
Each party to the JV proposes a 50/50 equity and profit share arrangement, while the CAPEX is estimated to be US$3.5 million. In addition, Metachem operational team would receive end-user and product technical advice from BlackEarth and LuxCarbon, which will also manage worldwide sales, marketing, and sales growth.
The Company is highly encouraged by the market appeal of products following the discussions held between the BlackEarth executive team and Luxcarbon about securing and growing a supply of downstream graphite products, including expandable graphite.
ALSO READ: BlackEarth Minerals (ASX:BEM) Going from Strength to Strength in Graphite Space
Lucrative production roadmap bolsters growth potential
The initial annual production is estimated to be 2,000 tonnes, which would grow to 4,000 tonnes, with plans for developing other plants in strategic locations, including Europe. Meanwhile, BlackEarth estimates US$6.25 million gross JV revenue to grow to more than US$13 million when production ramps up to 4,000 tonnes pa.
Production sites have been identified, while the assessment of suitable economic, social, and environmental conditions have been indicated to be highly favourable.
The production site lies within the Indian Special Economic Zone (SEZ), offering a range of economic, taxation and other concessions, significantly enhancing the project's valuation.
The planned production site is expected to further position BlackEarth as a leading provider of graphite concentrate and a range of downstream graphite products over the forthcoming decades.