Source: Phawat, Shutterstock
The ASX listed gold miner Theta Gold Mines Limited (ASX:TGM | OTCQB:TGMGF) will now take debt financing help from Sydney based professional firm – Kamara Group. On 22 January 2021, TGM announced the appointment of Kamara Group appointment as its Debt Advisor.
Kamara Group will help TGM to accelerate the debt and project financing process to fast track the Theta Open-pits operation.
Also Read: Theta Gold Mines eyes huge gold production from its South African mines
The Kamara Group is led by Mr John Kamara who has served in Morgan Stanley as a banker. The Group renders its services to several ASX listed companies including New Century Resource (ASX:NCZ) , Horizon Minerals (ASX:HRZ), and others.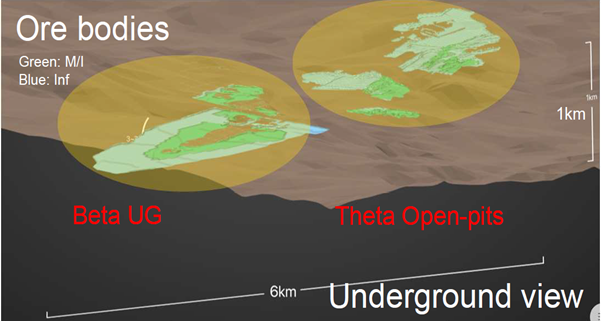 Source: ASX update, 27 October 2020
Theta Gold has also strengthened the execution team by appointing Mr Freddy Moketla at a position of Mine Manager and Mr Jan Bronkhorst as a Project Portfolio Manager. Both have strong experience in the gold mining industry and have previously worked for Harmony Gold.
Informative Read: Gold price loses sheen as US govt bond yields shoot up
Management Commentary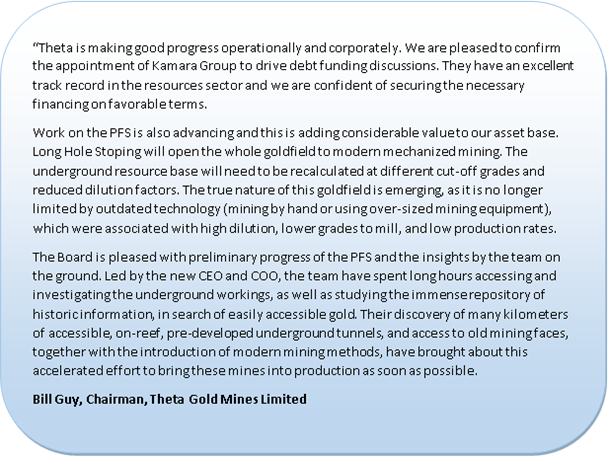 Operation Status
As per the TGM's five year program, the Company is progressing on the MR83 or Theta Open-pits Project. The permit is under review for amendment by the Department of Mineral Resources and Energy (DMRE).
The Pre-Feasibility Study for the underground mining operation is also on the right track and will be finished on the set deadline of the end of Q1 of 2021.
Based on the first stage of the Pre-Feasibility Study, Theta has identified mechanised Long Hole Stoping as the preferred mining method on the project. The main advantages of the method involve lesser safety risk and higher production. The method also provides a potential for improvement of grade and better cost efficiency per ounce.
The Company has already completed preliminary test works and metallurgical sampling work on the project. Now mining method is also confirmed.
Theta is moving swiftly towards its Stage 1 of the 5-year development plan.
Share Price Movement
The Company closed the day trade at A$0.365 with a market cap of A$167.9 million as on 22 January 2021.