Highlights

Altech has discovered halloysite at its Kerrigan kaolin deposit in WA.
Halloysite naturally occurs as a nanotube, making it well suited to a diverse range of specialised applications.
Altech will continue to focus on the development of its HPA project, while test work on the presence of halloysite will move parallel.
In an interesting turn of events, ASX-listed alumina player Altech Chemicals Limited (ASX:ATC|FRA:A3Y) shared an update on the Kerrigan kaolin deposit in Western Australia. The Company has discovered halloysite at the deposit during the processing of samples from the 2020 aircore drilling campaign.
Location of aircore drilling and XRD/SEM sample locations (Image source: Company update, 13 October 2021)
Related read: How is Altech Chemicals Revolutionising the Lithium Battery Market?
Halloysite belongs to the kaolin group of minerals and occurs naturally as nanotubes. Properties of halloysite nanotubes make it suitable for a varied range of applications. The mineral finds major application in the manufacturing of high-grade porcelain and ceramics as it improves its strength and chip resistance. This adds a significant premium above the average kaolin price to the Kerrigan deposit.
Altech's Kerrigan deposit lies within the exploration licence, E70/4718-I, and stretches over an area of 480km2. The presence of halloysite has been confirmed by x-ray diffraction (XRD) and scanning electron microscope (SEM) investigations.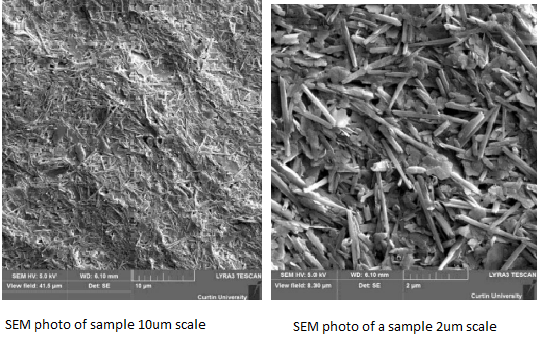 Image source: Company update, 13 October 2021
One of the six samples examined showed abundant tubular structures consistent with halloysite. Three more samples are kept for further investigations as they exhibited similar halloysite rod-like structures. Altech will move to test work on 31 samples to confirm and determine the significance of initial results.
The presence of halloysite represents further upside in the total value of the project. It may open a new avenue alongside Altech's HPA project. New research hints at its application as fibre reinforcement in polymers and as micro containers for the controlled delivery of active agents.
Halloysite could replace carbon nanotubes and could be used as a lower-cost alternative for high-tech applications, including hydrogen storage and carbon capture.
Related read: Altech Chemicals (ASX: ATC) – set to disrupt the Lithium-ion battery market with its HPA coating technology
Bottom line
The presence of halloysite adds value to Altech's kaolin deposit. Altech is engaged in test work to determine and confirm the significance of initial results, but at this stage of test work, the presence of halloysite does not imply any economic benefit.
Altech will continue to focus on finalising finance for the high-purity alumina (HPA) processing plant in Johor, Malaysia, and advancing on the preliminary feasibility study for the construction of a battery materials coating plant in Saxony, Germany.
Share price
Shares of ATC are trading at AU$0.098 at around 12:30 PM (AEDT) today. In the last one year, ATC has given an impressive return of 92% to its shareholders. The Company has a market cap of AU$126.07 million as of 13 October 2021.