Summary

Krakatoa Resources has concluded the June quarter with significant activities at fully owned Rand, Belgravia and Mt Clere projects.
KTA continued systematic exploration through multiple drill programs, geochemical surveys and target generation.
The Company has planned further activities across the portfolio with several ongoing works.
Krakatoa Resources Limited (ASX:KTA) has been expediting work across the project portfolio and has uncovered encouraging discoveries in recent months. With key activities undertaken across the Mt Clere project, the Rand and Belgravia Projects, KTA has successfully concluded the June quarter ended 30 June 2021.
During the quarter, KTA focused on systematic exploration, comprising multiple drill programs, geochemical surveys and target generation, across these 100% owned projects.
RELATED ARTICLE: Krakatoa Resources (ASX:KTA) ready to go aggressive across project portfolio
Let us look at these developments one by one.
Rand Gold Project
At the Rand gold project, KTA had highly encouraging assay results from the maiden 9-hole RC drilling program at the Goodwood reef. Besides this, KTA also reported extensive high-grade rock chip assays and many large high tenor intrusive related gold systems (IRGS) and related pathfinder elements from the initial soil geochemical survey.
KTA delivered six gold anomalies with multiple large coherent tenors, out of which four appear beyond known gold areas, and two are related with the established gold-bearing systems within the historical Bulgandry goldfield.
RELATED ARTICLE: Positive rock chip results encourage Krakatoa to speed up exploration at Mt Clere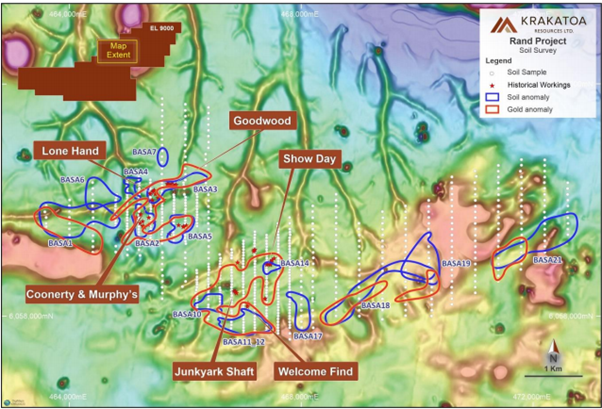 Multi-element and gold soil geochemistry anomalies (Source: KTA Announcement 29/07/21)
KTA also defined twenty multi-element IRGS pathfinder anomalies, many of which correspond with the gold anomalism.
In April 2021, KTA reported assay results from rock chip samples gathered throughout a reconnaissance field program, which confirmed the possibility for economic grades of gold and silver.
Assay results from a highly successful, 1,275 metre RC drill program highlighted significant shallow gold mineralisation within the Bulgandry Goldfields and encountered several subparallel gold zones at the Goodwood reef mine.
Furthermore, a 43-hole AC drilling program totalling 2,761.7m returned moderate to strong anomalous IRGS pathfinder elements with anomalous gold in numerous holes in the weathered intrusive units.
RELATED ARTICLE: Krakatoa Resources Limited (ASX:KTA) winds up field exploration program at Sugarloaf
Notably, KTA had also applied for further exploration licenses within and surrounding the existing Rand licence in early June 2021. These applications were accepted, and KTA remains optimistic that the licences shall be granted to the Company.
Belgravia Cu-Au Porphyry Project
At its fully owned Belgravia Project, KTA initiated an extensive AC drill program and a large soil survey extension during the quarter. Through these, KTA aimed at testing priority copper-gold anomalies and the features of a porphyry structure delineated at Sugarloaf.
Recent AC drill holes, soil survey and the 2020 DGPR survey lines (Source: KTA Announcement 29/07/21)
The results in combination with the magnetic inversion modelling and DGPR shall help in confirming holes for testing deeper targets, and KTA is presently engaged in sourcing drilling contractors.
RELATED ARTICLE: Latest results reinforce Krakatoa Resources' (ASX:KTA) Rand Project potential
Mt Clere REES, HMS & Ni-Cu-PGEs Project
KTA kicked off its maiden low impact exploration and reconnaissance over the granted exploration licence area and started an extensive geochemical survey comprising a compilation of stream sediment and rock samples over areas where permission has been obtained.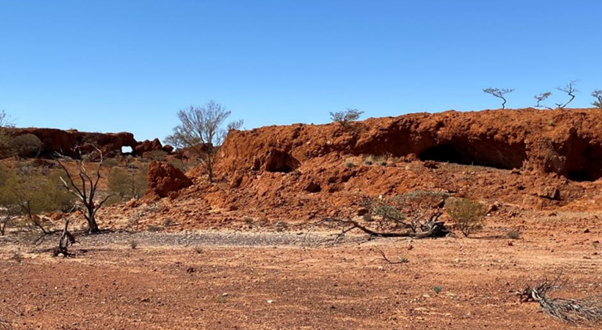 Breakaway located in upper catchment of E52/3731 (Source: KTA Announcement 29/07/21)
KTA received outstanding initial stream sediment geochemical assay results from exploration license E09/2357, while KTA anticipates receiving and reporting samples from the E52/3730 and E52/3731 in the near term.
RELATED ARTICLE: Krakatoa Resources (ASX:KTA) kicks off AC drilling at Sugarloaf
During the quarter, KTA also applied for two other exploration licences E52/3938 and E52/3962, adjacent to the existing holdings. These extend over an area of 536 km2 and connect the recently awarded E52/3730 and E52/3731.
KTA also remains in pursuit of obtaining statutory, and heritage survey approvals for conducting drilling for ion adsorption clay hosted REEs. KTA will continue with the reconnaissance geological and geochemical mapping, sampling of geological outcrops and stream sampling.
KTA's expenditure concerning exploration and evaluation amounted to AU$738k during the quarter.
RELATED ARTICLE: Krakatoa Resources cranks up exploration at Rand and Mt Clere in May
At the end of the quarter, KTA held around AU$2.34 million cash balance, which included around AU$0.58 million received from option exercising post quarter-end.
KTA shares were trading at AU$0.051 on 03 August 2021, with a market capitalisation of AU$14.18 million.