Summary

Charters Towers (Queensland, Australia) boasts of a long heritage of gold mining, having produced more than 6.6 million ounces of gold so far.
Citigold is moving on a fast track to commence commercial production from the project and working on mine design and engineering to optimise the mining operations.
The Company is planning on a processing plant near the Central Mine of the project to achieve its 'ultra-low-cost' mining operation objectives.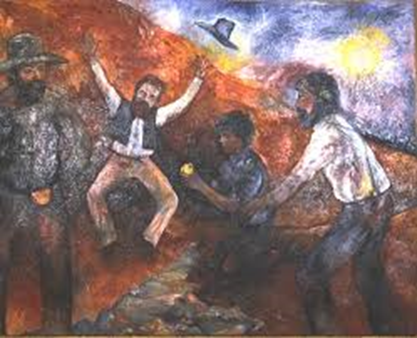 Source: Citigold Corporation Limited
Above painting: "Discovery of Gold, Charters Towers 1871" by Marji Hill (renowned artist and writer promoting understanding between Indigenous and Non-Indigenous Australians). One of two paintings of Jupiter Mosman commissioned by Citigold Corporation. This painting celebrated the discovery of gold by young Jupiter in 1871 at Charters Towers.
It is said that the discovery of gold in Charters Towers was made unintentionally when a young lad aged merely 12 years went on a search expedition to find his missing horses. The story dates back to 24 December 1871, when a boy, named Jupiter Mosman accidentally stumbled upon the yellow metal in a nearby stream.
Although Jupiter found his missing horses resting around what is today known as Tower Hills, what he discovered there changed the story of the region forever.
The estimates from the Charters Towers region indicate nearly 6.6 million ounces or 200 tonnes of gold was produced between the years 1872 and 1917.
It was the foresightedness of James 'Jim' Lynch, the founding father of Citigold Corporation Limited (ASX:CTO), who believed that Charters Towers could churn out more gold. In the year 1969 when gold prices were stagnant at US$40 per ounce, he believed that the prices will surely rise, and he began his investigation of the area.
He patiently began his research and conducted a thorough investigation of the field. He took the help of geologist and also roped in people who had worked in the region's older mines. His research took more than 20 years, and Mr Lynch concluded that the goldfield had significant gold left and acquired ~100 km2 of the central goldfields area.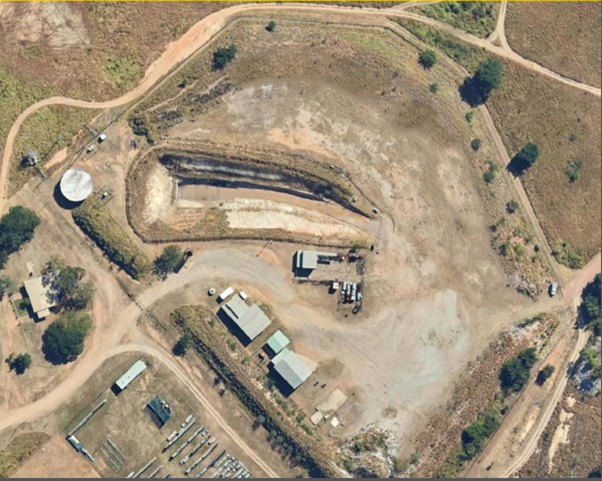 Central mine area on the gold project showing tunnel for underground mining (Image source: Company update, 27 April 2021)
Present Day Story
Charters Towers possess an Inferred Mineral Resources of 14Moz of gold. Citigold is conducting design and engineering work on the project to advance towards commercial production. The Company has already concluded test production and has demonstrated the potential of economically beneficial operations by producing 100,000oz of gold.
During the March quarter, Citigold initiated the work on a processing plant. The technical team visited the proposed location for review. The processing plant, which will be located in close proximity to the Central Mine area, would play a key role in achieving the 'ultra-low-cost' mining objective.
The new plant will incorporate all design features of a modern-day facility with low energy consumption, low wastage of water and lesser ground footprint. The company also plans to run the plant on renewable energy.
Central Mine
Citigold is working on key parameters of mining design and formulating an optimised method for running mining operation on the Central Mine. The Company is working with mining consultants to update the design. The data from the Central Mine site is being used to develop an efficient mining process that will involve small excavations and extraction of only valuable ore to minimise mining dilution of the high quality ore and processing less waste.
Production test at Charters Towers Project (Image source: Company update, 27 April 2021)
The encouraging results from the exploration activities of 2020 indicate at a potential significant gold sample. Sample no. 74 from the 2020 sampling program has revealed the presence of base metal, silver and gold. The upcoming exploration program will involve a sampling program of rock chips through geological traverse in the upstream direction to identify possible anomalies.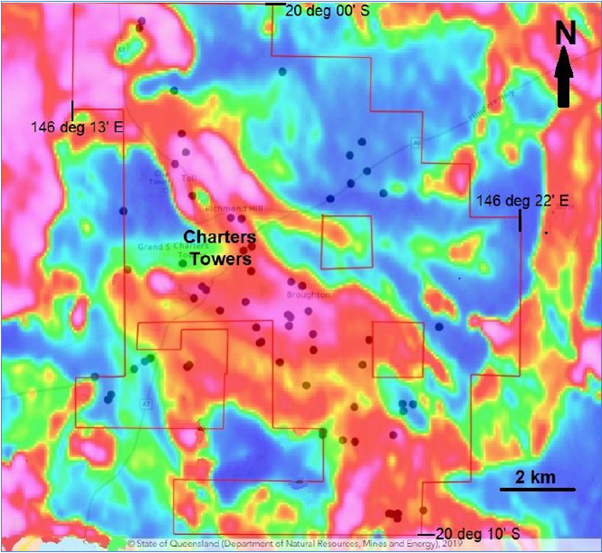 Aerial magnetic of Charters Towers showing sample locations (Image source: Company update, 27 April 2021)
Share Price
CTO traded at A$0.012 a share on 17 May 2021 at 10:27 AM, recording an increase of over ~9.09% against the previous close, with a market capitalisation of A$30.58 million.