Summary

The border between NSW and Queensland was meant to open up on 1 November 2020, but that will probably not happen as NSW recorded eight new COVID-19 cases overnight.
Interstate border closures mean a great deal when it comes to the tourism industry and all other sectors that are directly connected to it.
If Queensland and other states remain the same politics about border closures, the travel industry is yet to experience even more significant losses.
Australia has implemented the strictest safety measures regarding COVID-19 prevention. International borders have been closed ever since March for the safety of citizens and residents, as stated by the Australian authorities.
MUST WATCH: Trends Shaping the Australian Travel Industry
However, the states did not stop there. Interstate travel has been postponed indefinitely. Most of the regions were open to interstate travel before the most recent emergency state declared in Victoria just a couple of months ago.
It is also crucial to mention that Australia has faced the pandemic with one of the most successful strategies and has not suffered severe consequences, compared to other nations. With less than 900 deaths and ~251 active cases (as on 08 October 2020), some states have opened their respective borders with other states.
ALSO READ: Is the travel bubble between Australia and New Zealand likely to go ahead?
The state of Queensland had arguably implemented the strictest measures with the COVID-19 battle, having NSW on the 'COVID-19 hotspot' list since 5 August 2020.
The Queensland government decided to give NSW a chance and open up if the state achieves 28 straight days of no-community transmission. Until recently, the border opening in November looked like a possibility, but with 12 new locally acquired cases in NSW (as on 08 October), the border is again put at risk.
INTERESTING READ: How did travel ban for international students affect property market in Australia?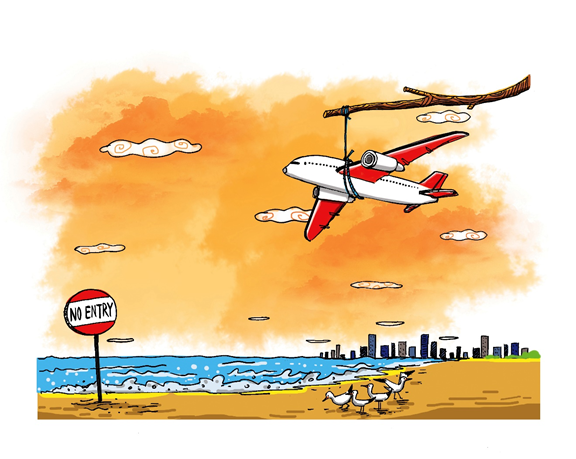 Image Source: Kalkine
What does this mean for the NSW-Queensland border?
Victoria, New South Wales, and Western Australia are the only states that are still in a battle with the coronavirus community transmission. Most cases seem to be not connected, which makes the border opening a lot harder.
The border between Queensland and NSW were meant to open on 1 November 2020, but if NSW does not figure out how the new cases are appearing, Queensland will reset the clock and another 28 COVID-19-free days will be required.
DO READ: Hey Folks, Know What's New in the Australian Travel Industry!
However, the NSW MP Gladys Berejiklian is not happy with Queensland MP Annastacia Palaszczuk's decision, saying small outbreaks are not abnormal, as the whole world is still fighting the pandemic.
On the other hand, Ms Palaszczuk put Queenslanders' health and safety first, so according to her, these measures are necessary because Queensland cannot afford the catastrophe that the second wave would most likely bring to its people.
What will be impacted the most?
Queensland is the second-largest tourism-oriented state in Australia, following New South Wales, bringing an enormous A$35.6 billion to the tourism gross state product (GSP), before taxes.
Queensland Government's organisation Tourism&Events Queensland held research for a period between 2017 and 2018, finding that Queensland's tourism industry earnt A$27.3 billion in the mentioned span.
About 6.1% of all employed Queenslanders worked in the tourism sector, significantly more compared to employees within the agriculture, forestry, fishing, and mining industry, combined. That said, the tourism industry is in great danger if the Queensland border stays shut – not just with NSW, but all other states and international nations.
To be more precise, Queenslanders stimulated A$11.3 billion directly into their economy. All other states brought A$8.6 billion to the Queensland tourism industry in 2017 and 2018.
INTERESTING READ: Tourism Sector's Challenges And During Covid-19 Crisis
The numbers from that period look very positive, as the Queensland tourism boosts the Australian economy significantly. However, recent numbers are painting a different picture and show how the pandemic caused numbers to go down.
The last research held in June reported a loss of the total expenditure worth A$15.3 billion. In percentages, a A$15.3 billion loss describes 18.8 per cent less money in the tourism industry in Queensland but will also affect the whole continent.
ALSO READ: Australian Government Disclosed A$98b for COVID Response and Recovery Support
Interstate visitations suffered the most
In FY2020, there were 20.4 million visitors to Queensland, a drop of 19.3 per cent. Out of the total visitors, 14.6 million were intrastate visitors (down 17.1 per cent) while 5.8 million were interstate visitors (down 24.5 per cent).
As the most popular tourist destinations in Queensland, Gold Coast, and the Southern Great Barrier Reef (SGBR) have lost the most visitors – Gold Coast measured 25.9 per cent fewer tourists. In contrast, the natural attraction lost 20.2 per cent of sightseers.
Travelling for non-essential purposes, holidays and seeing family and relatives have recorded a drastic fall, the most recent research found. There were 7.4 million holiday visitations (down 24.4 per cent), and 7.2 million Australians ( down 15.7 per cent) saw their family and friends in Queensland.
MUST READ: Lockdown II: Sydney Airport, Transurban Shares Under Discussion
Essential travel in Queensland occurred a bit more than non-essential but is still significantly low compared to everyday circumstances. There was a fall of 19 per cent in business travel at ~4.916 million visits.
As a comparison, the research held in March (before the lockdown) found a slight loss of capital within the international tourism industry, which brought A$5.7 billion (-4.9 per cent). On the contrary, domestic tourism saw positive numbers with a 2.5% increase, resulting in A$18.9 billion in the Queensland visitations.
Even though the research's focus was on Queensland, those numbers affect the entire country. Besides, the tourism industry directly affects other sectors such as hospitality (food and drinks), retail, accommodation, transport, and others.
MORE COVID-19 IMPACTS: COVID-19 Pandemic Impacts Big Four Australian Banks: CBA, WBC, ANZ, & NAB
In case Queensland's and other states' borders remain shut, the tourism industry will experience worse consequences. Most importantly, the ~6.1% of Queenslanders working in the tourism industry, and their families, will be in a predicament as they will continue to remain out of work.