Summary

In 2020, many ASX dividend shares opted to slash/ suspend payouts amid COVID-19 headwinds.
The current near-zero interest rate environment explains why investors are on the hunt for ASX companies paying decent dividends.
Bapcor (ASX:BAP) continues to prove resilience and anticipates revenue growth of ~25% for the first half of FY21.
Tassal (ASX:TGR) targets growth in FY21 operating earnings and returns; Nick Scali (ASX:NCK) expects unaudited NPAT of $ 40.5 million for the six months to 31 December 2020.
The unprecedented and dismal 2020 saw only few quality dividends payers on the ASX and other global exchanges. Even the big four banks opted to slash/defer payouts. Few shares in the sectors that were heavily affected by the COVID-19 pandemic had to defer dividends entirely.
©Kalkine Group 2020
However, for a few dividend shares, revenue and cash flows remained consistent (even improved!) through the peak of the pandemic in Australia. For instance, soaring iron ore prices lifted Fortescue Metals Group Limited (ASX:FMG) earnings. The Company paid $ 1.76 in dividends.
MUST WATCH: Dividend Stars Worth Exploring in 2021
As the new year of revival and hope begins, let us walk through three ASX-listed dividend shares that seem to be showing some promise for the shareholders-
Bapcor Limited (ASX:BAP)
Annual yield is 2.26 per cent.
Trading at $ 7.85 on 13 January 2021.
Bapcor continues to prove that it is a resilient and financially solid business, says CEO & MD Darryl Abotomey. The largest auto parts business in Australia as well as New Zealand, Bapcor maintained its FY20 final dividend at 9.5 cents per share and much to the delight of shareholders, the full-year dividend increased by 2.9 per cent to 17.5 cents.
For the five months to the end of November 2020, Bapcor's revenue was up by 26 per cent, as per its last trading update provided in December 2020. For the first half of FY21, Bapcor anticipates that-
Revenue growth will be at least 25 per cent over the pcp in FY20
NPAT will increase by at least 50 per cent over the pcp in FY20 ($ 45.6 million)
Market consensus for Bapcor's full-year NPAT ranges from $ 110 million to $ 115 million
The Company will release its half-year results for FY21 in February 2021.
GOOD READ: 10 ASX-listed dividend stocks under the spotlight
Tassal Group Limited (ASX:TGR)
Annual yield is 5.27 per cent.
Trading at $ 3.4 on 13 January 2021.
Australia's largest fish business, Tassal maintained its annual dividend at $ 0.18 per share in FY20. This was a result of the impressive EBIT growth of 12.7% to $ 99.8 million and NPAT growth of 13.3% to $ 64.2 million. In Q121, sales revenue was $ 132.4 million, up 31.1 per cent relative to Q120.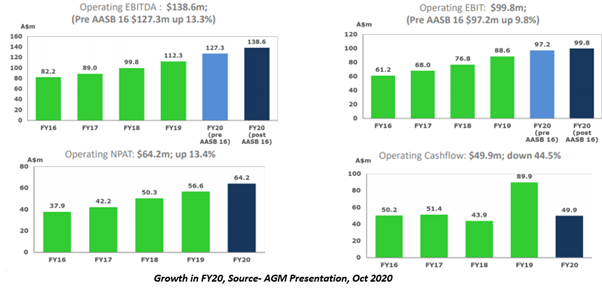 The Company recently completed the acquisition of Billy Creek where it intends to create an enlarged Proserpine prawn "farming precinct".
In FY21, the Company intends to focus on domestic sales and cost $/kg improvements for salmon as well as prawns.
Besides, the Company is as best prepared as it can be. Current trading, together with an additional debt facility of $ 100 million seems to be offering further flexibility. Tassal is targeting growth in FY21 operating earnings and returns. Dividend payout policy of not less than 50 per cent of operating NPAT is likely to be maintained.
RELATED READ: Agriculture stocks that could help recover from the COVID-19 nightmare - BGA, TGR, BGT
Nick Scali Limited (ASX:NCK)
Annual yield is 4.39 per cent.
Trading down at $ 10.65 on 13 January 2021.
A furniture retailing business, Nick Scali saw its underlying EBIT margin improved by 90 basis points to 23.2 per cent in FY20. This helped maintain the underlying NPAT at $ 42.1 million.
For the first quarter of FY21, total written sales orders grew by 45 per cent. The Company has opened new stores in Auckland as well as NSW, that performed strongly. The stores can contribute to profit in H221 as written sales orders convert to revenue.
ALSO READ: Here's Why Nick Scali (ASX:NCK) Share Price Is Skyrocketing Today
Besides, the final dividend grew by 12.5 per cent to 22.5 cents per share. This brought the full-year dividend to 47.5 cents, an uptick of 5.6 per cent.
For the six months to 31 December 2020, the Company expects unaudited NPAT of $ 40.5 million, up ~100 per cent on the underlying profit for the pcp.