Source: Mark Agnor, Shutterstock
Summary

The market has been on a roller coaster ride since the beginning of this year, owing to a mix of favourable and unfavourable factors.
While coronavirus vaccination programs boost the market, surging virus cases have an adverse impact.
The Australian resources sector has recorded an impressive uptick of more than 50 per cent in the past year.
2020 was a year that changed the world dramatically, unleashing the worst economic downturn. However, hoping for sunshine after a gloomy period is a very integral part of how human beings operate.
For the current year, China is expected to register growth of more than 6 per cent, while GDP growth of the UK is anticipated at 4.3 per cent, as per S&P Global Ratings. Moreover, the US government's focus on growth by expanding employment opportunities and lifting hard-hit sectors with stimulus packages are some of the hints that the world is on the right track to bring the pre-pandemic joy back soon.
Amid the ongoing economic recovery and simultaneous threats of the third wave of coronavirus in various countries, consumers are preparing for Easter celebrations. However, in the wake of growing cases, many fear that there could be restrictions during Easter.

Source: © Ivonnewierink | Megapixl.com
Let us explore few of the trading ideas from the Australian resource sector (ASX 200 Resources) for Easter. Remarkably, the sector has recorded a tremendous growth of more than 57 per cent in past one year.
The sector is primarily driven by robust demand for base metals in China and an unprecedented crude oil rally due to production cuts by OPEC and its allies. The extraordinary growth in the number of electric vehicles (EVs) sold in 2020 has also boosted the demand for battery metals, including lithium and nickel.
Iron Ore: The iron ore industry is experiencing an exceptional 2021 rally, owing to strong demand from the Chinese steel industry and disrupted Brazil supplies.
The latest government data shows that Australian iron ore exports are set to create a new record for 2020-21 with earnings expected at A$136 billion. However, the demand is partially offset by China's move to curb pollution by halting production from seven major steel companies this month. In March 2021, iron ore prices hit a 10-year high.
Sector heavyweight BHP Group Limited (ASX:BHP) is advancing its South Flank project, which is expected to deliver 80Mtpa in 2021. Rio Tinto (ASX:RIO) is also ramping up production from the new Koodaideri mine to boost its output from 2022.
| | | | | |
| --- | --- | --- | --- | --- |
| Ticker | Company | Stock Price (AUD) | 1 Year Return | Market Cap (AUD) |
| RIO | Rio Tinto | 109.85 | 36.4 % | 41.67 billion |
| BHP | BHP Group | 45.19 | 59.0 % | 135.09 billion |
Source: ASX as of 30 March 2021
Must Read: Who is winning the 'safe haven' race: Copper, Gold or Bitcoin?
Gold: Gold recorded a groundbreaking rally in 2020, attaining an all-time high of US$2,063 in August last year. However, the demand has been partially offset by Bitcoin euphoria, strengthening of the US dollar and surge in US Treasury yields in the past few months.
The prices are consolidating at the current level and are expected to rise with spread of the third wave of coronavirus in European countries.
Sector outperformer De Grey Mining Limited (ASX:DEG) has made a new gold discovery at the Gillies prospect, which lies within the Farno McMahon Joint Venture and is 30km southwest of the Hemi gold discovery. Chalice Mining Limited (ASX:CHN) has been granted the high-grade Viking Gold Project tenement near Norseman.
| | | | | |
| --- | --- | --- | --- | --- |
| Ticker | Company | Stock Price (AUD) | 1 Year Return | Market Cap (AUD) |
| DEG | De Grey Mining | 1.04 | 355.30% | 1.37 billion |
| CHN | Chalice Mining | 5.33 | 921.40% | 1.81 billion |
Source: ASX as of 30 March 2021
Lithium: Lithium carbonate prices surpassed 85,000 yuan per tonne on 30 March 2021, the highest since August 2018. There has been a strong demand for the metal as it is used in the production of batteries for EVs.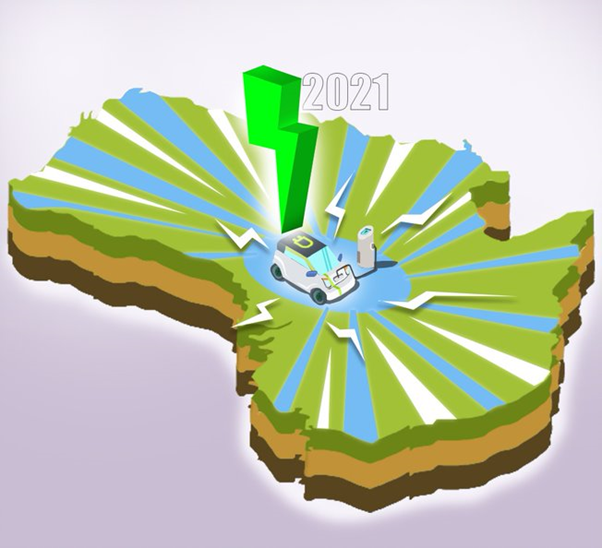 Copyright © 2021 Kalkine Media Pty Ltd.
Further driving the demand momentum are factors like all-time high EV sales in China in January and US President Biden's pledge to build 0.5 million EV charging points over the next decade. The deficit between lithium demand and supply is expected to increase in 2021.
Sector outperformer Pilbara Resources (ASX:PLS) has launched a digital platform for the sale of spodumene concentrate from the Pilgangoora Project, while Galaxy Resources (ASX:GXY) is heading towards commencing production of battery-grade lithium carbonate from its wholly-owned brine project located in Sal de Vida, Argentina.
| | | | | |
| --- | --- | --- | --- | --- |
| Ticker | Company | Stock Price (AUD) | 1 Year Return | Market Cap (AUD) |
| PLS | Pilbara Resources | 1.027 | 556.70% | 3.01 billion |
| GXY | Galaxy Resources | 2.510 | 220.20% | 1.27 billion |
Source: ASX as of 30 March 2021
Interesting Read: Looking to Jazz Up Your Easter Basket? Here are 7 Hot Stocks to Explore