Summary

Despite a significant fall in earnings, Select Harvests (ASX:SHV) has announced a final dividend of 4 cents per share.
Water costs also contributed to the increase in total production cost per kg in FY20. This year, water cost is near to long-term averages.
On 30 November 2020, ASX 200 opened the week on a weak footing. The benchmark index was down 0.77 percent.
ASX-listed Select Harvests Limited (ASX:SHV), which has released its results for the 12-month period ended 30 September 2020, also traded downward by 3.704% to $5.980 on 30 November 2020 (AEDT 1 PM). The Company reported a 16.8% drop in revenue, which declined to $248.2 million compared to $298.47 million in the same period last year.
Although almond crop volume was up 2.5% to 23,250 mt from 22,690 mt, there was a decline of 12.8% in the average almond price to $7.5/kg from $8.60/kg in FY19.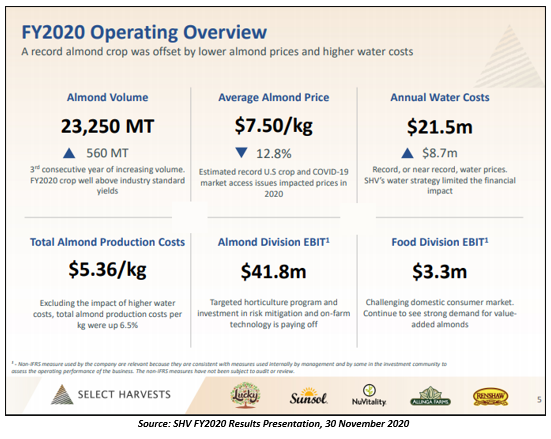 EBITDA was almost 40% lower at $57.8 million compared to $95.2 million in the previous year. Select Harvests has reported a decline in net profit of 52.8% to $25 million from $53 million in the same period last year.
An increase of 560 mt in almond crop from its matured and immature orchards, underscores relatively higher yield than the industry standards. These higher yields also support the long-term strategy of growing almonds orchard base through matured orchard acquisitions and greenfield developments.
Select Harvests has announced a fully franked final dividend of 4 cents per share, which is payable on 5 February 2021 to the shareholders on record, on 11 December 2020.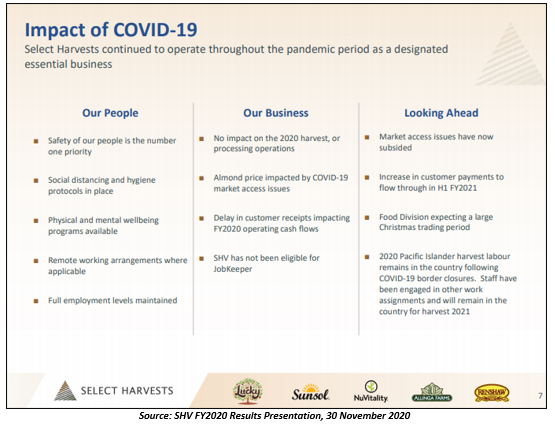 The pandemic has impacted operating cash flows due to delays in shipments, thus an increased percentage of customer payments is expected in 1H FY21. It has been able to operate throughout the pandemic.
Almond Division
Earnings before interest and tax (EBIT) for the division was down almost 50% to $41.8 million from $82.23 million in FY19. A record crop yield was underpinned by better growing conditions, horticulture program, and investment in techniques and technology.
Water costs largely drove the total production cost per kg, which increased by 13.3%. Excluding water costs, the increase in total production cost per kg was 6.5%.
SHV believes that the investments in new sorting technology and factory productivity improvement would deliver results over the coming years. 82% of the FY20 crop has been committed for sale or has been sold, and the balance would be held for value-add processing requirements.
Food Division
EBIT of Food Division was down 33.2% to $3.34 million compared to $5 million in the previous year. The performance was impacted by private label penetration into the branded nuts category and higher commodity input costs, albeit strong demand in industrial almond products.
Select Harvests noted strong overseas and domestic demand for almond ingredient products from food manufacturers, consumers and confectioneries. In FY20, the sale of almond ingredients increased by 19%.
It has also invested in Lucky and Sunsol brands, leading to national ranging. The demand for healthier products is also growing from the Asian markets, but the COVID-19 restrictions have limited the business development in the region.
A review into supply chains solutions and growth options for the division is expected to conclude by the end of CY2020.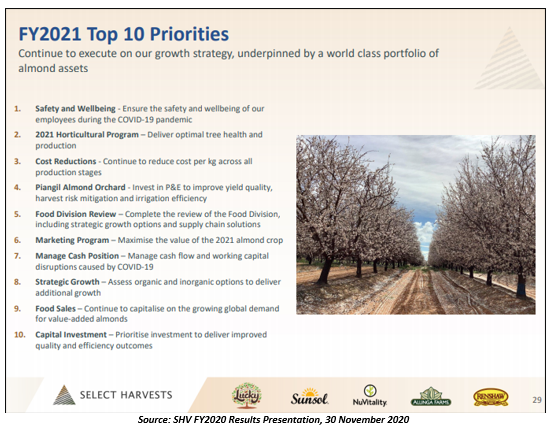 Outlook
Low almond prices are driving demand for almonds. The company would harvest the next crop in February 2021. The 2020/21 water season appears better with prices back to long-term averages. It expects to continue delivering a complete horticulture program to maximise yield.
On 30 November 2020 (AEDT 1 PM), SHV traded at $5.980, down by 3.704% from the previous close.