Summary

RDY has executed a share sale deed with owners of Open Office to acquire the business.
The transaction now includes an additional $8 million earn-out consideration related to a Government Licensing Project.
ReadyTech Holdings Limited (ASX:RDY) has confirmed Open Office's acquisition after entering into a binding Share Sale Deed with Pentagon Holdco, which owns Open Office and McGirr (collectively Open Office).
Earlier in November 2020, the company signed Heads of Agreement and an Exclusivity Agreement, which provided the opportunity to acquire Open Office. The target business is a leading software provider serving government and justice sectors.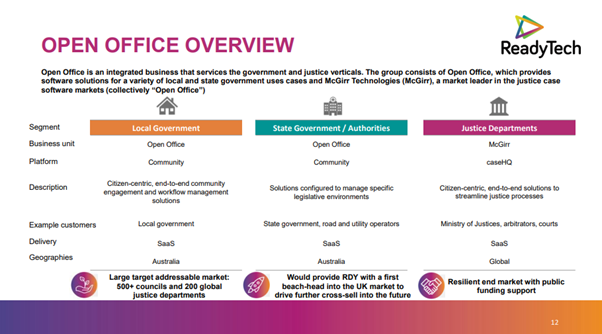 Source: RDY Presentation, 6 November 2020
ReadyTech is pursuing a strategy to provide mission-critical software services to targeted markets. It is also focused on identifying new verticals to continue expanding into new markets.
Under the Share Sale Deed, the company would acquire Open Office for an upfront consideration of $54 million and an earn-out consideration of up to an additional $26 million.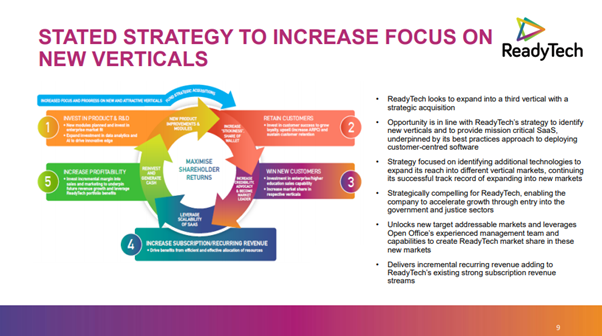 Source: RDY Presentation, 6 November 2020
After entering into Heads of Agreement, Open Office was shortlisted for a key government contract. The earn-out consideration now includes an additional $8 million cash earn-out related to the Government Licensing Project.
If the transaction is completed, ReadyTech Holdings would have a new vertical with presence in local, state government and justice sectors and additional recurring revenue streams.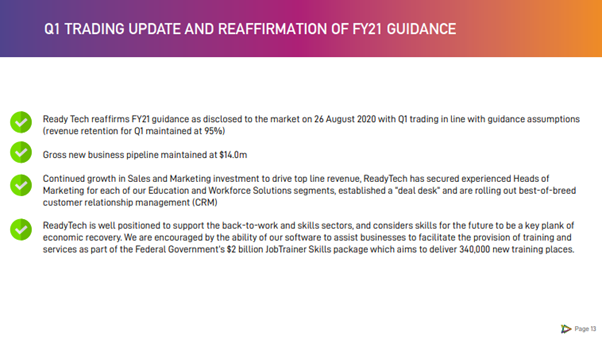 Source: RDY AGM Presentation, 18 November 2020
For the acquisition funding, the company has completed a placement of $25 million in November 2020. The transaction would be completed through a scrip, cash on the balance sheet and debt. ReadyTech would have new banking facilities upon completion of the transaction.
The company would call an Extraordinary General Meeting to approve various parts of the transaction.
On 11 January 2021, RDY last traded at $2, unchanged from the previous close.