Highlights:

Governments across the world are providing a range of incentives for automakers and customers to switch to EVs.
Some of the notable ASX-listed EV stocks are Novonix, Ampol and Magnis.
Novonix produces and sells lithium-ion battery materials, equipment, and services in North America.
Electric vehicles (EVs) have been at the forefront of the automobile industry's efforts to become more environmentally friendly.
Governments across the world are also providing a range of incentives for automakers and customers to make the switch to EVs. This includes rebates on purchases, tax exemptions, and even charge waivers for things like charging, parking, and tolls.
Therefore, EV stocks may be worth considering in the stock market as the electric vehicle transition accelerates.
Let's take these three ASX-listed EV companies - Novonix Limited, Ampol Limited, and Magnis Energy Technology Limited to discuss their performance report.
Most of the EV stocks are trading in red today; this might be because of the ASX 200 Index, which is 0.44% lower at 7,286.10 in the early morning session and the ASX 200 Materials Index, which is 0.32% lower at 17,143.50.
Image Source: © 2022 Kalkine Media ®
Novonix Limited (ASX:NVX)
Novonix Limited is a company that produces and sells lithium-ion battery materials, equipment, and services in North America. Graphite Exploration and Mining, Battery Technology, and Battery Materials are its three segments.
Earlier, the company was known as Graphitecorp Limited. In July 2017, it changed its name to Novonix Limited. Brisbane-headquartered Novonix Limited was started in 2012.
Stock performance: Shares of Novonix opened in red today, trading 4.37% lower at AU$5.03 apiece on ASX. The company has provided a negative YTD return of around 45% to its shareholders. However, its shares have jumped 112% in the last one year.
Novonix has a market capitalisation of AU$2.69 billion.
Ampol Limited (ASX:ALD)
In Australia, New Zealand, Singapore, and the United States, Ampol Limited purchases, refines, distributes, and markets petroleum products. The company's two segments include convenience retail and fuel and infrastructure.
Last year, the company joined hands with the Australian Renewable Energy Agency (ARENA) to fund a national electric vehicle fast-charging network.
Yesterday (26 April 2022), Ampol informed ASX that the New Zealand High Court has granted final orders approving the Scheme of Arrangement (Scheme) between Ampol and Z Energy Limited.
The Scheme Consideration of NZ$3.78200 per Z share in cash includes an Implementation Date Adjustment of NZ$0.02200 per Z share (40 calendar days at NZ$0.00055 per calendar day). A delay in the above-mentioned estimated schedule could result in a higher Implementation Date Adjustment and hence a higher Scheme Consideration.
Read More: Ampol's (ASX:ALD) Z Energy (ASX:ZEL) acquisition takes a step ahead
On the same day, the company shared its unaudited financial results for 1QFY22.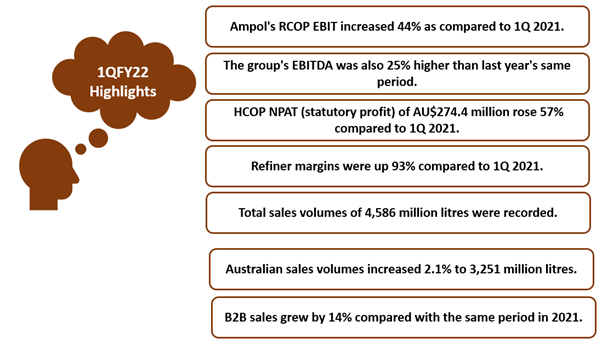 Image Source: © 2022 Kalkine Media ®
Stock Performance: Ampol's shares opened in the green today, trading 0.59% higher at AU$32.49 each at the time of writing this article. The company's shareholders have pocketed almost 10% YTD returns while the shares have climbed around 28% in the last one year.
Magnis Energy Technology Limited (ASX:MNS)
Magnis is a lithium-ion battery cell manufacturer established in Australia. Magnis is focused on three main areas - battery technology, graphite and gigafactories.
Source: © Icefields | Megapixl.com
Magnis provided an update on Imperium3 New York (iM3NY), which operates a Gigawatt-scale Lithium-ion battery manufacturing plant in Endicott, New York, on Tuesday (26 April 2022). The principal shareholders in iM3NY are Magnis and its joint venture and technology partner Charge CCCV LLC (C4V).
The project was 67% completed at the end of March, with fully automated production set to begin in late June 2022.
On 19 April 2022, Magnis had informed that iM3NYhas completed a US$100 million, three-year intellectual property-based financing (loan facility), partnering with Atlas Credit Partners (ACP) and Aon.
Stock performance: Magnis' shares were trading 1.09% lower in the morning trading session today at AU$0.45 per share. The company's shares have fallen around 21% YTD while it recorded a 20% increase in its 52-weeks share price.