Taking cues from the global market, the ASX 200 traded in the negative territory today. By afternoon, the benchmark index had lost 99.70 points and traded at 6918.10, a deep cut of 1.42%. All sectors traded lower today with energy sector being the worst performer, followed by IT, Materials and others.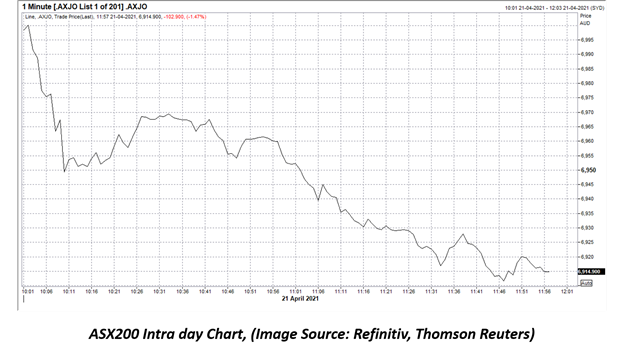 Corporate Travel Management Limited (ASX: CTD) and IDP Education Limited (ASX:IEL) from Consumer Services traded higher today.
Resolute Mining Limited (ASX: RSG) and Champion Iron Limited (ASX:CIA) from Materials also remained on the top gainers' list.
Also read: ASX 200: Will COVID-19 concerns weigh on the market today?
Shares buzzing on Wednesday
Nuix Limited (ASX: NXL), the global software company, provided an update on the recent trading environment following its internal quarterly management review. The company reported that the increased customer transition to SaaS licences and consumption have impacted its revenue but offer a considerable business model in the long term.
The recent operating environment has lowered near-term upsell opportunities. However, revenue from new business and renewals remain as per the expectations. As compared to the last financial year, the newly listed company reported strong underlying business performance coupled with total and average order values and a considerable increase in new customers.
Nuix is expecting revenue between AU$180 million to AU$185 million. Annualised Contract Value is anticipated in the range of AU$168 million to AU$177 million, and EBITDA to remain in between AU$64.6 million to AU$66.6 million. The company's shares declined by 14.004%.
Must check: Nuix (ASX:NXL) gains over 60% on ASX debut. | AUS
Corporate Travel Management Limited (ASX:CTD) reported returning to profit and expects positive underlying EBITDA in Q4 FY21 led by UK/EU and ANZ regions. The domestic demand is strengthening in the ANZ region, with the total client activity of last week jumping to 85% of FY19 booking levels.
New Zealand stands out in this with more than 160% of trading last week as compared to FY19 booking levels. The company is also witnessing positive signs of recovery in the US. In the UK and Europe, despite the lockdown restrictions, essential travel client wins are contributing to profitability. In FY19, nearly 70% of revenue was generated from the UK and the US. Hence, the recovery in these regions is significant for the company.
The company maintains a strong balance sheet with net cash of nearly AU$105 million on 31 March with an undrawn line of credit of 100 million pounds, and it has no debt. The company remains well-positioned for the likely industry consolidation. The company's value proposition has enhanced, and it is all set to be a bigger business in the post-COVID-19 era. Shares gained by 4.361%.
Also check: Corporate Travel Management (ASX: CTD) under Spotlight, Know Why!
Image source: © Vectorhot | Megapixl.com
Splitit Payments Limited's (ASX:SPT) growth accelerated in Q1 FY21 with Merchant Sales Volume growing robustly to US$82M, an increase of a whopping 247% Year over Year. Gross Revenue is up by 292% YoY to US$2.7M.
The global payment solutions provider added new brands to its merchant list, and total merchants stood at 2.2K. The company boasts of an impressive client list that includes APM Monaco, Xupes, Poly and Bark, Google, Giant Bicycles, Hastens, Findex, Mate Bike, Super73, Dott.pt, House of Hackney, and openshop. Total shoppers increased by 70k and totalled 0.5M.
In addition to US$75M closing cash balance, the company has Goldman Sachs' US$150M receivables warehouse facility to support AU$800M of annual MSV. Shares dipped by 5.918%.