Source: leungchopan, Shutterstock
The benchmark index ASX 200 traded higher today. Towards the end, it gained 39.90 points, up by 0.57% on Tuesday's closure. The majority of sectors traded in the positive territory today, and Information Technology continued to gain strength, followed by A-REIT, Health Care, Materials and others.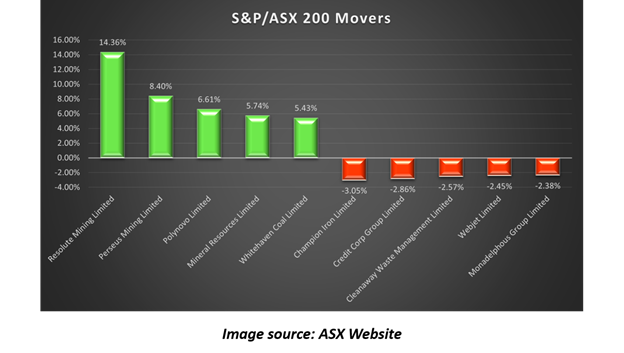 Resolute Mining Limited (ASX: RSG), Perseus Mining Limited (ASX:PRU) and Mineral Resources Limited (ASX:MIN) from Materials traded higher. Whitehaven Coal Limited (ASX:WHC) from Energy were up and about in day's trade and surged by more than 5%.
A look at the global market
After data confirmed that the US inflation is not rising wildly, bond yields eased, and Wednesday witnessed a fresh record high in the global equity markets. The benchmark US Treasury yields continued to fall and marked a three-week low. The decline lifted the tech stocks in the US, including Amazon.com Inc, Microsoft Corp, and Apple Inc. US dollar also fell to a three-week low.
Hong Kong's Hang Seng followed the Wall Street performance yesterday and led the gains in the region. It surged by 1.3%. However, Japan market was under pressure due to the increasing cases that flagged concerns about the economic reopening. With only 100 days left for Tokyo to host the Olympics, Nikkei fell by 0.4%.
Asia-Pacific's MSCI's broadest index outside Japan increased by 0.6%, China's blue-chip index was up by 0.7%.
The US consumer price index reported the biggest increase since August 2012 and gained by 0.6%.
After US federal health agencies advised to pause the Johnson & Johnson's Covid-19 vaccine, the shares slid by 1.34%.
The vaccination side effects reported in the US and European countries have raised concerns over the global economic recovery. However, the safe-haven gold is back on the gaining spree.
Moving on, Bitcoin has taken its 2021 rally to new heights and traded above USD 63,860 ahead of the Coinbase listing in the US.
Some other international news making headlines today
As per the reports emerging, amid the ongoing controversy, Toshiba Corp CEO Nobuaki Kurumatani has resigned. He was facing charges over a USD 20 billion buyout bid from his former employer. The company statement confirmed that Chairman Satoshi Tsunakawa would be the chief executive after his resignation.
New Zealand's central bank, the Reserve Bank of New Zealand, held its official cash rate at 0.25% and retained its large scale asset purchase program at NZD 100 billion. The bank stated it is observing the economic impact of some international tourists' return and new housing market measures.
An AI-based Silicon Valley startup, SambaNova Systems, reported raising USD 676 million. The capital was raised in the funding round led by Vision Fund 2, which is a part of SoftBank Group Corp.