Summary

Audio Pixels Holdings (ASX:AKP) is bringing new technologies to digital loudspeaker technologies and announced to have achieved its quarterly objectives.
Unique medicinal cannabis products developer, Incannex Healthcare Limited (ASX:IHL) registered sole contribution from cannabinoid products to revenues in the September 2020 quarter.
4DMedical Limited (ASX:4DX) is focused on advancing respiratory diagnostic technology.
In this article, we discuss three innovative companies listed on the Australian Securities Exchange (ASX). These companies have gained significant investor traction over the recent months. One thing similar in these companies is that they are engaged in the development of innovative and disruptive products.
Audio Pixels Holdings Limited (ASX:AKP)
Earlier this month, the company released a progress update to the market, highlighting that quarterly objectives were achieved. Audio Pixels now has two distinct technological demonstrators working within its cleanroom.
Of these two, the first one is core single chip product capable of reproducing low frequencies, which are unattainable with speakers of similar size. The second one is a multi-chip demonstrator, which uses multiple chips to attain virtually any desired acoustic output by using multiple AKP's single chips.
Now, the company is in a position to intensify engagement with the marketplace. To meet industry standards, it is required to assemble and package chips for collecting data outside a cleanroom, which would be done when restrictions permit.
Audio Pixels would now focus on optimisation of the product and manufacturing process to advance quantity production of its first generation of products.
On 13 October 2020, AKP last traded at $ 28.870, down by 1.636% from the previous close.
Incannex Healthcare Limited (ASX:IHL)
On 6 October 2020, the company announced to have recorded cash sales receipts of $695k from cannabinoid products for the three months to 30 September 2020. During this quarter, sales were solely generated from cannabinoid products.
Incannex also received an additional batch of 5,500 medical cannabis oils. The batch is for patients seeking relief from conditions such as epilepsy, inflammatory bowel disease, insomnia, migraine, opioid reduction and arthritis.
The company also received a batch of hydroxychloroquine compound, which would be used to advance its research into IHL-675A for the treatment of Sepsis Associated Acute Respiratory Distress Syndrome (SAARDS).
In July, IHL reported positive results from the pre-clinical animal studies for IHL-675A. At present, it is undertaking in vitro studies to study the response of IHL-675A.
On 13 October 2020, IHL last traded at $ 0.093, up by 4.494% from the previous close.
Related: Lens on Australian Medical Cannabis Industry
4DMedical Limited (ASX:4DX)
4DMedical is a global med-tech company, revolutionising respiratory imaging and ventilation analysis. Its flagship XV Technology is proven and patented. The company is changing the way how physicians manage and diagnose patients with lung disorders.
As a newly listed company on ASX, the company has gathered traction among investors. In a recent healthcare forum, 4DX noted that the respiratory diagnostic sector represents a global market of over USD 31 billion per annum.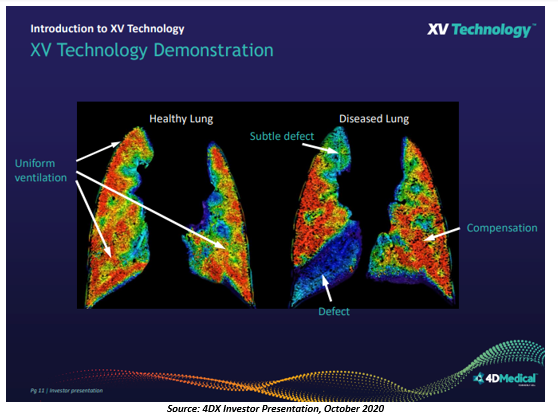 4DMedical's XV Technology helps physicians to understand regional lung motion and airflow in real-time. It has FDA clearance and is emphasising on the commercialisation of XV Technology in the US market.
On 13 October 2020, 4DX last traded at $ 2.330, down by 8.628% from the previous close.
Good Read: All you need to know about 4DMedical