Summary

Perth-based high-speed internet provider, Pentanet Limited noted that its active subscriber count crossed the 10,000 mark.

In FY2020, the growth rate of the subscribers was 218%.
The growth in the active subscriber was driven by leading network technology coupled with a customer-centric service.
Pentanet Limited (ASX:5GG), the leading Perth-based, growth-focused, telco delivering high-speed internet provider announced that its number of active subscribers had crossed the 10,000 mark. In Q1 FY2021, the number of active subscribers was 8,386 in number.
The growth in the number of subscribers is because the Company will start the expansion of its fixed-wireless network. Thus, it is increasing the network coverage across the Perth metropolitan area and reaching more potential customers. The expansion of the Company-owned fixed wireless network is the primary strategic focus for the business given the significantly better margins than reselling the NBN to end-users.
Pentanet Limited lately made its ASX debut on 29 January 2021, and it highlighted that in FY2020, the subscribers' growth rate was 218%.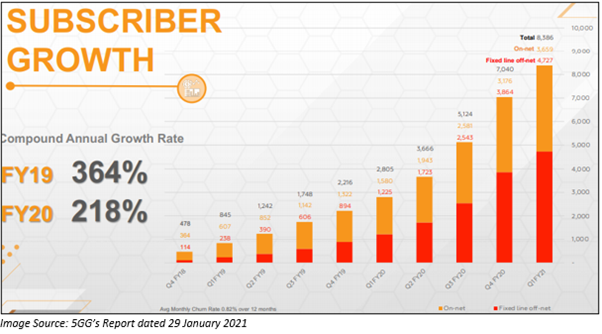 Pentanet's Managing Director Stephen Cornish highlighted that within 12 months, the subscriber base got doubled to 10,000, driven by leading network technology coupled with the customer-centric service.
Pentanet's Long-term Goal
As highlighted above, Pentanet recently got listed on ASX, wherein one of its announcement it talked about its strength of Pentanet's flagship fixed-wireless network and its outlook.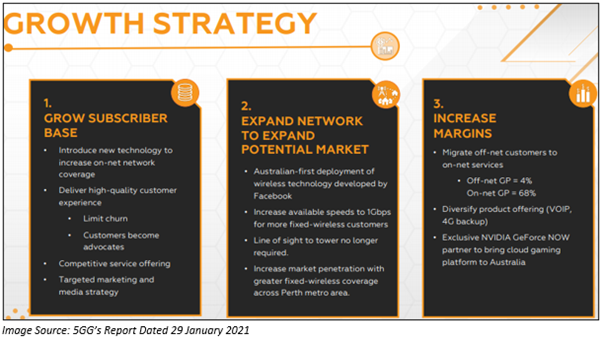 In the announcement, the Company highlighted that its fixed-wireless product is technically improved compared to most of the NBN and provides attractive margins for investors. This feature separates 5GG from the other broadband providers who can resell the NBN.
The Company raised ~A$22.5 million by issuing each share at 25 cents. These funds would be used to expand its network & plan to roll out a next-generation gigabit fixed-wireless technology developed by Facebook. Through this, Pentanet would be able to provide high-speed internet and can also serve a greater number of customers. Another advantage of this technology is that it connects households without a line of sight to a telecom tower with those that have a line of sight, forming an innovative mesh network.
Pentanet also has plans to be a part of the cloud gaming rollout, the next wave of subscription-based entertainment services. The Company has signed an Alliance Partner Agreement with NASDAQ-listed NVIDIA. Through the deal, Pentanet would be the first to get NVIDIA's GeForce NOW technology to Australia in 2021.
Stock Information: At AEDT 01:09 PM, 5GG shares were trading at A$0.690, up 2.985% from its last close.