Summary

Nowadays, majority of ASX200 listed companies are updating investors on their results for FY20.
Pacific Smiles' share price ended the day, gaining ~10%, on 20 August post revealing its FY20 results.
Codan's share price jumped 15.256% on 20 August as it posted record 40% rise in its NPAT, standing at $64 million for FY20, while Infigen's share price has been closing flat at $0.92 since 12 August.
All Ordinaries Index offers a benchmark for the whole Australian stock market, which is made up of 500 biggest entities listed on ASX. The market capitalisation cut off for initial entry is ~$40 million, and collectively the constituents form more than three-quarters of the Australian stock market.
Australia has just stepped into corporate confession season, which coincided with recession, ongoing COVID-19 pandemic, and record stimulus with a lot of companies updating or due to update investors on their results for the financial year ended 30 June.
Let's have a look at the latest news of the 5 ASX200 listed stocks to get acquainted with their respective performances.
Pacific Smiles Group
Health care player, Pacific Smiles Group Limited (ASX:PSQ) share price gained ~10%, closing at $1.6 on 20 August.
On 20 August, Pacific Smiles released FY20 report for the period ended 30 June and noted a solid performance before the impact of coronavirus, but the dental services took a significant hit on its overall results in the second half of FY20.
Key financial highlights from the financial 2020 year results include of the following:
EBIDTA growth of 15% in H1 of FY20, which ended the year at $23.5 million, up 2.9% on pcp
NPAT stood at $8.1 million for FY20, down 9.7% on pcp
Patient fees in H1 of FY20 jumped 14.5% to $105.4 million but ended the year at $186.3 million, down 0.6% on pcp
5 new Pacific Smiles dental centres were opened in FY20, with total 94 centres noted at 30 June 2020
JobKeeper scheme gave $8.4 million for its employees
No final dividend was declared for FY20
Source: PSQ FY20 Results Presentation, dated 20 August 2020
On the outlook front, for FY21, patient fees with nearly 15% growth and EBIDTA with about 15% growth YoY is expected, assuming various factors, which includes of JobKeeper benefits for Q1FY21 offsetting COVID-19 related underperformance, persistent level 3 restrictions in Melbourne in 1H FY21, trading in H2 FY21 without significant COVID-19 disruptions and opening of about 10 new dental centres.
GOOD READ: No FY21 guidance from most ASX Companies: 3 Things Investors should look at while going by luck
Ainsworth Game Technology Limited
Consumer discretionary company, Ainsworth Game Technology Limited (ASX:AGI) share price fell by 1.299%, closing at $0.38 on 20 August.
Ainsworth business revenue fell by 36% to $149 million in FY20 for the period ended 30 June due to COVID-19 impact.
Key highlights for FY20 shows:
Adjusted net loss before tax of nearly $34 million, excluding one-off costs including non-cash impairment charges, Job Keeper and costs associated with the acquisition of MTD
Positive adjusted EBITDA of $2.9 million
Net debt stood at $17.5 million as at 30 June 2020, and a one-off impairment (non-cash) of $12 million is expected at FY20 on review of LATAM cash-generating unit
67 redundancies are included in FY20 at an annualised cost saving of $6.4 million, and further 40 roles have been eliminated at a cost-saving of $3.8 million per annum
The company cancelled the FY20 final dividend
AGT concluded H1 FY20 with cash balance of $42 million after repayment of borrowing during the first half of 2020, and it had a cash balance of $26.5 million, as of 30 June 2020.
Infigen Energy
Utilities sector player, Infigen Energy Ltd. (ASX:IFN) share price on 20 August closed unchanged at $0.92, and has been closing flat at the same price since 12 August.
Infigen announced a 92% fall in NPAT with a loss of $37 million to stand at $3.5 million due to higher levels of depreciation, along with several pre-announced, one-off items. It also raised Renewable Energy Generation sold of 1,959GWh, rising up by 10%, with renewable sources supplying over 99% of its overall output during FY20.
Some of the key metrics from FY20 report ended 30 June includes of the following:
Net revenue of $235.6 million, up 3% YoY as the Company's higher renewable energy generation was partly offset by lower electricity prices in FY20
EBIDTA stood at $163.3 million, down 1% on pcp
Debt lessened by $53.5 million, continuing the deleveraging program and delivering a Net debt/Adjusted EBITDA ratio of 2.7x, decreasing from 3.2x in FY19.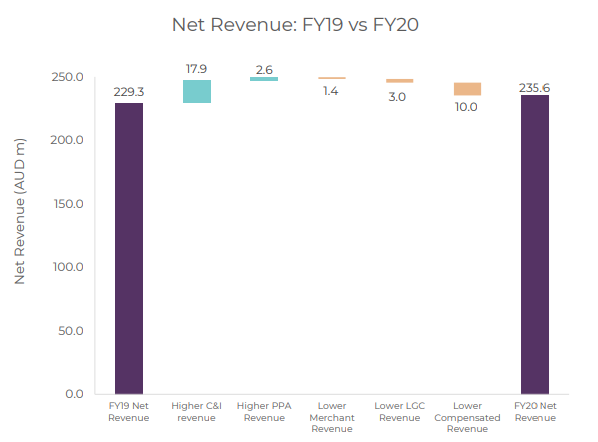 Source: IFN FY20 results, dated 20 August 2020
On the outlook front, Infigen expects net revenue and EBITDA to be materially lower in FY21, as indicated in its Q4FY20 activity report.
Further, as notified on 19 August, The Australia unit of Spain's Iberdrola increased, by a week its off-market takeover offer for Infigen. The bid of $0.92 per share will stay open till 26 August.
ALSO READ: Earnings Report: Stocks that Passed the Litmus Test and those that Didn't: TCL, SEK, CPU, DOW, NWS
Southern Cross Media Group Limited
Communication Services company, Southern Cross Media Group Limited (ASX:SXL) share price fell 3.03% to $0.16 on 20 August.
Southern Cross Media provides content to Australians through radio, TV, and digital assets. It is the parent firm for Southern Cross Austereo, formed by the merger of Southern Cross Media Group and Austereo Group.
Southern Cross reported a fall in earnings, revenue and profits for FY20 for the period ended 30 June, but the business still reported a profit excluding significant items of $34.1 million and an underlying NPAT of $35.8 million as its cost-saving initiatives and equity raising resulted in a much healthier balance sheet in FY20.
Other highlights from the full year report are as follows:
Revenue declined 18.2% to $540.8 million in FY20 in both audio and television, compared to $661 million in FY19
EBIDTA stood at $108.2 million, down 36.9% from FY19
Equity raising in April led to $160.8 million in net proceeds and thus, the Company's net debt reduced to $131.6 million from $292.6 million noted in pcp
Southern Cross did not pay any dividend to shareholders and it does not expect to pay the same until 2022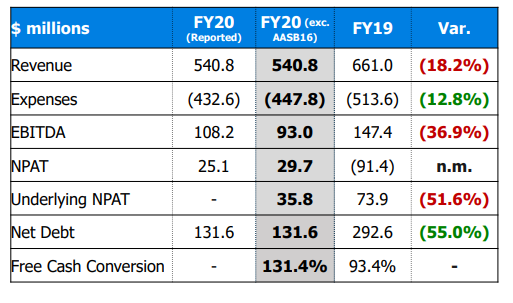 Source: SXL FY20 Investor Presentation, dated 20 August 2020
Codan Limited
An IT player, Codan Limited (ASX:CDA) share price gained 15.256%, closing at $10.35 on 20 August.
Codan announced a record statutory net profit after tax (NPAT) of $64 million for the financial year ended 30 June 2020, up by 40% on 2019's result driven by record sales in both metal detection and communications segment which makes up of 68% and 30%, respectively. The total revenue stood at $348 million.
Key highlights from FY20 report shows:
Highest full-year sales of $348 million in the company's history, up by 29% on pcp
A final dividend of 11 cents per share, to be paid by 11 September 2020, taking the fully franked annual dividend of 18.5 cents
Earnings per share stood at 35.5 cents, up 39% on pcp
The Group recorded $92.8 million in net cash due to the generation of $78 million in free cash flow for 2020
Codan's business appears to be well-positioned to deliver strong performance in FY21, but the Board did not provide any update on the outlook for FY21.