On 13th July 2021, selling pressure was witnessed on real estate as well as energy sectors. However, utilities sector witnessed buying. On the same day, ASX 20 declined by 0.13% to 4,129.80 and ASX 200 witnessed a marginal fall of 0.02% to 7,332.10.
Data Source: ASX; Table Source: Copyright © 2021 Kalkine Media
Performance of Indices:
ASX 200 settled at 7,332.10, showing a growth of ~22.66% in 1 year. Also, ASX Midcap 50 Index and ASX Small Ordinaries Index closed at 8,955.00 and 3,372.20 points, respectively.
S&P/ASX 200 vs S&P/ASX Midcap 50 Index vs ASX Small Ordinaries Index – One Year Return
Source: REFINITIV
Gainers and Losers:
Incitec Pivot Limited (ASX: IPL) stated that it is implementing changes to the manufacturing model from the global to the regional management structure.
Nearmap Ltd (ASX: NEA) made an announcement about its unaudited preliminary results for the year ended 30th June 2021. It was mentioned that record incremental annual contract value growth from the North American portfolio for the consecutive half-year periods is anticipated to result in the group ACV portfolio of $133.8 Mn at the end of FY 2021 (on constant currency basis).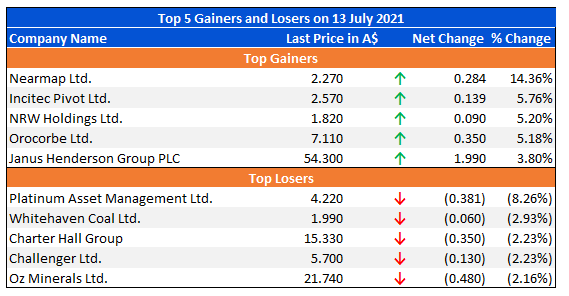 Data Source: ASX; Table Source: Copyright © 2021 Kalkine Media
Movement on Wall Street:
On 12th July 2021, NASDAQ Composite increased 0.21% to 14,733.24. Notably, Dow Jones Industrial Average rose 0.36% to 34,996.18.
Note: The reference data in this article has been partly sourced from REFINITIV