On 17th June 2021, ASX indices ended in red after the Fed meeting signalled the tightening of policies. In the statement, policymakers are expected to increase the interest rate by 2023 changing its existing policies. Notably, ASX 20 declined by 0.09% to 4,172.90 and ASX 200 fell by 0.37% to 7,359.00. Also, ASX MIDCAP50 decreased sharply by 1.34%.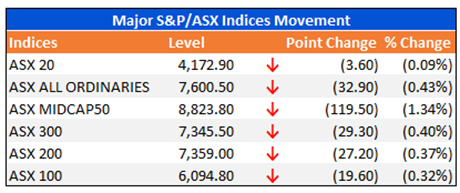 Data Source: ASX; Table Source: Copyright © 2021 Kalkine Media
ASX Midcap 50 Outperformed Rest of Indices:
ASX 200 Index settled at 7,359.00, showing a growth of ~22.82% in 1 year. Also, ASX Midcap 50 Index and ASX Small Ordinaries Index settled at 8,823.80 and 3,335.30 points, respectively.
S&P/ASX 200 vs S&P/ASX Midcap 50 Index vs ASX Small Ordinaries Index – One Year Return

Source: REFINITIV
Gainers and Losers:
Whitehaven Coal Limited (ASX: WHC) updated its FY 2021 production guidance from the range of 20.6-21.4Mt to 20.4Mt. It has also reaffirmed the managed coal sales as well as unit costs guidance.
In the release dated 15th June 2021, Bank of Queensland Limited (ASX: BOQ) made an announcement that the quarterly APRA Basel III Pillar 3 report which relates to the period ended 31 May 2021 might include the decrease in the collective provision of $75 Mn.
Data Source: ASX; Table Source: Copyright © 2021 Kalkine Media
Movements on Wall Street:
On 16th June 2021, NASDAQ Composite fell 0.24% to 14,039.68. Notably, Dow Jones Industrials Average declined 0.77% to 34,033.67.
Note: The reference data in this article has been partly sourced from REFINITIV