Highlights

The benchmark ASX 200 index fell 0.99% or to 7,245.7 in early trade.
US stocks plunged on Tuesday and European stocks continued extending their losses for a third consecutive day.
EML Payments was the top loser, falling over 9% in morning trade.
The Australian share market plunged at the opening tick on Wednesday, tracking a sharp fall in the US markets as inflation worries coupled with tech giants' earnings and China's COVID-19 situation continue to dampen risk appetite. The benchmark ASX 200 index fell 0.99% or 72.3 points to 7,245.7 in early trade, while the ASX All Ordinaries index was down 1.07% to 7,522.9. The A-VIX shot up by 8.6% to 17.74.
Image Source: © 2022 Kalkine Media®
The US stock market plunged on Tuesday and European stocks continued extending their losses for a third consecutive day as investors awaited US tech earnings.
Wall Street's lower closing was primarily led by the NASDAQ Composite as investors fretted over sluggish global growth and a more aggressive rate hike by the US Federal Reserve. Post-market earnings from Microsoft and Alphabet were also discounted during the session.
On Tuesday, the Dow Jones Industrial Average fell 2.38%, to 33,240.71, while the S&P 500 lost 2.81% to end at 4,175.21 points. The NASDAQ Composite ended the session 3.95% lower at 12,490.74.
Market action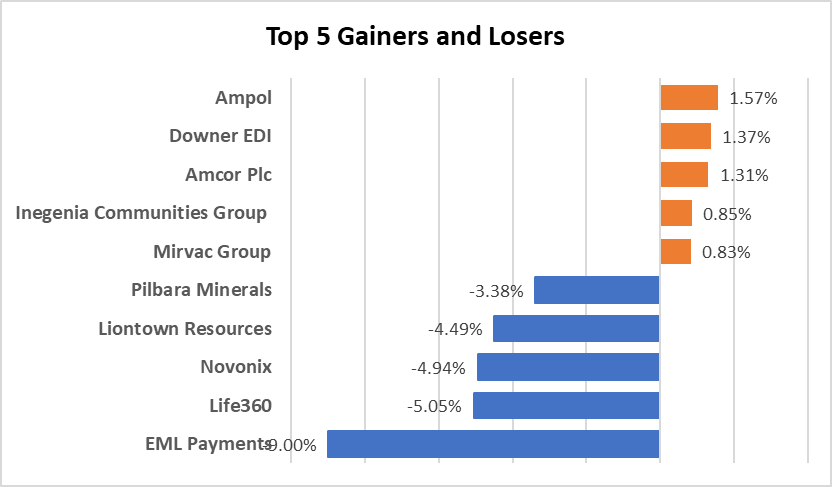 Data Source: ASX (as of 27 April 2022, 10:30 AM AEST)
Image Description: Top 5 ASX gainers and losers
Image Source: © 2022 Kalkine Media®
Coming to biggest losers weighing on the ASX 200, EML Payments Limited (ASX:EML) plunged another 9% in morning trade, after nosediving 38.5% a day before, followed by a 5.05% plunge in Life360 Inc's (ASX:360) shares. On the flip side, Ampol Limited (ASX:ALD) and Downer EDI Limited (ASX:DOW) were the top gainers, surging 1.57% and 1.37%, respectively.
On the sectoral front, 10 out of the 11 sectors were trading in the red. The IT sector was the biggest loser, falling 0.85%, followed by the healthcare and utilities sectors, both falling 0.79% each. The energy sector is up 0.13% on account of a bounce-back in crude oil prices.
Read More: First Bitcoin ETF coming to Australia: All you need to know
Newsmakers
SomnoMed Limited (ASX:SOM)
The company clocked a revenue of AU$17.3 million for Q3 FY22, a 10% growth over the same period last year.
It reaffirmed FY22 guidance for revenue growth of at least 15% and breakeven EBITDA.
At the end of the reporting period, the company had a cash balance of AU$14.8 million.
RPM Automotive Group (ASX:RPM)
Strong organic growth was reported across all four divisions of RPM for Q3 FY22, with overall organic revenue growth of 16.2% YOY, as at 31 March 2022.
RPM successfully completed the acquisition of Safety Dave with sales of AU$1.6 million from two months of trading during Q3 FY22.
Sound balance sheet, with net cash of AU$3.8 million, as at 31 March 2022, continued to support the company's working capital requirements.
Plenti Group Limited (ASX:PLT)
Plenti Group record quarterly loan originations of AU$321.9 million for Q4 FY22, 87% above the prior corresponding period (pcp).
Loan portfolio more than doubled to AU$1.3 billion, at 31 March 2022, 111% above the pcp.
Exceptional credit performance maintained and 90+ day arrears of 26 basis points recorded, as at 31 March 2022.
Whispir Limited (ASX:WSP)
Whispir has recorded a free cash outflow for the quarter ended 31 March 2022 (Q3 FY22) of AU$5.6 million.
Cash receipts for the reported period stood at AU$19.8 million, up 81.6% on the pcp of AU$$10.9 million.
Annualised Recurring Revenue (ARR) jumped 24.1% over the pcp to AU$62.4 million.
29Metals Limited (ASX:29M)
During the March 2022 quarter, operations were impacted by seasonal operating constraints combined with the continuing impact of tight labour market conditions and COVID-19.
The company continued investment in organic growth, including the commencement of the 2022 field program at Redhill in Chile.
At Capricorn Copper, supply chain delays were exacerbated in the March quarter by severe weather and flooding in south-east Queensland and northern New South Wales.
Read More: ADM, BVR & 1AE: Three ASX metals & mining IPOs expected in May