Tesserent Limited (ASX:TNT) has provided its quarterly cash report and business update of its activities and achievements for Q2 FY2021 ended 31 December 2020.
Sales increased by 41.7% to A$21.4 million as compared to Q1 FY2021.
EBITDA grew by 248% to A$1.4 million QoQ.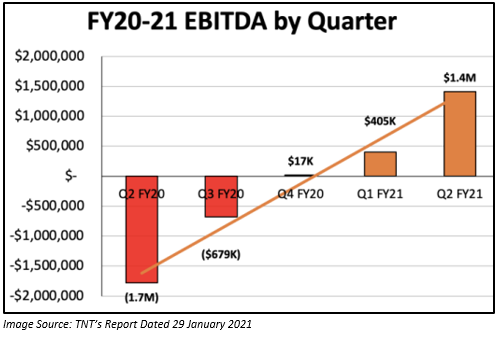 Customer receipts during the quarter increased by 38% to A$20.6 million.
TNT received more than A$3.5 million from the conversion of options and warrants.
Net cash available with TNT by the end of Q2 FY2020 was A$7.9 million.
During the quarter, the Company was included in All Tech Index based on the strong overall market performance during 2020 coupled with significant growth across the Group.
TNT also announced the strategic acquisition of New Zealand-based Lateral Security together with the Optic Security joint venture. These represent TNT's first step towards its entry in the NZ cybersecurity market.
DETAILS AT: How did the cybersecurity provider Tesserent (ASX:TNT) fare in Q2 FY2021?