Scottish Tories can provide the "positive vision Scotland needs", Douglas Ross claimed as he said the country was "at a crossroad" as the "Nicola Sturgeon era of Scottish politics comes crashing down".
The Scottish Conservative leader set out his alternative vision for Scotland as he addressed his party's conference in Glasgow.
Insisting that the Tories are "focused on Scotland's real priorities", he announced policies to help homeowners make their properties more energy efficient, and to give local communities the final say on renewable energy developments.
Mr Ross also promised a "new deal" for teachers, which he said would "cut down on paperwork, give teachers more time to prepare high quality lessons and reward them for extra classes and after school teaching".
The Conservative leader added: "This would incentivise teachers to go above and beyond to help every pupil to achieve their potential."
Mr Ross cited these as examples of how his party was "bringing forward the policies that matter to people across Scotland".
His comments came as he said the "Nicola Sturgeon-era of Scottish politics comes crashing down" and Scotland enters a "new chapter in our nation's history".
But with the party engulfed in turmoil, with a police investigation into its finances, he said the "SNP are losing the trust of the Scottish people".
The investigation has seen both the former chief executive Peter Murrell – Ms Sturgeon's husband – and former treasurer Colin Beattie being arrested by the police, though both were released without charge.
Officers from Police Scotland searched the home Nicola Sturgeon shares with her husband, former SNP chief executive Peter Murrell. (RObert Perry/PA)
Mr Ross said: "Nicola Sturgeon's legacy lies in tatters. Her political career ended in failure."
He added that without Ms Sturgeon in charge, "the SNP have entered into total meltdown".
He continued: "The SNP's financial troubles have blown a huge hole in their economic case for independence.
"Remember, the SNP wanted to hold an independence referendum in just six months' time – they can't even find an auditor in the same timeframe."
Mr Ross added: "The SNP cannot even manage their own accounts, how could they be trusted with the finances of an independent Scotland?
"Nobody will ever believe a nationalist on currency, pensions or balancing the books ever again."
Setting out his pitch to voters ahead of the next Westminster election – expected some time in 2024 – he said: "The SNP are losing the trust of the Scottish people, but no party has yet filled that vacuum.
"All bets are off, Scotland stands at a crossroad."
He went on to tell Tory activists: "If we want the country to take a fresh look at our party, then we need to offer the positive vision Scotland needs.
"We need to be a party for all of Scotland, focused on improving the lives of people up and down the country. We need to rise above partisan interest to tackle the big challenges we all face.
"And show the Scottish people, in every community across our country, that the Scottish Conservatives are focused on Scotland's real priorities."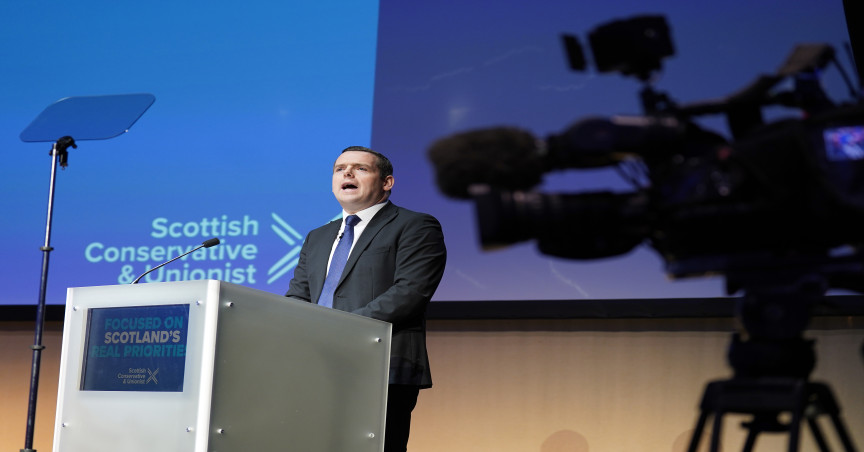 Scottish Conservative leader Douglas Ross used his party conference speech to make a pitch to voters (Andrew Milligan/PA)
His speech came after Mr Ross was forced to deny he had ever recommended Scots vote tactically to oust the SNP in the next election.
The Scottish Tory leader had caused consternation in his own party last month when he used an interview in the Daily Telegraph to say voters should "get behind" the candidate best placed to defeat the SNP.
But within hours of the comments, a spokesman for the UK Conservative Party said that is "emphatically not" its position, while a report in The Scotsman quoted senior Tory MSPs saying they had not been consulted about the comments.
Speaking ahead of his speech on Friday, Mr Ross insisted: "I'm the Scottish Conservative leader and I will always encourage people to vote Scottish Conservative."