Highlights

Spacetalk Limited has delivered record growth in FY21 group revenue, driven by robust device sales and App revenue.
The FY21 group revenue stood at AU$15.1 million, with the wearables division contributing AU$12.7 million, up 65%.
Spacetalk also signed multiple collaborative deals with major global MNOs for device sales as well as content collaborations.
The Company has had a strong start in FY22 with the onboarding of Telefonica UK (O2) and is committed to its upcoming objectives.
Sparked by Spacetalk's upbeat FY21 performance, SPA's shares shot up by 15.151% to close at AU$0.190 on 19 August.
Spacetalk Limited (ASX:SPA) is pleased to announce its FY21 results, marked by record performance in every quarter. The Company reported an impressive 44% growth in group revenue, driven by new product launches, new channels, and robust device sales. Notably, the technology company also made key appointments in senior leadership and operational roles.
RELATED ARTICLE: Breakout results: Spacetalk clocks record Q4 and FY21 revenue
Following the outstanding full-year performance, SPA's shares jumped 15.151% to close at AU$01.90 on 19 August.
FY21 Operational Highlights
Spacetalk prioritised the launch of new products and market expansion during FY21. The key operational highlights include:
New Device Introduction
SPA introduced two new devices to the market - next-generation Spacetalk Adventurer for kids and Spacetalk LIFE for seniors.
Partnerships and deals
Spacetalk signed several collaborative deals with major global MNOs and leading retailers for enhanced device sales and content collaborations. In Australia, the Company entered into partnerships with Telstra and Vodafone. During FY21, SPA also focussed on the UK expansion by partnering with Telefonica (O2), Virgin Mobile and Sky.
RELATED READ: Spacetalk (ASX: SPA) takes centre stage in the UK with Telefonica UK (O2) partnership
With these collaborations, Spacetalk launched Adventurer across the UK and ANZ in FY21. Furthermore, the Company remains on track for the US launch of Spacetalk Adventurer in CY21.
New Spacetalk App
Last December, the Company released the new Spacetalk App, replacing the AllMyTribe App. The new app provides new functionality beyond parental controls and features group family chat, advanced health and fitness, and enhanced parent controls.
Regardless of age or device, every linked contact can now stay connected in the more fun-filled, engaging, and secure Spacetalk ecosystem. Thus, the business significance of the new Spacetalk App is as important as the continuing robust growth in sales from the Spacetalk devices.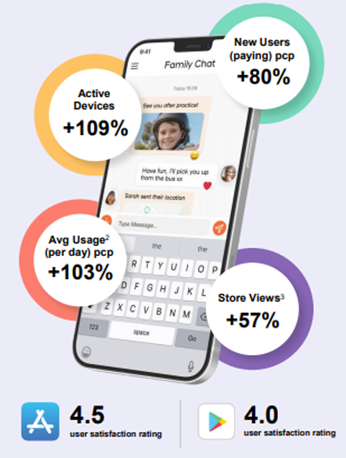 Source: SPA Presentation (19 August 2021)
Launched B2B2C channel for LIFE
Spacetalk launched a B2B2C channel during the fiscal year, including Aged/Home Care, NDIS operators, and Occupational Therapists (OTs). Furthermore, the Company was registered as an approved NDIS Provider. The Company repositioned the pricing for Spacetalk LIFE to enable 100% government funding through the NDIS, CHSP, and HCP.
RELATED READ: Spacetalk (ASX:SPA) approved as an NDIS registered provider
New App Functionality
Family chat: The new function provides group chat with other approved contacts in a secure and private Spacetalk ecosystem. The introduction of the family chat function is anticipated to generate a much stronger network effect for customer adoption.
Fall detection: Fall detection is a significant technological advancement for the Spacetalk LIFE seniors device. The revolutionary technology incorporates real-time data recording and triangulation, artificial intelligence (AI), as well as machine learning (ML).
New retail stores
Throughout FY21, Spacetalk continued to focus on growing its mass-market retail bricks and mortar stores, from 902 to 1,288 worldwide, with tier-1 retailers, including JB Hi-Fi, Currys PC World, Officeworks, Harvey Norman, and The Good Guys, in ANZ and the UK offering SPA's product suite across their national footprints.
FY21 Financial Highlights
The Company delivered a remarkable FY21 performance driven by solid device sales and App revenue. The key financial highlights are-
Spacetalk reported the highest ever 12-month group revenue of AU$15.1 million, up 44%.
The wearables division was the biggest contributor with AU$12.7 million revenue, up 65% on pcp.
Within the wearables division, device revenue contributed AU$10.6 million, up 65%.
The App Annualised Recurring Revenue (ARR) rose 87% on pcp to AU$2.8 million.
Schools-Business Revenue of AU$2.25 million was down 18%.
Source: SPA Presentation (19 August 2021)
Outlook: the way forward
After a scintillating FY21, Spacetalk continues to build on its momentum, starting FY22 on a positive note with the onboarding of Telefonica UK (O2) in August. Spacetalk Adventurer continues to capture market share with increased distribution and strengthen its position as the market-leading connected kids wearable device.
Spacetalk has declared its goals for FY22 and is committed to the following objectives-
MUST READ: Spacetalk (ASX:SPA) at the forefront of the fast growing market for kids wearables


To know more about Spacetalk Ltd., click here.