Source: SPA Announcement (19 April 2021)
Summary
Spacetalk has entered a non-exclusive commercial relationship with ACH Group, a leading aged care and home care provider.
Incorporating recommendations from ACH Group, Spacetalk has included fall detection technology in the device and lowered its price point $399 (40% less than other lower featured devices) to enable it to be fully government funded under the CHSP, HCP or NDIS.
ACH Group CEO Frank Weits said the group recognises LIFE could fill a gap in the market and would offer peace of mind to older people and their carers
Coinciding with opening a new channel via a B2B2C model with ACH Group, Spacetalk has ramped up LIFE's retail reach, announcing the onboarding Harvey Norman to sell LIFE at its 121 Australian stores and online
JB Hi Fi and Harvey Norman will promote the LIFE smartphone watch as a wearable safety device for older people eligible for Government funding
ASX-listed leader in kids smartwatch, Spacetalk Ltd (ASX:SPA) has announced the expansion of distribution channels for an upgraded smartwatch for seniors, Spacetalk LIFE, via a B2B2C model in partnership with ACH Group. SPA stated that the partnership will augment and expand access to the ground-breaking and affordable Spacetalk LIFE smartphone watch for older Australians.
The Company is confident that Spacetalk LIFE makes a crucial contribution for elderly people to live life to the fullest. LIFE has practical communication features that encourage independence and guarantee the safety of an individual.
Spacetalk LIFE was first launched in June 2020 as an all-in-one smartphone watch with GPS for older Australians. LIFE can support the journey of elderly by rising independence, healthy living, safety, and social connectivity, at the same time offering reassurance and peace of mind to family and friends. These features of LIFE have attracted significant interest from aged care and home care providers, NDIS providers and Occupational Therapists (OTs).
ACH Group is one of Australia's prominent aged care organisations. It has over 1,800 staff and engaged in supporting more than 20,000 older people in South Australia and Victoria to live a good life at home, in the community, in residential care as well as in independent living units.
ALSO READ: Spacetalk (ASX:SPA) at the forefront of the fast growing market for kids wearables
Mark Fortunatow, Spacetalk CEO, commented-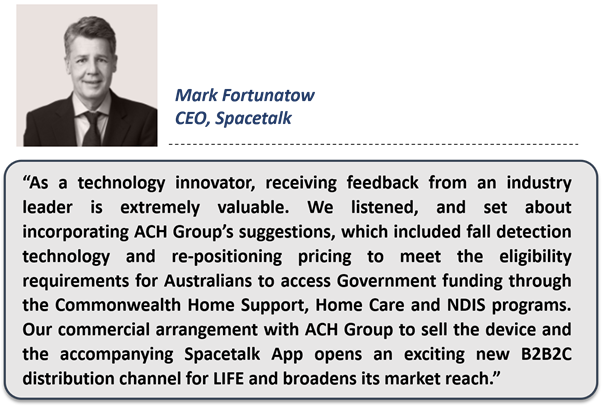 Adding to this, Frank Weits, ACH Group CEO, said-
AI-Enhanced Fall Detection for LIFE devices
The Company also disclosed Fall Detection for LIFE devices is in the last stages of completion, augmented with Artificial Intelligence (AI) that utilises machine learning to constantly enhance its high accuracy as more people use the devices.
This is revolutionary new technology and a world-first for devices that is designed for the elderly. The Artificial Intelligence Enhanced Fall Detection will be facilitated automatically on all Spacetalk LIFE devices via a free over-the-air upgrade on 31 May 2021.
Notably, Spacetalk LIFE has several features, including a carer-family app to allow easy communication along with enhanced interactions at the wearer's discretion.
The other key features of LIFE are-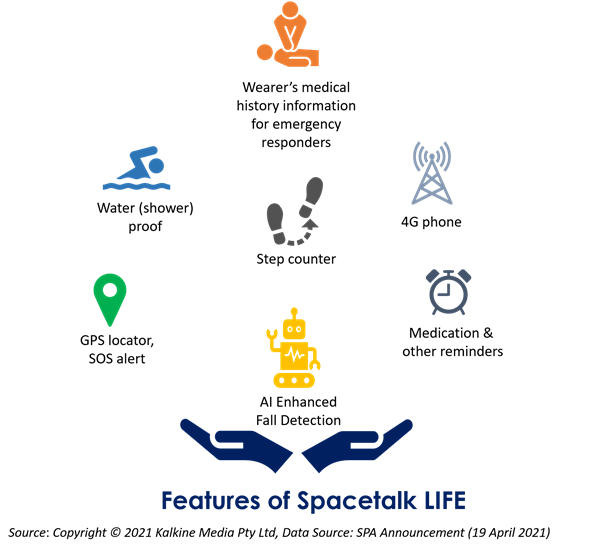 Furthermore, Spacetalk LIFE has an existing expanding customer base, with NDIS registered provider Mike Snudden of Marmic Meditrak seeing-
It is noteworthy to mention that Spacetalk LIFE is a stylish and technically advanced smartphone watch, unlike other wearable safety devices, for instance, pendant trackers, which can have a stigma that the support is required to a wearer.
The global reputation of Spacetalk
Furthermore, Spacetalk has developed a global reputation for being a design-led Company, combining beautiful industrial design with hardware and software engineering innovations in their elegant built-for-purpose smartphone watches.
Earlier this month, SPA secured the coveted international Red Dot Design Award for Outstanding Product Design in 2021. The Red Dot Design is one of the world's largest global design competitions.
READ MORE: Spacetalk Ltd. (ASX:SPA) awarded prestigious Red Dot Design Award for outstanding design quality of its Adventurer connected smartwatch for kids
The retail price of LIFE will be AU$399, ~40% less than other lower featured devices that are currently available in the market. The device is required to pair with the Spacetalk App for an AU$7.99 per month fee and a 4G SIM.
The cost of device and the first 12 months fee for the App may be supported by the funding provided by the Government, if eligible.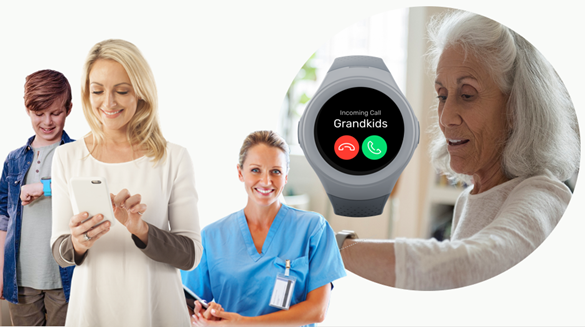 Source: SPA Announcement (19 April 2021)
Spacetalk LIFE will continue to sell retail
Interestingly, along with the introduction of the B2B2C network with ACH Group, LIFE will continue to sell retail. LIFE is now available through www.spacetalkwatch.com and JB HiFi, which will initiate a new marketing campaign to promote LIFE as a wearable safety device eligible for funding from the Government.
The Company also notified that Harvey Norman would commence ranging LIFE at its 121 bricks and mortar stores in Australia; besides, it will commence online sale from 26 April 2021.
LIFE will be available for purchase through ACH Group from 1 June 2021 when eligible customers may gain access to LIFE using funds through the Commonwealth Home Support Programme (CHSP), Home Care Packages (HCP) Program or the National Disability Insurance Scheme (NDIS).
Ø CHSP Funding Details
Occupational Therapists can self-prescribe for funding to eligible persons through the CHSP. The CHSP offers funding for a comprehensive range of entry-level support services to help people aged 65 years and over and who have any functional limitations, to remain living independently in their community and at home.
ACH Group, other aged care and home care providers, and OTs will assist eligible older Australians to navigate all through this process, including lodging referrals on their behalf for funding via My Aged Care.
Following a My Aged Care ACAT assessment, a Home Care Package may be authorised and allocated to an elderly person when more than basic support is necessary and provides a coordinated method with access to a larger range of aids, equipment, and services.
Ø NDIS Funding detail
Spacetalk LIFE also qualifies for NDIS funding for eligible persons. The NDIS is a scheme offered by the Australian Government that funds costs related with disability.

Funding is allocated to the individual, and the individual or their guardian decides which providers supply the funded goods and services (subject to some limitations).
The Company also disclosed that this scheme is entirely publicly funded; recipients do not purchase or contribute to an insurance policy. Besides, the scheme is not means-tested.
Frank Weits commented:
Spacetalk CEO Mark Fortunatow further added-
Significant market opportunity
The market size for older people is significantly large and forecasted to increase rapidly in the next decade. Spacetalk LIFE serves this increasing population by offering technology infrastructure for older people to live connected, independent, and purposeful lives.
The ongoing COVID-19 pandemic has put the care for older people on the limelight, highlighting the increasing significance of family support as well as online connectivity in retaining social interactions and safety.
Furthermore, the Company is confident that this structural thematic has become entrenched and strongly support Spacetalk devices' core business value proposition of delivering socially responsible technologies for families to feel safe and connected while experiencing confidence and independence.
On 19 April 2021, SPA shares closed the day's trading at A$0.155.

To know more about Spacetalk Ltd., click here.