Highlights

All altcoins combined now have a bigger share in the total market cap of the cryptoverse than Bitcoin
Threshold is among the top 250 altcoins by market cap, with services like staking and liquidity
The Threshold (T) token's trading volume has surged, but the price has yet to reach the level it touched in March
Altcoins no longer appear to be tied to the price movement of Bitcoin. Tens of thousands of these assets exist today, with the market cap of some of them in billions of dollars.
This month started with an upward price movement in Bitcoin. But it could not last long, and Bitcoin's price has yet again declined to under US$30,000. This might encourage Bitcoin enthusiasts to look for other assets that can defy the odds. One altcoin that was trading in the green as of writing was the Threshold (T) token.
What is Threshold Network and how has the Threshold token performed so far in 2022? Let's find out.
Threshold Network
A decentralised network with independent nodes, Threshold claims to provide staking services. Keep and NuCypher -- two independent blockchain service providers -- are said to be powering Threshold.
The project states that users can deploy their native token holding to become a node operator. This can produce rewards. Cryptocurrency holders can also deposit their assets in Threshold's liquidity pool for yield farming. Another service listed on the project's website is bridging Bitcoin to Ethereum's network.
Threshold is a decentralised autonomous organisation (DAO) with voting powers to users.
Also read: What is World Mobile Token and how has WMT crypto fared?
Threshold crypto (T)
T is the native governance token of Threshold. It finds use in staking, voting and other functions within the network.
The T token trades on exchanges like Binance and MEXC, and the total supply is capped at 10 billion tokens. According to CoinMarketCap, nearly 8.25 billion T tokens are currently in supply.
Threshold crypto price
The token's price, as of writing, was nearly US$0.05, with a 1,000% uptick in the 24-hour trading volume. The market cap of nearly US$420 million made it one of the top 250 cryptoassets. The NuCypher token was also gaining at the moment, which could have been a reason behind the T token's rise.
Historical price data suggests that the T token reached over US$0.2 in early March. By this measure, it has yet to recover the lost ground. The T token lost heavily last month, declining under US$0.04 at one time.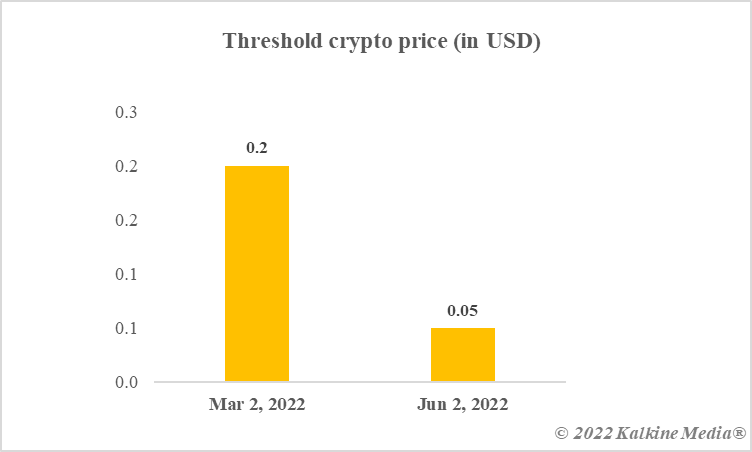 Data provided by CoinMarketCap.com
Bottom line
Threshold talks about "cryptography" services, with staking, liquidity pool and DAO as other features. It claims to be a product of a merger of two projects – Keep, and NuCypher. As of writing, NuCypher (NU) crypto was trading with an over 50% price surge in the past 24 hours. The T token of Threshold is one of the altcoins which gained when BTC was down. But only time can tell if this could translate into sustainable growth in the long term.
Also read: Voyager Token trading volume up 500%: Why is VGX crypto rising?
Risk Disclosure: Trading in cryptocurrencies involves high risks including the risk of losing some, or all, of your investment amount, and may not be suitable for all investors. Prices of cryptocurrencies are extremely volatile and may be affected by external factors such as financial, regulatory, or political events. The laws that apply to crypto products (and how a particular crypto product is regulated) may change. Before deciding to trade in financial instrument or cryptocurrencies you should be fully informed of the risks and costs associated with trading in the financial markets, carefully consider your investment objectives, level of experience, and risk appetite, and seek professional advice where needed. Kalkine Media cannot and does not represent or guarantee that any of the information/data available here is accurate, reliable, current, complete or appropriate for your needs. Kalkine Media will not accept liability for any loss or damage as a result of your trading or your reliance on the information shared on this website.