Highlights

While most crypto projects have a single native token; there can be more than one in some cases
STEPN has two tokens – GST and GMT – with both having contrasting price trajectory right now
GST is for rewards, while GMT has its primary use in the governance of STEPN ecosystem
Cryptos can be quite confusing. Did you know that CoinMarketCap tracks more than 19,000 such assets and maybe there are many more?
It further adds to confusion when a single project has multiple tokens. STEPN, which claims to be an app with Web3 features, has two tokens. Both these tokens trade independently on crypto exchanges, with the prices of both having little correlation. Today, let's know more about the differences.
What is STEPN ecosystem?
STEPN claims to be a "game-fi" ecosystem. The primary element seems to be "Sneakers", which come in the form of non-fungible tokens (NFTs). Users, it is said, can purchase these NFTs using SOL token. SOL is native to Solana blockchain, which is an entirely different blockchain project.
Once Sneakers are purchased, a user can participant in "moonwalking" and a yet-to-begin "marathon". It is also stated that the user must engage in physical movement to earn rewards in STEPN.
Also read: BEL token's price up 30%: What is Bella Protocol?
Green Satoshi Token or GST
GST is the first token of STEPN, which it claims is for rewarding purposes. Rewards are different for different type of Sneakers. GST rewards, it is said, are based on the "efficiency" of the user and speed.
GST token (SOL) is on Solana, the blockchain that powers STEPN app. The token is new as compared to assets like ETH. At the time of writing, GST token (SOL) was trading at over US$1.4. The price has plunged almost 10% over the past one day. Over the past five months, however, GST has largely traded in the green, with the token having peaked to over US$8 in late-April.
Green Metaverse Token or GMT
GMT is said to be STEPN's governance token. It is also earned in rewards. In the whitepaper, it is stated that a user can opt to change GST rewards to GMT from Level 30 onwards.
GMT has also traded largely in the green this year. As of writing, GMT's price was nearly US$1.2. In contrast to GST, GMT has surged over 30% in the past 24 hours.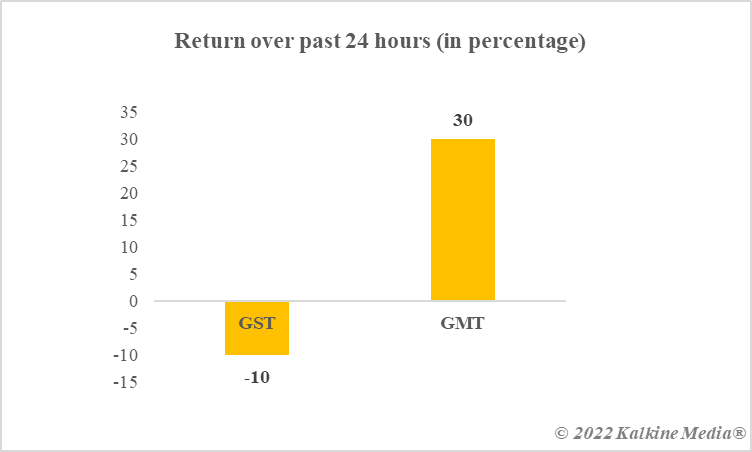 Data provided by CoinMarketCap.com
Bottom line
A single project in the cryptoverse can have multiple native tokens. STEPN has two tokens, and the price trajectory of both can be different at any particular time. GST and GMT tokens have more or less traded in the green so far in 2022.
Also read: What's in store for Bitcoin in June 2022?
Risk Disclosure: Trading in cryptocurrencies involves high risks including the risk of losing some, or all, of your investment amount, and may not be suitable for all investors. Prices of cryptocurrencies are extremely volatile and may be affected by external factors such as financial, regulatory, or political events. The laws that apply to crypto products (and how a particular crypto product is regulated) may change. Before deciding to trade in financial instrument or cryptocurrencies you should be fully informed of the risks and costs associated with trading in the financial markets, carefully consider your investment objectives, level of experience, and risk appetite, and seek professional advice where needed. Kalkine Media cannot and does not represent or guarantee that any of the information/data available here is accurate, reliable, current, complete or appropriate for your needs. Kalkine Media will not accept liability for any loss or damage as a result of your trading or your reliance on the information shared on this website.