Not long ago, a genie was set out from the bottle in the form of a virological threat in China that continues to plague the world.
As the well-publicised blows of COVID-19 on human health do their rounds, Zoono Limited (ASX:ZNO), a global biotech company, has been swamped by public and shareholder enquiry regarding the effectiveness of its products in battling the war with this invisible enemy. And, the Company seems to have handled the pandemic environment quite well!
We will deep dive into ZNO's take on COVID 19 and the contributions towards healing the world from its threat, but foremost, the stock's impressive performance on the ASX should be noted.
As on 6 May 2020, the stock had delivered returns of 110.67% in the past three months and its 1-year return is a whopping 1983.33%. On 7 May 2020, the stock settled the day's trade at A$1.805 with over 1.5 million shares traded.
GOOD READ- 5 ASX Minnows in Healthcare Amid COVID-19 - NVU, ZNO, HCT, GMV, RSH
Now that we have intimated you that the ZNO stock has been garnering significant attention from investors and market participants, let us unfold its stance amid the pandemic situation and look at events that might have propelled its stock to be one of the hottest on the ASX currently.
Zoono's Take On COVID-19
Back in January when COVID-19 was not deemed to be a pandemic but had triggered a cause of worry across nations due to warnings from health officials, the WHO and Governments, ZNO began facing queries concerning its products and their effectiveness in combatting the spread of the new virus.
Ever since, the Company has been confident that it is well positioned to tackle both coronavirus and other new virus threats, owing to the Zoono technology, in particular its longevity and killing methodology that delivers an ideal solution. The Company has also been expecting to meet the increased demand for its products efficiently.
Zoono Products- COVID 19 Saviours?
As per the Company's update in January this year, its product- Z71 Microbe Shield (Surface Sanitiser) was positively assessed back in 2014 set against bovine (coronavirus), which is a substitute and acknowledged by the WHO for additional virus members of the coronaviridae family (which also comprised of CoV virus). Tests had verified a 99.99% efficacy in merely five minutes.
In January itself, the Company made an urgent decision to increase production of its important active ingredients, Z71 Microbe Shield Surface Sanitiser and GermFree24 Hand Sanitiser finished goods, as COVID 19 made its dangerous presence felt.
ZNO also pro-actively sent GermFree24 Hand Sanitiser products and Z71 Microbe Shield Surface Sanitiser to a German lab for testing against the new virus. In late February 2020, the Company informed that Z-71 Microbe Shield was > 99.99% effective against COVID 19. Soon after, in March, ZNO apprised that its product- a hand sanitiser has been tested against the coronavirus surrogate- Feline Coronavirus and is effective at >99.99 percent.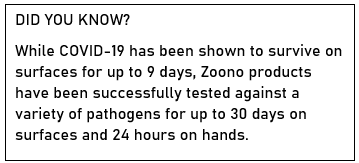 Impact of Increased Product Demand on ZNO
Product orders were in excess of NZ$1 million in the last two weeks of January 2020, primarily from China and Hong Kong while online consumer sales were up substantially with a record day of $49k in a single day. New distribution arrangements and the launch of Company products into various vertical markets had begun to seem foreseeable in January 2020 itself.
Moving on to the quarter ended 31 March 2020, the Company's biggest challenge was coping with the level of enquiry for the Company's products from across the globe and the influx of orders, particularly on-line.
During the quarter, ZNO's revenues (unaudited) were NZ$15.7 million, surged on the revenues of NZ$1.715 million for the whole of the first half of FY20. UK sales climbed to NZ$3.5M for the quarter as the Company fetched significant business from airlines, airports, transport, and commercial cleaning companies.
While online sales (unaudited) for the quarter were NZ$3.9 million, available cash resources increased to NZ$5.7 million. The gross margins on sales also increased in line with the growth in sales revenues.
To meet increased product demand, ZNO materially increased its orders for raw materials and recruited additional staff that resulted in increased manufacturing and operating costs for the quarter of NZ$5.9 million.
In May 2020, ZNO informed that invoiced Business to business (B2B) sales were noted in excess of NZ$11 million (unaudited) for April this year. Robust sales noted (in excess of NZ$2 million) have been produced in two Asian countries- India and China. Moreover, in Hong Kong region, Healthy Giant, a distributor, is currently delivering Zoono products and fogging services to authorities (Hong Kong Airport).
Recent Distribution Agreements
Following the coronavirus outbreak that fetched unprecedented interest in ZNO's technology given its proven efficacy against viruses and bacteria and ability to prevent cross contamination, a number of exclusive distribution agreements were signed and are as follows-
Beijing Youmeng Technology and Development Limited for the childcare and hotel sectors in China, the fourth distribution agreement entered into by the Company for an industry sector in the Chinese market in the last six months (since February 2020)
ZNO appointed Linco Investments Pte Ltd, a facilities management/distribution company, as the Company's exclusive distributor for Singapore
Eagle Health Holdings Limited signed up with ZNO for distributing Zoono products in China in a "co-branding" arrangement whereby Eagle will import the Company's products in bulk to its facility in Xiamen, China, for packaging, labelling and distribution.
ZNO signed up with Doha-based Al Rabban Capital for the distribution of its products in the Middle East and North African region
Exclusive Distribution Agreement with Johns Lyng Group (ASX:JLG) subsidiary, RestorX Australia Pty Ltd for B2B market in Australia
New distribution agreements in the UK and Europe, including with UK based, global distribution companies operating in the hygiene and sanitisation markets: Rentokil Initial plc; Bunzl Health and Hygiene; and Atalian Servest Ltd
West Yorkshire Police are using ZNO's hand sanitiser and the Company has a non-binding agreement to supply a further 140k 50ml hand sanitiser units and refills to support front line UK Police Officers, once further packaging is available
London Underground and UK and German mainline trains and stations are also being treated with Zoono long lasting surface sanitiser on monthly basis
As deciphered from the inked agreements that have been only growing, the Company seems well placed to meet the continued demand for its Z-71 Microbe Shield surface sanitiser and hand sanitiser products. Consequently, investors are bound to develop a positive sentiment around the ZNO stock as it showcases a promising present and future.