Cannabis remains to be a subject of high speculation across the globe, even though significant advancement has been made in this field. A topic of taboo once, cannabis currently is one of the most discussed business opportunities globally, and closer to home in Australia. And why not? Chile, major states in the US, Australia, Germany, Norway, Thailand, Argentina, Canada and Greece are only few of the many countries that have legalised the use of medicinal cannabis, under but obvious, apt legal and medical constraints.
What provoked this, you ask? The answer is relatively simple. Thanks to all the research dedicated to the field, countries have been acknowledging the potential benefits of cannabis to heal physical and mental illnesses. This, consequently, has pumped up the demand for cannabis in various sectors, including healthcare, pharmaceuticals, consumer goods and agriculture.
With the enhanced demand, industries are booming, gaining business traction. It is observed that public companies with ballooning valuations are in the hunt for strategic partnerships or buying marijuana related businesses to gain access to the industry. The agriculture, banking and construction are few of the many sectors that have either begun or about to commence incorporating cannabis into their products and research.
Let us understand cannabis before diving into its business in Australia-
Cannabis and its uses
The Alcohol and Drug Foundation classifies cannabis as a cannabinoid drug. It can be described as psychoactive drug derived from the cannabis sativa plant of the Cannabaceae family. It is believed to have been have geographically originated in Central Asia and the Indian subcontinent.
Cannabis has been known to treat a wide range of diseases and symptoms including cancer, chronic pain, depression, arthritis, diabetes, glaucoma, migraines, epilepsy, multiple sclerosis, AIDS and PTSD.
Global Market Potential of Cannabis
According to Cann Group Limited (ASX: CAN), which is Australia's only fully integrated medicinal cannabis company, the most recent analysis continues to forecast a global medicinal cannabis industry that, by 2024, will have a market value of more than $60-billion. This exhibits a compounded annual growth rate of over 22.9 per cent during 2019-2024 period.
ASX-listed THC Global Group Limited (ASX: THC) believes that patient numbers (who require cannabis infused treatment) continue to increase rapidly globally. However, there are only few GMP certified producers with scalability to meet global demand for isolates and extracts that meet European and other quality standards. This consequently creates the need of more companies pitching into the business, which will lead to a global level business environment.
Market experts believe that the following catalyse the growth of the global cannabis space:
When compared with other treatments, cannabis is safer, with less severe side effects;
It enhances the efficacy of other treatments;
Dedicated R&D forums confirming the benefits of cannabis for medicinal purposes;
The acceleration in the ageing population;
Advancement in the legalization framework process across the world.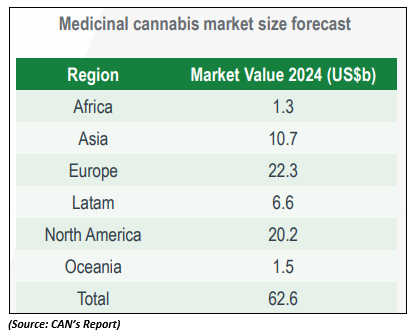 Cannabis In Australia
According to the National Cannabis Prevention and Information Centre, around 300,000 use cannabis daily. The market is forecasted to reach ~$1.2 billion, before hitting ~$3 billion by 2028.
This reinstates the fact that Australia is one of most rapidly growing cannabis market with significant regulatory barriers for patient access and competition entry. THC Global believes that the Australian patient demand is currently supported almost entirely by high-cost imported product. Moreover, whilst there has been rapid growth in patient numbers, real numbers remain low at 10,000 patients, expected to grow to 100,000 patients by 2021.
Australia joined the bandwagon to legalise medicinal cannabis in February 2016, owing to its therapeutic benefits with varying degree of legal restrictions, and ever since, the cannabis sector has gained massive toehold among businesses, collaborators and investors alike.
Ever since, cannabis companies have been successful in winning over the investor sentiment as well, who rave about its bright (though speculated) outlook.
Recreational cannabis, however, is a topic of the most interest currently in Australia. Why? You are about to find out!
ACT's Milestone regarding Recreational Cannabis
25 September 2019 will remain a historic day in Australia, and particularly in its cannabis market space. This was the day when the Australian Capital Territory (ACT), passed the new cannabis law, after raising a lot of eyebrows. The existing federal laws were challenged to meet this much discussed and debated topic, especially after the 2016 legalisation of medicinal cannabis.
The ACT is the first ever Australian region to legalize the cannabis recreational possession and cultivation, subject to few conditions:
The law would permit Australian residents of the region aged 18 and above to possess up to 50 grams of dried marijuana;
Residents would be allowed to grow two plants per person/ four per household at a time;
Growing marijuana plants in community gardens would remain illegal;
Sale and sharing of cannabis (the seeds, plants or leaves) would remain an offence;
The Commonwealth law will still be adhered to, the police could charge residents in case of mishandling it;
Using cannabis in public places would be against the law;
Legislation is not yet effective and is expected by January 2020.
Will Other Regions Follow ACT's Path?
Now that recreational cannabis have a tad bit ease in Australia, discussions are cropping up if other regions in an evolving contemporary country like Australia will take steps to legalise recreational cannabis under certain (and needed) constraints.
Even though the ACT move has opened the doors for other regions to follow its suit, there is a consensus which believes that the current over-supply issues in Canada and some US states are being attributed to delays in the establishment of efficient distribution systems that can meet growth in demand for medicinal cannabis and for product to meet legalized recreational use. This is partly due to regulatory frameworks not keeping pace with patient and consumer demand.
One should note that these global constraints have an impact on the Australian market as well, given that Australia is in export relations with external jurisdictions.
Taking a recent example, Cann Group has seen a very dramatic and negative impact on cannabis stocks particularly in Canada as these issues play out, with its strategic partner, Aurora Cannabis Inc, announcing that it is delaying the construction at two of its major expansion facilities in Canada and Denmark until market supply and demand is more balanced.
It is safe to say that even when ACT has let loose to some level on the front of recreational cannabis, there just hasn't been the same appetite in other regions. However, with growing discussions and pros and cons set out on public and private forums, the future can witness other regions coming with new laws and policies. This is the thing about the cannabis market- speculation is always around the corner!
Pot Stocks on the ASX
Given this backdrop, let us look at the performance of few ASX-listed pot stocks, as the cannabis stocks are often referred to, after the close of the trade session on 29 November 2019:
Acknowledging the challenges of the over supply of cannabis stocks in a shareholder address, the CAN stock slumped by 7.5% and settled at $0.43. It has generated a negative YTD return of 76.75%.
BOD Australia (ASX: BDA) has a market capitalisation of $29.7 million, and quoted $0.34 at market close, up by 4.6%. The stock has generated a negative YTD return of 16.67%.
Althea Group Holdings (ASX: AGH), which recently surpassed its previous record of 462 patients and welcomed 486 new patients in October 2019, quoted $0.39, up by 1.3%. The stock has returned negative return of 43.4% over last six months.
Elixinol Global Limited (ASX: EXL), which has a significant North American backing along with Cann Group and Althea, was down by 3.2% and quoted $1.06. It has generated a negative YTD return of 59.29%.
A food for thought! The recent market disruptions are pretty much typical of an industry that is in its early stages of development. Moreover, once a topic of taboo and still a topic of debate, cannabis cannot miss being a subject of speculation. While one witnesses the ample growth opportunities to the market participants and investors from this sector, the cannabis industry is prone to be subjected to stern governance and regulations, which will keep it both highlighted and speculated.
However, remaining optimistic about the sales increase, enhanced legalization movement, more readily available cannabis product categories and a diversified range of customers, it would be interesting to witness the unfolding of this industry in the days to come.
---
Disclaimer
This website is a service of Kalkine Media Pty. Ltd. A.C.N. 629 651 672. The website has been prepared for informational purposes only and is not intended to be used as a complete source of information on any particular company. Kalkine Media does not in any way endorse or recommend individuals, products or services that may be discussed on this site. Our publications are NOT a solicitation or recommendation to buy, sell or hold. We are neither licensed nor qualified to provide investment advice.
All pictures are copyright to their respective owner(s).Kalkinemedia.com does not claim ownership of any of the pictures displayed on this website unless stated otherwise. Some of the images used on this website are taken from the web and are believed to be in public domain. We have used reasonable efforts to accredit the source (public domain/CC0 status) to where it was found and indicated it below the image.
There is no one left untouched by the charm of the multibillion-dollar global boom in cannabis. Its glorious journey from a criminalized drug to being used in over 20 countries for treating medical conditions.
No wonder the cannabis stocks are on the edge of a green rush. Don't miss out on the happenings in the cannabis sector and take advantage of the growth phase of this sector by subscribing to our report on Marijuana stocks in Australia.
Find out the drivers for the rise in cannabis stock rates Even though the cannabis sector is in its growing phase, Australian cannabis stocks have already started to rise actively due to a hastily increasing patient base, and a legislative landscape that is gradually beginning to liberalise.
Outreach and future of cannabis stocks As countries liberalise regulation for medical and recreational use of cannabis, it is predicted that the industry would grow sharply in upcoming years The global cannabis market stands currently at around $8 billion and it is expected that the hemp derived CBD market to hit approximately $22 billion by 2022.
Key Players in the sector Althea Group Holdings Limited (ASX: AGH) and Cann Group Limited (ASX: CAN) are amongst the top players. Other Australia cannabis market players are- MGC Pharmaceuticals Ltd (ASX: MXC), Elixinol Global Limited (ASX: EXL), THC Global Group Limited (ASX: THC), AusCann Group Holdings Limited (ASX: AC8)
CLICK HERE FOR YOUR FREE REPORT!