History of Marijuana:
Marijuana, which is also known as cannabis or pot and has a centuries-long history of its use by mankind, even the ancient Greeks and Romans were familiar with cannabis. These plants are believed to have originated from Central Asia, primarily in the areas of Mongolia and southern Siberia.
Marijuana as a plant:
Marijuana is a dried flower extracted from the plant; "Cannabis Savita" which is also known as hemp. An interesting property of this plant is that it is dioecious, which means it grows separate as a male and female plant. Generally, the male plants are thinner and taller and contain a flower like pods, and the female plant is dark in colour and shorter. It varies a lot in its potency, depending upon the variety and how it is grown and its storage. Tetrahydrocannabinol (THC) is an active ingredient which is present in all parts of both the male and female plants, but it is present in its highest concentration in the resin (cannabin) in the flowering tops of the female plant.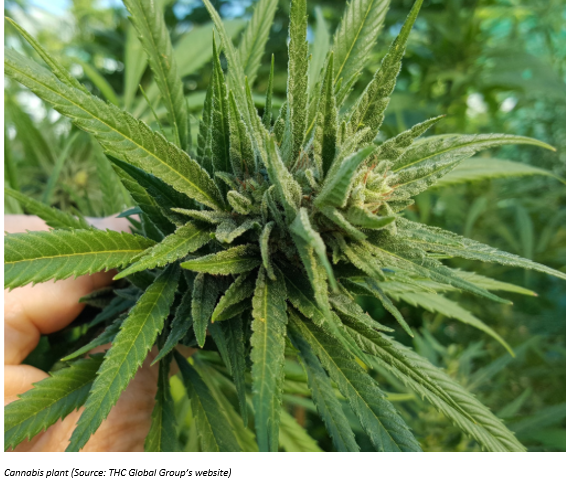 Marijuana usage in the ancient times:
Even, in ancient times, people used to suffer from diseases, cuts and burns etc. Back then, there were no modern medical facilities available, and the only solution was plants and herbs. Many plants have been discovered to have medical properties, but marijuana was one magical plant with properties suitable for medical usage. Since ages, it is being used as a go-to medical herb.
It has been known that people used marijuana to solve psychological problem and to get out of depression in the early days of Egypt. The Romans were known to get effective treatment for the extraction of insects from ear.
The plant is magical not only because of its healing properties, but also for its unique use cases. It was used for making oil, was used in food, high-quality fibre was extracted from this magical plant and was also used in drinks to get the same alcoholic effect as we get today in the hard drinks. In a nutshell, every part of the plant including leaves, flower, seeds, roots and stalk have been of use in some or the other form.
Marijuana in the modern world:
Although Marijuana is one of the best plants when it comes to its usage in multiple forms, all the positives are outweighed by Marijuana's psychotic effects. Smoking marijuana induces psychotic effects and is characterised by a loss of touch with reality, it can cause symptoms like hallucinations, dismantled thoughts, unusual behaviours etc. Due to these harmful effects, the use of Marijuana was banned by almost every country in the world. In many countries and cultures, it is still considered as a very controversial subject, and is even regarded as a "taboo".
But currently the scenario is changing across the world. There have been many extensive pieces of research being conducted on cannabis in the past few years. These researches have led to many magical discoveries of cannabis in the field of healthcare. These new medical applications have shifted the status of cannabis as a taboo or an illegal substance to be a magical plant for healing purposes.
Many countries and governments around the world are getting softer on the rules and regulations and are making amendments to regulate medical cannabis for recreational purposes. In the past couple of years, some prominent nations like Canada, some states of the USA went ahead and gave a green signal to the medical cannabis for recreational purposes.
Recently, Senate of Illinois gave green signal to the medical cannabis and passed legislation that would allow adults to buy and possess small amounts of marijuana. These broad steps by the government have laid the foundation and development of cannabis into an industry.
Marijuana as medical cannabis and its usage:
Medical cannabis and cannabis are not different from each other, and the difference lies in their usage. Over the years of research and development, some of the uses of the medical cannabis found are;
It can be used to prevent and treat an eye disease; Glaucoma, which increases the eyeball pressure and the worst case leads to loss of vision.
It has the ability to prevent and control epileptic seizures.
Cannabidiol (CBD) found in cannabis is known to prevent cancer from spreading.
Medical marijuana users have reported being relieved of pain.
It is used in treatment of chronic pain.
Depression, stress disorder, anxiety can be treated by the restricted use of marijuana.
CBD has also been found to treat two severe types of epilepsy; Lennox-Gastaut syndrome and Dravet syndrome.
Multiple sclerosis is treated with cannabis; it is used as a treatment for painful muscle spasms.
Cannabis is used to induce appetite and stop nausea.
Global growth:
As mentioned earlier about the countries and governments stepping up in the medical cannabis sector, the businesses have played a major role here. The new industry with new opportunities has attracted a lot of companies on a global scale to invest in and explore this infant industry. Many existing companies have also diversified into this sector.
The world is witnessing increased demand in the adoption of cannabis as a pharmaceutical product to treat severe diseases like cancer, Parkinson's disease, Alzheimer's disease etc. and the growth in the demand is expected to continue in the coming years.
The Legalisation and decriminalisation of medicinal marijuana have also led to a decrease in the black market in some countries; however, in some countries like Canada, the black market is still flourishing.
From the taxation point of view, the government earnings can now have a different industry to collect taxes from, consequently leading to the development of the country.
4 Cannabis companies from the Australian listed space:
With bright prospects for the usage of cannabis, many companies have thrown their hats into the ring and competing for future growth and shareholder returns. Let's discuss some of the prominent ASX listed companies working in the cannabis sector;
Cann Group Limited (ASX: CAN) is a very prominent cannabis company in Australia, having its own research and cultivation facilities. The current operations of the company are focused on high-quality breeding, cultivating and manufacturing medicinal cannabis, which can then be sold and used in Australia. The company was granted with Australia's first medicinal cannabis research licence, back in February 2017.
Recently CAN supplied cannabis resin to the Victorian government, to be used by patients in Australian. This was the first commercially grown supply and has increased the potential of the company going forward.
It also has a strategic investment in New Zealand based Pure Cann with a total stake of 20%, and they are working together to capitalise on the growing domestic demand for medicinal cannabis in New Zealand.
The company has a market capitalisation of A$299.18 million, and the stock had touched a 52-week high and low of A$3.6 and A$1.525 respectively. The stock is down by 2.8% and trading at A$2.08 (as at AEST: 2:31 PM, 7 June 2019) with an intraday high of A$2.18. The last one-year return of the stock is negative 28.67%, and the YTD return stands at 7%.
AusCann Group Holdings Limited (ASX: AC8), a highly trusted pharmaceutical company based in Australia. The company's primary operations are to develop, produce and market cannabis-based pharmaceuticals products, both locally and internationally.

It is transforming the way to dispense the cannabis products and making it more accessible to healthcare providers, patients etc. on a global scale.
Recently the company appointed Mr Ido Kanyon as the new CEO of the company, Mr Ido Kanyon is having more than 15 years of experience in the pharmaceutical and medical device business. He is highly regarded in the industry, and his background in product development and commercialisation would help the company make further progress.
Some of the recent developments of the company are.
The company appointed PCI Pharma, which is a TGA licensed company to manufacture and release AusCann's first medicinal cannabis product line.
Existing facilities are in plans to be upgraded, and a 7,300m2 site was acquired.
The company diversified its cannabis raw material supply channel.
The company has a market capitalisation of A$102.03 million, and the stock had touched a 52-week high and low of A$1.5 and A$0.295 respectively. The stock is up by 7.57% and trading at A$0.355 (as at AEST: 2:44 PM, as on 7th June 2019). The last one-year return of the stock is negative 76.92%, and the YTD return stands at negative 47.62%.
THC Global Group Limited (ASX: THC) is a healthcare company aiming to deliver high-quality medicinal cannabis products under a 'Farm to Pharma' business model. It has two sites for growing the medical cannabis and pharmaceuticals biomanufacturing facility, containing product development and testing laboratory. It also has commercial partners operating across four continents and helping in global growth.
THC Global has a global agreement with EVE Investments Limited (ASX: EVE) for the research and development, farming and supply of medical cannabis. The company's global cultivation licence is under assessment, following the lease of a part of EVE's certified organic farm which will add an additional capacity of 150,000 m2.
On 15th May 2019, With the grant of the export licence, the company is further strengthening its global footprint and its future growth potential.
The company has a market capitalisation of A$57.94 million with an outstanding shares of 134.75 million, and the stock had touched a 52-week high and low of A$0.66 and A$0.41 respectively. The stock is trading unchanged at A$0.43 as on 7th June 2019. The last one-year return of the stock is negative 24.56%, and the YTD return stands at negative 8.51%.
Creso Pharma Limited (ASX: CPH) is bringing a better life to both the animals and humans, with its pharmaceutical expertise and methodological rigour. The company manufactures hemp derived therapeutic, nutraceutical and other lifestyle products and uses the GMP development and manufacturing standards, ensuring the highest quality.
Today the company announced to the exchange that the company will be acquired by a Canadian listed PharmaCielo Ltd (TSXV: PCLO) for A$ 122 million at A$0.63 per share. PharmaCielo is the parent company of Colombia's largest cannabis producer. As part of this acquisition CPH shareholders will receive 0.0775 PharmaCielo shares for every CPH shares held, translating to a value of A$0.63. CPH shareholders will hold 13% of the issued shares in PharmaCielo post the due process.
More on CPH:
It has a strong footprint on the global front, having worldwide rights for a number of unique and proprietary innovative delivery technologies.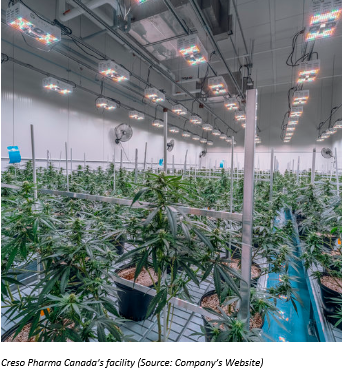 It also has regulatory approval from ANVISA, Brazilian health regulatory agency to import cannaQIX® 50 into Brazil. CannaQIX® 50 is used to treat chronic pain related to neuropathic diseases. The product is being distributed by MedDepot Brasil.
The company is also about to release its 2,053,026 fully paid ordinary share and 303,027 performance shares from voluntary escrow on 20th June 2019.
The company has a market capitalisation of A$56.17 million, and the stock had touched a 52-week high and low of A$0.77 and A$0.3 respectively. The stock is up by 32.619% and trading at A$0.557 (as at AEST: 3:15PM, as on 7th June 2019) after making an intraday low of A$0.530. The last one-year return of the stock is negative 43.24%, and the YTD return stands at negative 22.22% (share performance as on 6th June 2019 stock prices).
Industry Risks:
Every industry or sector has some amount of risk which may vary depending upon the life cycle of the industry, political scenario, economic policies, compliance, competition etc. Being an infant industry, cannabis sector also has some high degree of associated risk. One major problem is the black market, which is a bigger market than the legal and regulated market and drags the legal market with the revenue loss.
The sector is highly sensitive to the government regulations, and changes in these can induce uncertainty in the minds of the market participants.
---
Disclaimer
This website is a service of Kalkine Media Pty. Ltd. A.C.N. 629 651 672. The website has been prepared for informational purposes only and is not intended to be used as a complete source of information on any particular company. Kalkine Media does not in any way endorse or recommend individuals, products or services that may be discussed on this site. Our publications are NOT a solicitation or recommendation to buy, sell or hold. We are neither licensed nor qualified to provide investment advice.