The telecommunications industry is gigantic, starting from mobile services to cloud services and even beyond traditional media. From 5G to Artificial Intelligence and beyond, telecommunication companies (Telcos) will be met with a new world of opportunities that cater to serve more industries. This new world will have doors wide open to industries that once had no need for Telcos, establishing many new opportunities.
Let us look at the three pieces of the Australian telecom pie:
5G – A rising star of the future of transmission technology
5G is becoming a reality at a swift pace and will transform the way everyone works or live. Heralding a change in the way we use the network or broadband connection across various industries, 5G is a big move providing reduced latency with the faster data download, shorter load time and ability to connect more devices increases.
5G will enable massive connected IoT networks, high-resolution video, and full automation of vehicles. Also, this change will spring up the interest of other industries, such as healthcare, automobile, transportation, and agriculture. All these industries expect to embrace 5G and reform how they can deliver their services and goods, creating a massive impact on their businesses.
Today building 5G has become one of the strategic precedence for Telcos, creating substantial opportunities for revenue generation in fixed broadband and various businesses.
Partnerships are fuelling in the market to deploy 5G such as in case of Telstra which has partnered with Ericsson to facilitate its mobile network with 5G standalone products. This indicates that Telstra has the competence to run 5G independently of the current 4G network.

Source: Ericsson Website
Vocus, A partner of Optus, extended its current Mobile Virtual Network Operator ("MVNO") agreement with Optus Wholesale for five years. This five-year extension is inclusive of access to the Optus 5G network and future technologies, putting Vocus in a position to boost its mobile customer base across its various competitors.
Vodafone Hutchison Australia (VHA) along with Nokia announced Unlock of low-band 5G spectrum and deployment of low band NR700MHz spectrum in a field test in a 5G network in Australia. This will further build up customer experience by complementing 3.5 GHz deployment.
RELATED: The roll out of 5G services throughout the Australian economy
Telecom operators capitalising due to growth of Cloud computing
Telecom operators rely heavily on voice, messaging, and data to keep its cash flow steady. However, offering/ adopting cloud presents an attractive proposition to stem voice revenue declines, competition in the market. Due to a paradigm shift in the way the ICT resources are used and provisioned, Consumers and businesses find cloud computing to be enthralling.
Considering a substantial Small and Medium Enterprises (SME) customer base of various telecom operators demanding advanced Information Technology solutions, Telcos consider a shift to offering on-demand ICT services from selling communication services. This shift servicing on-demand ICT capacities in terms of cloud computing acts as a strategic fit for Telcos to offer communication and collaboration solution from the cloud.
GOOD READ: ASX Cloud Computing/IT Companies Amid Pandemic- Any Pockets of Opportunity?
By leveraging the existing network-based features and their competence in managed services, telecom operators can commercialise the cloud applications to open up opportunities in long-established markets such as outsourced billing for over-the-top (OTT) players or enter into emerging segments like cloud-based machine-to-machine (M2M) platform across vertical industries.
Telcos can stroke this next surge of opportunity, scrutinising their position in the emerging cloud computing either through direct investments or via partnerships and acquisitions.
Telstra has partnered with leading software, hardware, and IT services companies to provide cloud services. For example, the Company's integration with Cisco offering collaboration solution in the cloud offering products such as Cisco Webex Teams from Telstra, Cisco Webex Meetings and Webex Cloud Connected Audio-Service Provider (CCA-SP) from Telstra, Cisco Webex Hybrid Services from Telstra.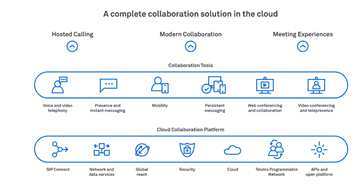 Source: Company's website
Strategic team-up of Vocus and Google Cloud, enabling the supply of Google Cloud's public cloud services to enterprise customers and government. This partnership will also enhance Vocus digitisation and business transformation.
TPG offers a private cloud to the business and enterprises that provides Infrastructure as a Service (IaaS) for higher security, flexibility.
Bundling – A ubiquitous phenomenon
Telcos have an intense battlefield from which they have to come out strong in terms of reduced Churn and increased ARPU. Telcos these days are ensuring growth via Bundles that combine various products in a single bill. These bundles act as a win-win situation for both Telcos and customers via reduced cost for customers and locked in customers driving ARPU growth and reduced Churn.
Various Telcos across Australia follow this effective strategy of Bundling. Telstra offers "Telstra tv + unlimited data" combining TV and broadband services or "gaming + unlimited data" combining X-BOX games and broadband services. This effective strategy led to an increase of 1.9% YoY in retail bundles and standalone data service in operation (SIO) at the end of 31 December 2019.
TPG offers attractive bundles like TPG Home Bundle that includes broadband and Voice services. Also, various FTTB PLANS that includes broadband and voice services is also offered. This effective strategy helped to offset the decline in the voice revenues and revenue from data and internet reached $1,066.5 million at the end of six months (31 December 2019).
DO READ: ACCC Seeking Feedback on Competition Issues for Upcoming 5G Spectrum Allocation
Let us have a look a closer look at how strong are the ASX listed telecom players who are at the forefront of providing variant services:
Telstra Corporation Limited (ASX:TLS)
Telstra, one of the major telecommunication service providers in Australia, is engaged in providing a wide range of communication services including mobile, internet and pay television, and information services to cater to divergent customers.
TLS recently stated that it is likely to make an impairment (non-cash) and write down of its 35% stake in the pay television firm, Foxtel. The impairment charge is expected to be around $300 million against the investment.
On 19 May 2020, the shares of TLS closed at $3.110, a decline of 0.321% compared to the previous close.
TPG Telecom Limited (ASX:TPM)
TPG is a telecom service provider offering a diverse range of telecommunication services catering to Small and Medium Businesses, Residential users, wholesale customers, government, and corporate enterprises.
The Company recently announced the approval from FIRB for its merger with Vodafone Hutchison Australia. The companies predict the completion of merger by mid-2020.
On 19 May 2020, the shares of TPM closed at $7.280, a decline of 0.817% compared to the previous close.
Vocus Group Limited (ASX:VOC)
An Australian telecommunications player specialised in fibre and network solutions, Vocus holds a portfolio of brands offered to government, business, wholesale and residential mainly across Australia and New Zealand.
The Company has recently published its Half year results (period ended 31 December 2019) and reported a positive business outlook and reprised its guidance for FY'20. Following are the key highlights:
Six months revenues reported as $901.9 million, a decrease of 7% YoY primarily due drop in the retail revenue.
The Company's underlying EBITDA increased to $179.3 million from $176.4 million in the prior corresponding period.
VOC reiterated its previously stated guidance for FY'20.

Range of Group Underlying EBITDA:$359-$379 million.
Capex range: $200-$210 million.
Cash conversion within 90-95%.
Source: Company's Media Release and Investor Presentation – Period ended 31 December 2019
On 19 May 2020, the shares of VOC closed at $2.770, a decline of 1.071% compared to the previous close.
NOTE: $ used in the article refers to Australian dollar unless stated otherwise.