2019 was the year when stock markets across the globe performed exceptionally well with several indices touching their respective all-time highs during that period. The impressive performance of 2019 spilled over in 2020 as well even though the threat of the novel coronavirus (2019-nCoV) started causing jitters across the globe, especially China, source country of the virus.
While the global economy still hasn't recovered from some of the significant challenges of 2019 including US-Iran tensions, US-China trade conflict and uncertainties around Brexit, impressive corporate earnings have led to the positive sentiment and the markets have been able to weather the storm.
However, some market experts believe that the full impact of coronavirus threat hasn't been absorbed yet and that it will reflect on the markets in the March quarter. Analysts also highlight that since the P/E ratio for the S&P 500 is significantly higher than the historical averages, there is a likelihood of a pullback.
Among the global economies, China is likely to be the hardest hit, at least in the near term. Being the 2nd largest economy in the world, the impact of its slowdown on other economies is inevitable.
Amidst the bleak outlook for global markets, investors fear that they might lose their accumulated wealth. While they search for alternatives to safeguard their investments, there is a glimmer hope for investors looking into 2020. Few sectors that investors should look out for this year include healthcare, technology and gold.
Let us have a look at the 2019 performance of these sectors and what we can expect from them in 2020.
Healthcare
Impressive Returns in 2019
The healthcare sector delivered strong results in the 12 months ended 07 February 2020 with a 1-year return of 54.80%. So far in 2020, despite the coronavirus threat, the return has been reasonably good for the sector with 14.24% (as on 07 February 2020). For the year 2019, the sector had attractive returns of 41.3%.
The stellar year was driven by a robust performance from major players including CSL Limited (ASX:CSL) and ResMed Inc (ASX:RMD) with returns of 48.8% and 36.5%, respectively. Also, like gold, the reduction in interest rates helped the sector, as it has a low correlation with the economic cycle.

Healthcare expected to have a solid 2020
Some industry experts believe that valuations for the healthcare sector are almost full, which is in line with the impressive growth in share prices. Thus, they believe that investors might reassess their investment strategies. However, experts also think that the coronavirus outbreak might lead investors to look for defensive sectors such as healthcare sector.
Companies such as CSL, Ramsay Health Care Limited (ASX:RHC) and Sonic Healthcare Limited (ASX:SHL) are expected to continue growing in 2020, driven by increasing demand for their products, growing market penetration, and aging population, among other factors.
Further, the Australian government's increasing focus on the sector with higher investments and companies offering improved rebates to the patients will act like tailwinds for the sector. Besides, technological developments are also expected to facilitate the healthcare sector.
While there might be some setbacks along the way, the healthcare sector could be in focus in 2020.
Information Technology
IT sector delivered attractive returns in 2019
The information technology sector reported an impressive 12 months ended 07 February 2020 with a 1-year return of 30.27%. Even in the unfavourable environment that we've seen so far in 2020, the sector performed well with a return of 12.89% (as on 07 February 2020). The sector performance was aided by companies such as Zip Co Limited (ASX:Z1P) and Afterpay Limited (ASX:APT) that showed meteoric growth in the last 12 months.

Within the IT sector, WAAAX stocks (WTC, ALU, APT, APX and XRO) have outperformed the ASX-listed stocks with a remarkable performance in 2019.
2020 looks promising for the IT sector, but investors need to be prudent
With the IT sector continuing its streak of generating positive returns even in this tumultuous market, some analysts believe that the sector will continue to grow in 2020.
WAAAX stocks along with Zip Co Limited, NextDC (ASX:NXT), EMP Payments (ASX:EML), BrainChip Inc (ASX:BRN) and PKS Holdings (ASX:PKS), have a positive outlook as most of them are in the growing stage of the life cycle with significant opportunities to expand in previously unexplored and untapped markets.
According to experts, all the above stocks are expected to generate double-digit growth in 2020. Further, the ever-increasing focus on cloud computing, AI, and ML will boost the sector's performance going forward.
The ASX had announced in December 2019 that it plans to launch a new index for technology stocks. The index, S&P/ASX All Technology Index, scheduled to be launched on 21 February 2020, will aid in boosting awareness and increase the visibility of the sector for investors. The new index will be broader compared to the existing S&P/ASX 200 Information Technology Index, which only encompasses the leading companies. This move is likely to attract more investors and could see the IT sector continue its strong performance driven by higher exposure and increased investments.
However, some analysts highlight that most of the tech stocks mentioned are already overvalued and that the expectations might have been way too high. Thus, they believe that there could be some hiccups during the sector's journey in 2020 and that the investors should be prepared for downside risk.
Gold

Stable Performance in 2019
Gold had a reasonable 12 months ended 07 February 2020 with a 1-year return of 22.20%. The economy faced multiple challenges in 2019, including the US-China trade war, continued uncertainty surrounding Brexit and US-Iran conflict. However, gold remained relatively stable with consistent performance over the 12-month course, aided by the trade war as well as global political insecurity and a declining supply of the metal. Gold prices rose sharply in 2019 and are expected to grow further in 2020 and 2021, respectively (see image below).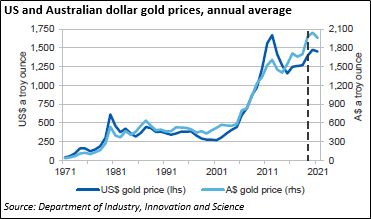 Bullish Outlook for Gold in 2020
Experts believe factors that aided the demand for gold in 2019 are likely to continue in 2020, which improves the outlook for the yellow metal.
In December 2019, Gruyere, the country's biggest gold mine opened. The mine is an alliance between Gold Fields and Gold Road. Also, Jaurdi Gold Mine, owned by Beacon Minerals, opened in the last month of 2019.
With new gold mines becoming operational, we are likely to see a significant increase in production in the coming years. According to the Australian government's Department of Industry, Innovation and Science, the production of gold is predicted to increase by 4.9% in FY 2019-2020 and by 2.7% in the following financial year.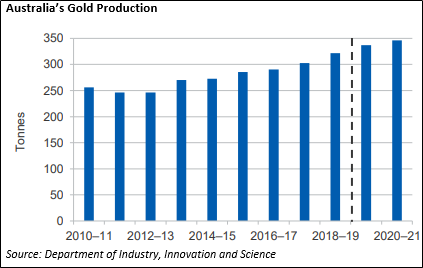 Further, the department foresees that gold exports will generate earnings of ~$28 million, a growth of 49% y-o-y led by higher gold prices and export numbers.
Considered a safe haven during times of uncertainties, the yellow metal is estimated to have a favourable 2020. Besides, options for buying gold online and the recent launch of gold-backed cryptocurrency will make it easier for people to invest in the asset.
Moreover, if the Reserve Bank reduces the interest rates, investors are likely to move to gold for investments, thus leading to a further hike in price. With a favourable environment, the performance of gold stocks in 2020 might surprise many.
---
Disclaimer
This website is a service of Kalkine Media Pty. Ltd. A.C.N. 629 651 672. The website has been prepared for informational purposes only and is not intended to be used as a complete source of information on any particular company. Kalkine Media does not in any way endorse or recommend individuals, products or services that may be discussed on this site. Our publications are NOT a solicitation or recommendation to buy, sell or hold. We are neither licensed nor qualified to provide investment advice.