Highlights:

Advent Technologies Holdings, Inc. (NASDAQ: ADN) manufactures fuel cell systems.
The company went public in 2018.
On Thursday, it received 782.1-million Euros in funding from Greece.
Shares of fuel cell manufacturer Advent Technologies Holdings, Inc. (NASDAQ: ADN) jumped more than 150% on Thursday morning after receiving 782.1-million euros (US$823.28 million) funding from Greece. The stock traded at US$2.90 per share.
The funding was provided under the European Union's Important Projects of Common European Interest (IPCEI) scheme that focuses on Hydrogen-based technology.
Greece said it had notified the EU about the funding under the IPCEI framework. On EU's approval, the funds will be released in parts over six years for Advent's Green HiPo project.
Green HiPo is one of the two projects selected by Greece for funding under the IPCEI framework. Twenty candidates had applied for financing.
Advent will use the funds to innovate its hydrogen fuel cell and electrolyzer systems for Greece.
Also Read: Top trending solar energy stocks to watch: ARRY, SHLS, RUN, SPWR & FTCI
Advent had submitted its application for EU review in April 2021. Renewable energy sources like hydrogen are in demand across the globe to combat carbon footprints and climate change.
Also Read: WM to CWST: 5 recycling stocks to watch as climate takes center stage
Advent, which has a US$23.7-million market capitalization, hopes the funding will help boost its eco-friendly technologies.
Commenting on the funding, Vasilis Gregoriou, Advent Chairman and CEO, said in a press release that it is a milestone not only for the company but also for Greece and Europe.
He added that Green HiPo demonstrates its commitment to decarbonizing power production and ensuring energy security with hydrogen technology at the helm.
Also Read: Five financial stocks to watch in Q3: FHN, Y, WRB, LPLA & PGR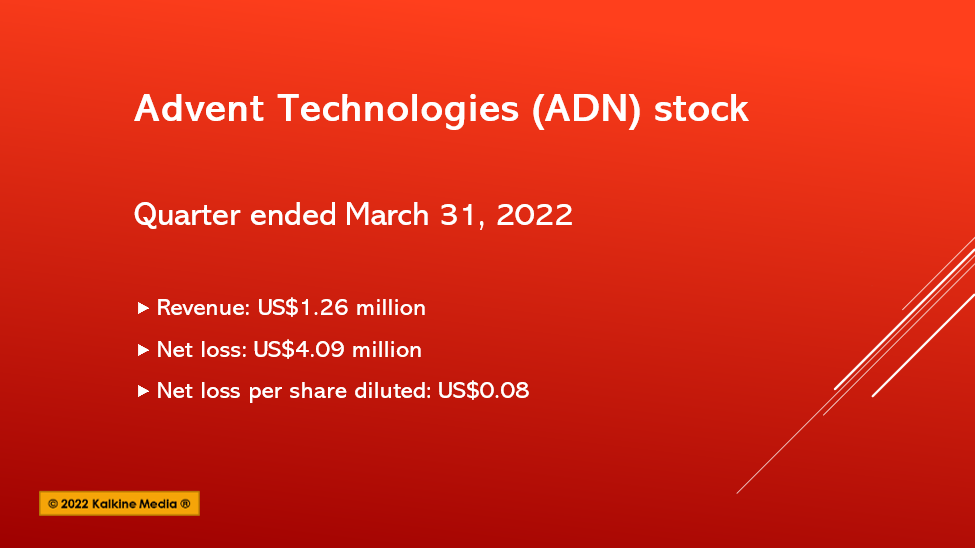 Also Read: CELU to CMPI: Explore top 5 biotech stocks with over 100% YTD return
Financials:
For the quarter ended March 31, 2022, the company reported a revenue of US$1.26 million compared to US$1.49 million. Its net loss was US$4.09 million or US$0.08 per share diluted, driven by higher administrative and selling expenses. In the March quarter of 2021, the net income was US$2.9 million or US$0.07 per share diluted.
In fiscal 2021, around 60% of its revenue came from the US, 32% from Europe and 8% from Asia. The company went public in 2018.
Also Read: Top agri stocks to watch amid rising prices: ADM, CTVA, MOS, BG & CF
Boston, Massachusetts-based Advent Technologies manufactures fuel cell energy systems and related components. The company serves the power, automotive, and aviation industries.
Also Read: Top lithium stocks to explore in June: ALB, LAC, LTHM, PLL & SQM
Bottom line:
The stock price moved between US$10.14 and US$1.13 in the last 52 weeks. ADN fell 88.28% in one year at the closing price of US$1.16 on June 15. But after Thursday's updates, the stock rose more than 150% in intraday trading.