Highlights

The MRVL stocks were up over 18% in intraday trading on Friday.


The MRVL stock gained over 53% YTD.


The revenue of Marvel Technology jumped 61% YoY in Q3, FY22.
Chipmaker Marvell Technology Inc. (NASDAQ: MRVL) is hogging the limelight after strong third-quarter results a day before. The stocks jumped more than 18% on Friday afternoon.
The Wilmington, Delaware-based company reported revenue growth of 61% YoY to US$1.21 billion in the third quarter of fiscal 2022, topping Wall Street expectations. Its gross profit was US$587.82 million compared to US$371.04 million a year ago.
The MRVL stock traded at US$83.88 at 1:28 pm ET, up 18.09% from its previous close.
The current chip shortage has adversely impacted several key industries, including automobiles. As such, the semiconductor industry has been a major focus of investors.
These companies have been struggling to meet the demands accelerated by the reopening of the industries post lockdowns. Companies such as Nvidia Corporation (NVDA), Advanced Micro Devices (AMD), and Qualcomm (QCOM) have reported a demand surge in recent times.
Also Read: DeFi project EverRise (RISE) soars on protocol upgrade – know details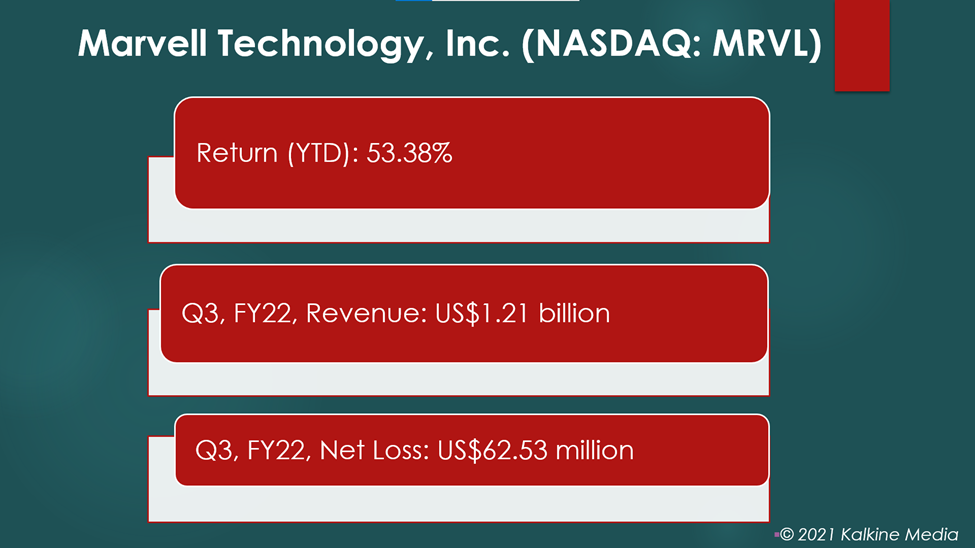 Also Read: Fresh Grapes (VINE) IPO to open on Dec 14: How to buy the stock?
Marvell's stock performance and financials
The Delaware-headquartered company reported a gross profit of US$587.82 million compared to US$371.04 million in the third quarter of FY21.
It also reported a net loss of US$62.53 million, or US$0.08 per share, against a loss of US$276.42 million, or US$0.34 per share in the same period a year ago.
In the fourth quarter of FY2022, Marvell expects its GAAP net revenue to be around US$1.32 billion and a GAAP net loss per diluted share of around US$0.03 apiece.
Also Read: Alibaba (BABA) shares fell over 46% this year, making them cheapest ever
The Marvell (MRVL) stock saw a 52-week high of US$76.12 and a low of US$37.92.
Its market capitalization is US$69.35 billion, and the forward P/E one year is 77.21. In addition, its EPS and annualized dividend are US$-0.53 and US$0.24, respectively.
Marvell's trading volume was 10,772,610 on Dec 2.
Also Read: Whitepaper on SPACs in the US
Bottomline
The Dow Jones US Semiconductor Index surged 47.39% YTD while increasing 24.21% QTD. On the other hand, the MRVL stock gained 53.38% YTD. These growth trajectories highlight the strong demand for semiconductors in the market.