Highlights:

The PVH stock soared over 10 per cent in the morning trading hours on December 1.
The company reported its Q3 FY22 earnings results on Wednesday, November 30.
PVH Corp's said that its revenue exceeded its previous guidance.
The stocks of the New York-based clothing firm, PVH Corp. (NYSE: PVH) were among the top percentage gainers on Wall Street on Thursday, as seen by the jump in its price.
Soon after trading started on Thursday, the PVH stock was up over 10 per cent, a day after the company reported its earnings results for the latest quarter.
The company also announced extending its license agreements with other brands on Wednesday.
So, let's take a look into the recent developments of the company, and see why it has gone up on Thursday morning hours.
Why is it rising?
PVH Corp is a leading apparel company that was formerly known as Phillips-Van Heusen Corporation. The American clothing firm owns several popular brands like Tommy Hilfiger, Calvin Klein, etc.
On November 30, the company said that it had extended most of its license agreements with G-III Apparel Group (NASDAQ: GIII). The license agreement was mainly for Calvin Klein and Tommy Hilfiger.
The agreement for the brands mostly pertained to the women's North American wholesale business, it said. According to the announcement, the agreement with both brands would be "staggered expirations" from 2025 through 2027.
The license agreement would allow a smooth transition of the primary product categories back to the company at the extended terms. Meanwhile, the New York-based clothing firm now aims to work in close partnership with G-III in the upcoming years for ensuring a smooth and responsible transition for the consumers and wholesale partners of both brands.
Besides, the company also reported its Q3 FY22 earnings results on Wednesday, which might have also helped in its recent gains. PVH Corp said that its revenue fell two per cent YoY to US$ 2.281 billion in Q3 FY22, increased seven per cent YoY on a constant currency basis, and came in above its guidance.
The company now expects its annual revenue to come in line with the top end of its prior guidance range, which is a decline of three per cent YoY, and an increase of four per cent YoY on a constant currency basis.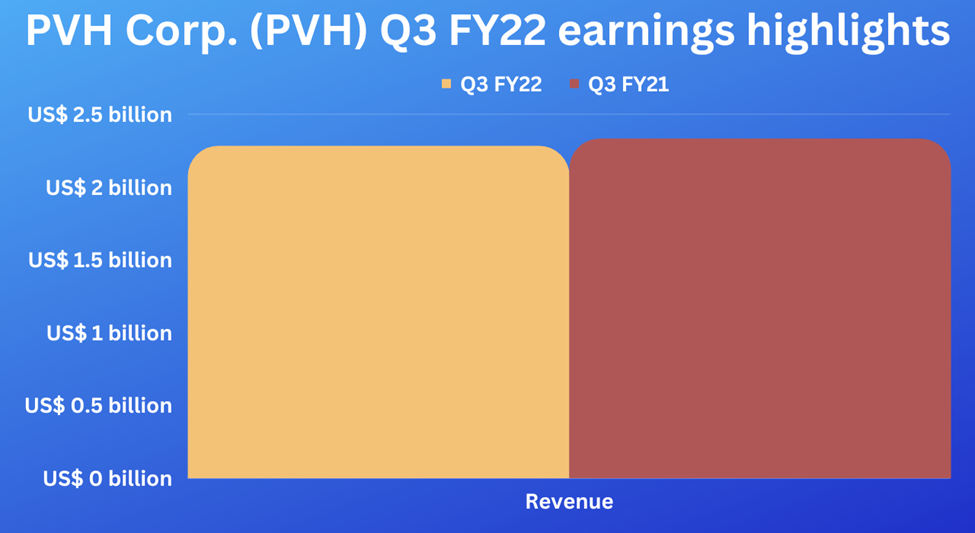 Source: ©Kalkine Media®; © Canva Creative Studio via Canva.com
Bottom line:
The price of the PVH stock was US$ 74.005 a 9:33 am ET on December 1, up 10.16 per cent from its previous close of 67.18, while its trading volume was around 268,890.
Meanwhile, the stock closed at 3.55 per cent higher than its previous close on November 30.