Highlights:

The SPRO stock soared more than 150 per cent on Thursday, September 22.
The company announced entering into a license agreement for its oral antibiotic asset.
Spero Therapeutics appointed its new Chief Medical Officer on September 15, 2022.
The stocks of Spero Therapeutics, Inc. (NASDAQ: SPRO) were among the top movers in the morning trading session on September 22, as seen from its mounting prices. The price of the SPRO stock surged more than 150 per cent on Thursday, September 22 in the morning session.
Now, several investors might be looking for the catalysts that could have driven its price higher on Thursday. Let's take a look at the recent and key developments of the company with Kalkine Media®:
Why is SPRO stock rising?
Spero Therapeutics is a clinical-stage biotech firm that engages in the identification, development, and commercialization of therapeutics for bacterial infections. Investors might have read into the biotech firm's recent announcement of entering into an exclusive license agreement with GSK plc (NYSE: GSK).
GSK plc, formerly known as GlaxoSmithKline plc, is a leading pharmaceutical and biotech firm that specializes in the immune system, human genetics, and other related aspects.
GSK plc and Spero Therapeutics said that they have entered into a license agreement for the later's late-stage antibiotic oral antibiotic, Tebipenem HBr. Spero Therapeutics claims that the antibiotic is the first oral carbapenem antibiotic for treating complicated urinary tract infections like pyelonephritis.
The Massachusetts-based biotech company said that it expects to kick off a new phase 3 clinical trial of its oral antibiotic asset the next year, following a positive regulatory response from US Food and Drug Administration (FDA) for its proposed clinical trial plan.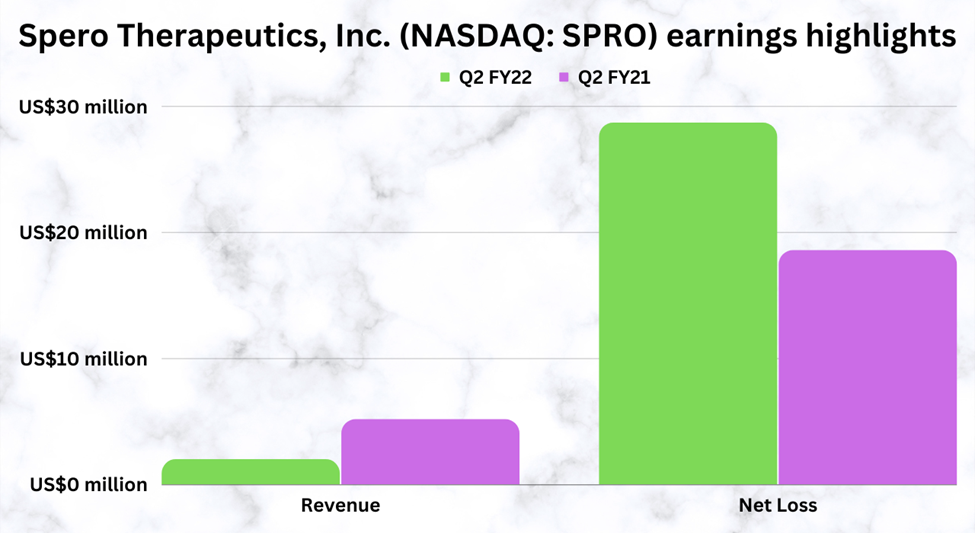 Source: ©Kalkine Media®; © Canva Creative Studio via Canva.com
Bottom line:
The price of the SPRO stock was US$ 2.0599 at 9:38 am ET on Thursday, September 22, a jump of 150.69 per cent from its previous closing price of US$ 0.8217. Meanwhile, the trading volume of the biotechnology company was more than 61.47 million during writing.
Despite the recent gains, the stock of the US$ 67.7 million market cap company slumped more than 88 per cent YTD. In the last 12 months, the SPRO stock plunged about 90 per cent. However, in the running quarter through September 22, it added about 159 per cent.
Meanwhile, on September 15, Spero Therapeutics announced the appointment of its new Chief Medical Officer (CMO), Dr. Kamal Hamed.