Highlights:

The MOTS stock jumped over 78 per cent on September 29.
Its trading volume was nearly 7.8 million during writing.
The company's net loss widened in the latest quarter.
The stock of the healthcare technology company Motus GI Holdings, Inc. (NASDAQ: MOTS) gained traction due to the market participants in the morning session on Thursday, September 29, as witnessed by the significant jump in its price.
The MOTS stock mounted up over 78 per cent in the morning trading hours on September 29. Some might be looking for the reason that might have contributed to the gains it attained on Thursday.
Let's explore the company's developments and other key details that may have bolstered Thursday's gains.
Why is it rising?
Motus GI Holdings is a medical technology company that provides enhanced endoscopy outcomes at a lower cost while offering a better patient experience. The healthcare technology firm manages its operations through its subsidiaries in the US and Israel.
Among its most recent developments, the Fort Lauderdale, Florida-based healthcare company announced on September 29 that it had received official recognition as a sole source provider and small business by Veterans Health Administration (VHA).
VHA is a leading integrated healthcare body that provides care to more than nine million veterans in the US. The healthcare system claims to provide care to nearly 1300 healthcare facilities.
Through the recognition, Motus GI Holdings would have direct access to the procurement segment of VHA, which would help it in its purchasing and contracting process. The healthcare technology company said it believes that the special designation would increase its chances of accessing VA medical centers throughout the country.
In addition, it would also boost its ability to utilize the Pure-Vu EVS System for helping veterans who are bearing inadequate pre-procedural bowel preparation.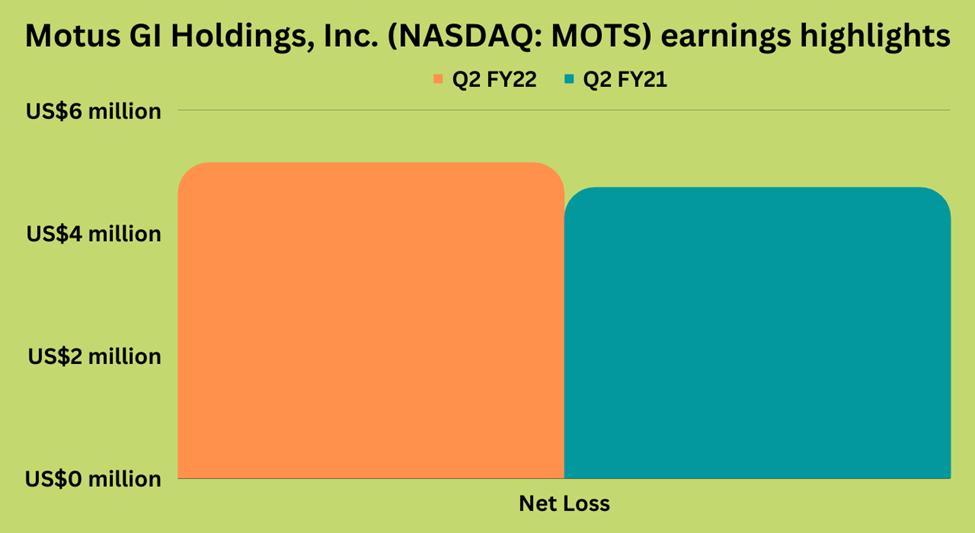 Source: ©Kalkine Media®; © Canva Creative Studio via Canva.com
Bottom line
The price of the MOTS stock jumped 78.63 per cent at 9:34 am ET on Thursday, September 29, to trade at US$ 4.18, while its trading volume totalled over 7.79 million at the same time.
The US$12.04 million market cap company's revenue was US$ 185,000 in Q2 FY22, up by US$ 85,000 from US$ 100,000 in the prior year's same quarter. Motus GI Holdings incurred a net loss of US$ 5.14 million in Q2 FY22 versus a loss of US$ 4.74 in Q2 FY21.