Highlights:

The AXSM stock soared over 35 per cent in the pre-market trading session on Friday.
Axsome said that it received approval from the FDA for its extended-release tables used to treat major depressive disorder.
It posted a revenue of over US$ 8.80 million in Q2 FY22.
The Axsome Therapeutics, Inc. (NASDAQ: AXSM) stock seems to have gained notable traction on Wall Street on Friday, August 19, as reflected by the surge in its stock price in the pre-market session. The AXSM stock jumped nearly 36 per cent in the pre-market trading session.
Now some investors are looking for the probable reasons that could have caught investors' attention on Friday morning. The primary reason could be the approval it received from US Food and Drug Administration (FDA) for its tablets used in treating major depressive disorders.
Let's look into the recent developments, financial highlights, and stock performance of Axsome Therapeutics with Kalkine Media®.
Why is AXSM stock rising?
The biopharmaceutical firm, Axsome Therapeutics said on August 19 that the FDA had approved AUVELITYTM extended-release tables, mainly used to treat the major depressive disorder in adults.
Axsome claims AUVELITY to be the first and only oral NMDA (N-methyl D-aspartate) receptor antagonist that has received approval for treating major depressive disorder. The New York-based firm now expects AUVELITY to be commercially available in the US in the final quarter of this year.
The AXSM stock saw a massive jump after it announced the news in the pre-market trading session on Friday.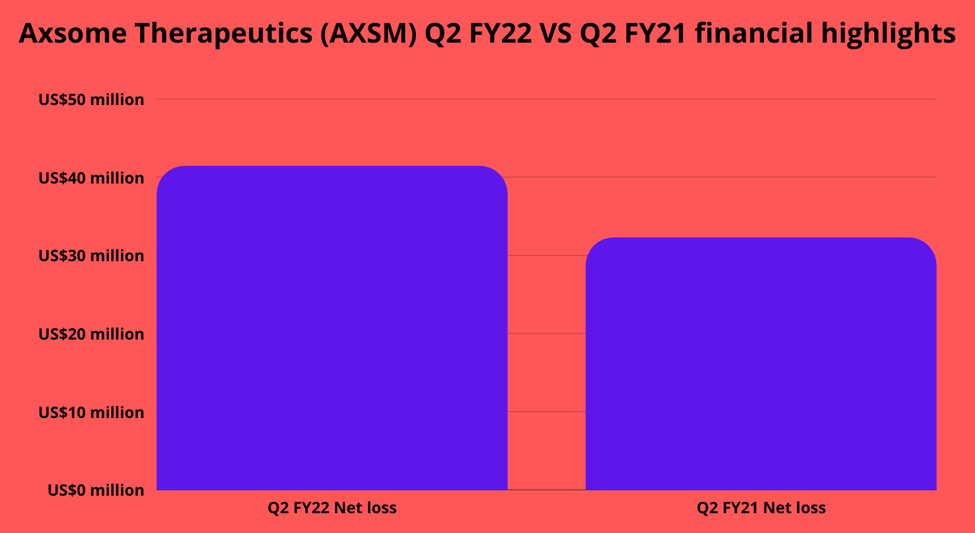 Source: ©Kalkine Media®; © Canva via Canva.com
Axsome Therapeutics Q2 FY22 financial highlights:
The US$ 2.25 billion market cap firm posted a revenue of US$ 8.81 million in the second quarter of fiscal 2022, while no revenue was recorded in the prior year's comparable quarter.
Its net loss also deteriorated to US$ 41.43 million, or US$ 1.06 per share in Q2 FY22, from a loss of US$ 32.28 million, or US$ 0.86 per share, in Q2 FY21.
During its latest quarter earnings release, the company said that it believes that its current cash and the remaining committed capital from the US$ 300 million term loan facility would be adequate in funding its planned operations into 2024. However, the anticipation is based on its current operating plans.
Bottom line:
The AXSM stock was priced at US$ 57.60 at 8:20 am ET on August 19, up 35.75 per cent from its previous closing price. During the last session, it closed at US$ 42.43, down by 1.62 per cent.
However, the investors should also focus on the fact that the news may have attracted several short-term investors to the stock, increasing its price.
Hence, it might go down the same way if the investors decide to sell their holdings without any positive catalysts in the coming days. So, investors must remain cautious before investing in stocks.