Highlights

Intensity Therapeutics is offering 2.1 million shares of its common stock in the IPO.


The expected price range for the IPO is US$6-US$8 per share.


Intensity Therapeutics has released a positive report for its lead proprietary investigational product candidate INT230-6.
Biotechnology company Intensity Therapeutics Inc. is expected to debut in the Nasdaq stock exchange on Friday. The company reduced the offering price by about 30% ahead of listing.
The Westport, Connecticut-based company plans to raise US$15 million from its offer of 2.1 million shares of its common stock at a price range of US$6 to US$8 per share. Earlier, the company planned to offer 1.5 million shares at a price range of US$9 to US$11 per share.
At the midpoint of the revised range, Intensity Therapeutics would raise the same amount of gross proceeds but would command a fully diluted market valuation of US$131 million, down 28% compared with the original midpoint.
Also Read: Top cryptocurrencies that led conversations on Reddit in 2021
The biotechnology firm, founded in 2012, aims to develop a new immune-based product to treat cancer tumors. It uses the DfuseRx technology to create new, proprietary drug formulations.
The company is offering an additional 321,428 shares of its common stock for the underwriter. The firm is expected to start trading on NASDAQ Capital Market under the ticker symbol "INTS". Notably, A.G.P is the sole bookrunner for the proposed offering.
Also Read: Polygon buys Mir Coin (MIR) for US$400 million – All you need to know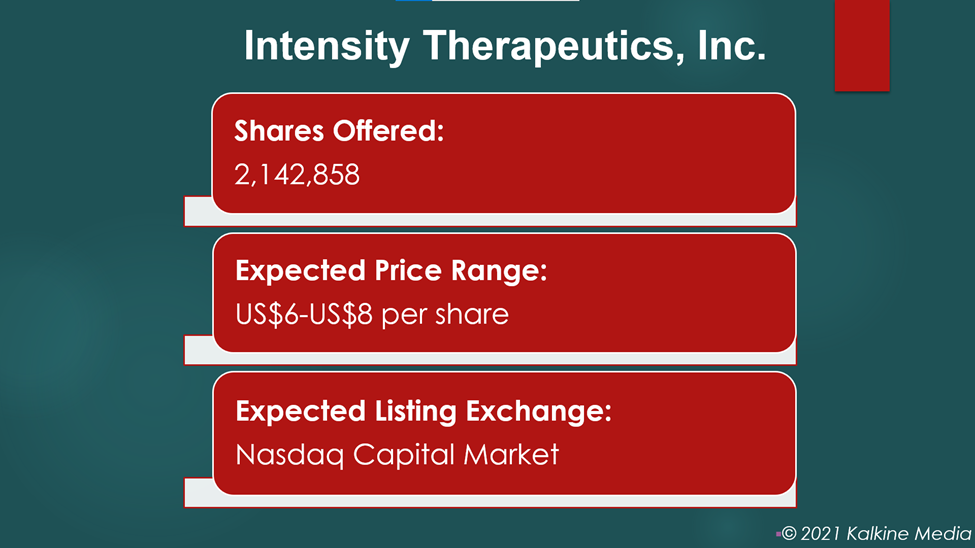 Also Read: Why Tecnoglass Inc. (TGLS) stock crashed on Thursday?
Positive Trial Data
Meanwhile, on Friday, the company reported the safety, pharmacokinetic, biomarker, and efficacy data utilizing INT230-6, with and without pembrolizumab, in heavily pretreated refractory breast cancer patients as part of its Phase 1 and Phase 2 study for IT-01. In this regard, it gave a virtual presentation at the San Antonio Breast Cancer Symposium, followed by an in-person conference at the Henry B. Gonzales Convention Center in San Antonio, Texas.
The INT230-6 is Intensity's lead proprietary investigational product candidate designed for direct intra-tumoral injection. It was discovered using the company's DfuseRx technology platform. The drug comprises two anticancer cytotoxic agents, cisplatin and vinblastine sulfate, and an amphiphilic penetration enhancer molecule (SHAO) that helps in dispersing the drugs throughout tumors for diffusion into cancer cells.
Also Read: Novi wallet starts crypto payment service on WhatsApp - How it works?
Intensity Therapeutics' Financial Highlights:
As of Dec 31, 2020, the company had cash and cash equivalents of US$9.31 million, compared to US$3.82 million as of Dec 31, 2019. It reported a loss from operations of US$6.22 million for the year ended on Dec 31, 2020, compared to US$5.67 million in the previous year. In 2020, it reported a net loss of US$6.03 million against a loss of US$5.37 million a year ago.
Also Read: Kickstarter builds blockchain-based crowdfunding platform. Here's why
Bottomline
A slew of healthcare companies debuted in the US market this year. Analysts expect continued growth of the sector next year driven by increased investments and innovations. However, investors should closely evaluate the market before spending on stocks.