Source:solarseven, Shutterstock
Summary

Moderna anticipates US$18.4 billion in sales from its COVID-19 vaccines in 2021.
Pfizer forecasts COVID-19 vaccine revenue in 2021 to hit US$15 billion.
Moderna's stock skyrocketed over 430 percent in 2020.
Moderna Inc. (NYSE:MRNA) and Pfizer Inc. (NYSE:PFE) are two major COVID-19 vaccine stocks to watch on the New York Stock Exchange this year.
Both U.S.-based companies have developed their vaccines to fight the coronavirus and secured emergency use authorization from the U.S. Food and Drug Administration.
The Moderna vaccine was found to be 94.1% effective in preventing COVID-19 illness while Pfizer's vaccine, which it developed together with partner BioNTech SE (NASDAQ: BNTX), was 95 percent effective.
Shares of Moderna and Pfizer have been in the limelight as these companies hold a huge share in the U.S. vaccine market. With several supply deals for the vaccine, both companies are anticipating a higher vaccine production this year.

Here, we explore how their stocks performed in 2020 while looking at their financials.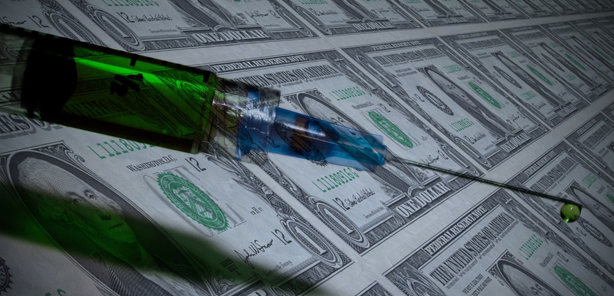 Source: Pixabay
Moderna
The U.S. Food and Drug Administration authorized the emergency use of Moderna's COVID-19 vaccine in December 2020. The company agreed to supply vaccines to several countries including Japan, Canada, the U.K., and the Republic of Korea.
The company projects US$18.4 billion in anticipated sales this year and has signed advance purchase agreements for scheduled delivery in 2021.
Moderna raised its 2021 manufacturing forecast to 700 million doses from 600 million doses and eyes 1.4 billion doses by 2022.
The Massachusetts-based Moderna, which now has a market capitalization of US$56 billion, saw its share price soar over 430 percent in 2020. Year-to-date, Moderna shares gained about 32 percent.

Source: Refinitiv, Moderna share price since January 2020.
Meanwhile, the company's total revenue during the year ended Dec. 31 rose to US$803.4 million from US$60.2 million as the grant revenue increased primarily due to an award from Biomedical Advanced Research and Development Authority to develop the COVID-19 vaccine.
Moderna reported a net loss of US$747.06 million for 2020, wider than US$514 million in 2019.
Pfizer
The FDA approved Emergency Use Authorization to Pfizer's COVID-19 vaccine developed together with its German research partner BioNTech in December.
The New York-based company expects its revenue from this vaccine to total US$15 billion in 2021. Pfizer is reportedly eyeing two billion doses this year and expects to supply 200 million doses to the U.S. by the end of May.
Shares Pfizer declined around one percent in 2020 and remains almost flat year to date.
Source: Refinitiv, Pfizer share price since January 2020.
In 2020, Pfizer's revenue grew 2 percent year-over-year to US$41.91 billion. Net income during the year ended Dec. 31 declined 41 percent year-over-year to US$9.6 billion.