Highlights:

The PRPL stock jumped more than 41 per cent in the morning trading on Monday.
The company received an acquisition offer on September 17.
Its trading volume was more than 20 million on Monday morning.
The stocks of Purple Innovation, Inc. (NASDAQ: PRPL) climbed higher in the morning trading session on Monday, September 19, after it announced receiving a "non-binding" acquisition offer on September 17. The price of the PRPL stock shot up more than 41 per cent in the morning session on September 19.
Before we take a closer look at the recent stock performance and other key factors of Purple Innovation, let's explore the acquisition offer.
What's in the acquisition offer?
Purple Innovation is a comfort solution firm specialising in designing and producing comfort products, including mattresses, pillows, cushions, and other related products. The company said on September 19 that it had received an "unsolicited, non-binding proposal" from Coliseum Capital Management, LLC on Saturday, September 17.
Under the proposed deal, Coliseum would purchase all the outstanding capital stock of Purple Innovation for US$ 4.35 apiece. However, the Lehi, Utah-based comfort solutions firm, said that it would "carefully" evaluate the acquisition deal before concluding any action that would be beneficial for both the company and its shareholders.
According to the SEC filing by Coliseum, the company expects that the proposed deal would value at about US$ 225.6 million for acquiring all the outstanding capital stocks of PRPL. Notably, Coliseum presently has a 45 per cent stake in the comfort solutions company.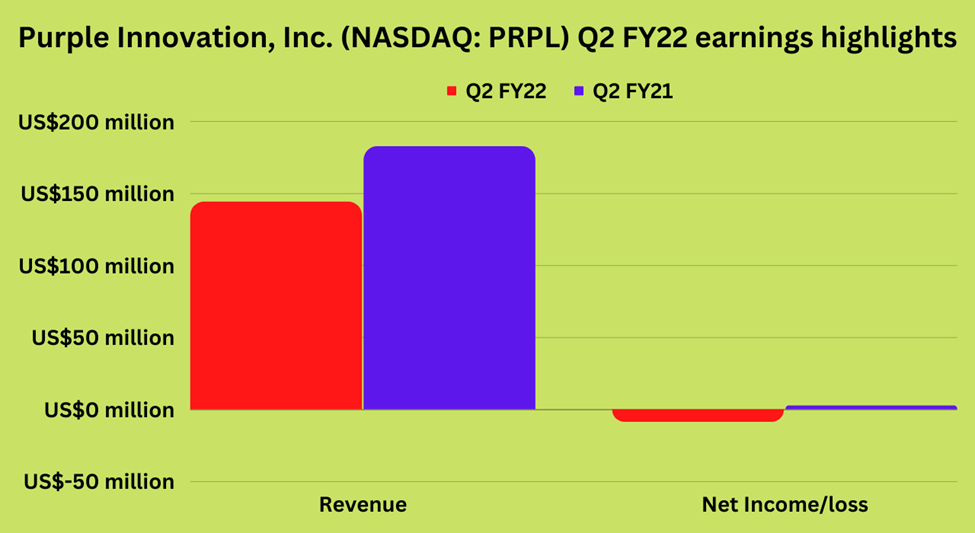 Source: ©Kalkine Media®; © Canva via Canva.com
Bottom line:
The price of the PRPL stock shot up 41.65 per cent at 9:58 am ET on Monday, September 19, to trade at US$ 3.952.
Purple Innovation's revenue decreased by 21.1 per cent YoY to US$ 144.1 million in Q2 FY22. Its wholesale revenue fell 5.9 per cent YoY, while its direct-to-consumer (DTC) revenue declined 29.8 per cent YoY in the latest quarter.
The Utah-based company also posted a net loss of US$ 8.3 million in Q2 FY22 versus an income of US$ 2.6 million in the year-ago period.
Purple Innovation expects its fiscal 2022 revenue to be between US$ 570 million and US$ 590 million, down from its previous guidance range of US$ 650 million to US$ 690 million.