Highlights:

Best Buy reported revenue of US$16.36 billion in Q4, FY22.
It increased its quarterly dividend by 26%.
Best Buy expects its revenue to be between US$53.5 billion and US$56.5 billion in fiscal 2025.
The stocks of Best Buy Co. (NYSE: BBY) have gained traction in the market after reporting its fourth-quarter fiscal 2022 earnings before the opening bell.
However, the company has provided a gloomy revenue forecast for the full year, after a dismal performance in the holiday quarter. Best Buy said that it faced challenges in the last quarter with shortages of appliances, mobile phones, and other products that were in high demand.
In addition to that, the company's profit was also hurt by the increase in transportation costs. The BBY stock was up over 8% in the pre-market session on Thursday.
Also Read: Top healthcare stocks: ABBV, UNH, LLY, PFE & DHR to explore in March
Why do the BBY stocks still surge in the pre-market?
The investors may have appreciated the company's robust long-term revenue guidance. Also, higher dividends and a new US$5 billion share buyback plan may have raised the sentiment.
The company expects its revenue to be between US$53.5 billion and US$56.5 billion in fiscal 2025, topping the average Wall Street estimates. It also raised its quarterly dividend by 26% to US$0.88 per share. The strong guidance for fiscal 2025 reflects the company's confidence.
Also Read: Explore OXY, MRO among five energy stocks with over 30% YTD return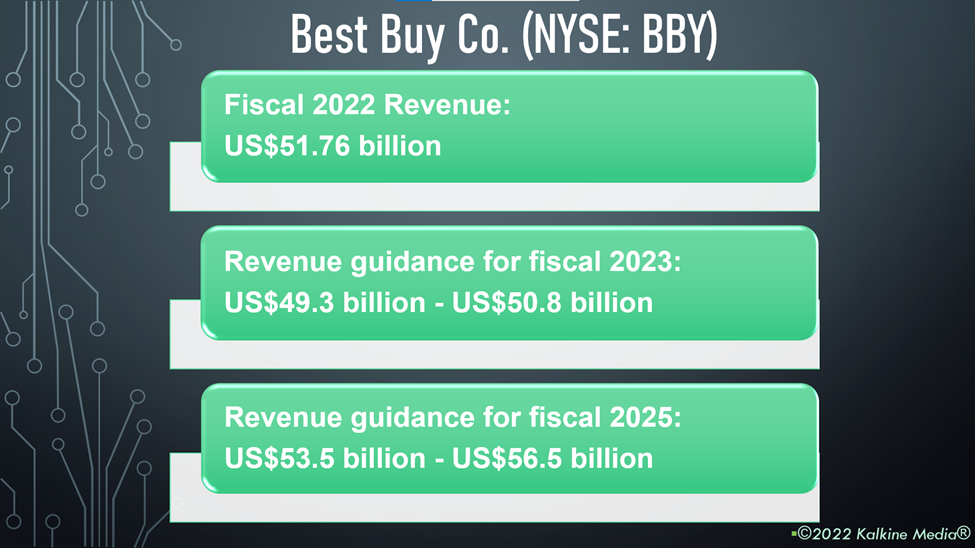 Fourth-quarter earnings highlights:
The company reported revenue of US$16.36 billion for the quarter that ended on January 29, 2022, compared to US$16.93 billion in the same quarter of the previous year. Its net earnings came in at US$626 million, against an income of US$816 million in the year-ago quarter.
For the full year, the company's net income was US$2.45 billion on revenue of US$51.76 billion.
Its comparable sales declined 2.3% fell short of Wall Street estimates.
Also Read: Why is UFC supporter Marshall Rogan (MRI) crypto rising?
It now expects its revenue to be between US$49.3 billion and US$50.8 billion in fiscal 2023, while its EPS to be in the range of US$8.85 and US$9.15.
Both its revenue and earnings per share metrics for FY23 fell short of analysts' forecast.
Also Read: Why is Origin Protocol (OGN) gaining attention?
Bottomline:
The company said that shortages of popular gadgets like Sony's PlayStation, Microsoft's Xbox, Apple's iPhones, iPads, in the holiday season dragged down its sales by more than US$6 billion.
Meanwhile, the BBY stock traded at US$109.00 at 8:22 am ET on March 3, up 8.09% from its previous close of US$100.84. It has a market cap of US$24.25 million, and its EPS is US$10.32.
Its stock value rose 0.47% over the past 12 months.
Also Read: What is MetisDAO (METIS) crypto? Know price and performance