Highlights:

The CHPT stock soared more than 14 per cent on Wednesday morning.
It posted a 93 per cent YoY jump in its latest quarter revenue.
ChargePoint reaffirmed its revenue guidance for the current year.
The stock of ChargePoint Holdings, Inc. (NYSE: CHPT) gained attention from investors on August 31, as witnessed by its soaring price. At the time of writing, its price was up over 14 per cent on Wednesday morning.
The CHPT stock gained traction a day after it reported its latest quarterly earnings. So how has it performed in the last quarter? Let's find out with Kalkine Media®.
Second quarter fiscal 2023 financial highlights:
The EV charging stations operator noted a significant year-over-year (YoY) gain in its latest quarterly revenue, which exceeded the top-end of its guidance for the quarter. ChargePoint's revenue soared 93 per cent YoY to US$ 108 million in Q2 FY23, from a revenue of US$ 56.1 million in Q2 FY22.
The company said it had crossed the US$ 100 million mark in revenue for the first time in Q2 FY23. However, its GAAP net loss deteriorated to US$ 92.7 million in Q2 FY23, against a loss of US$ 84.9 million in the preceding year's same period.
For the third quarter of fiscal 2023, the Campbell, California-based company now expects its revenue to be between US$ 125 million and US$ 135 million. The midpoint of the guidance shows a jump of 100 per cent from the year-ago quarter.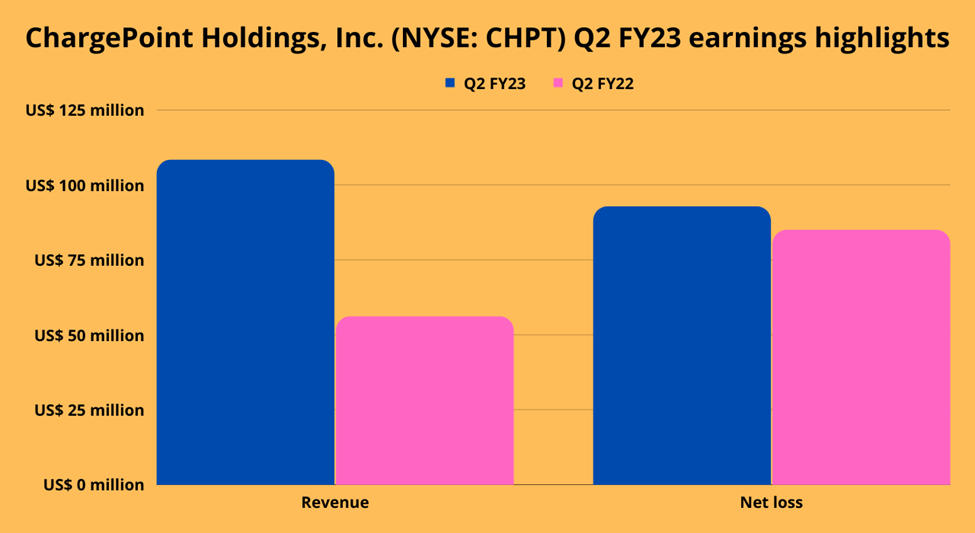 Source: ©Kalkine Media®; © Canva via Canva.com
Meanwhile, for fiscal 2023, ChargePoint reaffirmed its revenue to be in the range of US$ 450 million to US$ 500 million, representing a surge of 96 per cent YoY at the midpoint.
Bottom line
The CHPT stock soared 12.08 per cent at 10:58 am ET on August 31 to trade at US$ 16.24, while its trading volume was over 12.95 million.
The US$ 5.49 billion market cap firm had expected about 80 per cent YoY growth in its second quarter fiscal 2023 revenue. However, the EV charging firm has consistently topped its sales guidance in some recent quarters. In addition, the Inflation Reduction Act (IRA), which focuses on the development of the EV sector, may also have boosted the CHPT stock in recent days.