Summary

P&G's fiscal year 2021 net sales grew 7 percent while EPS rose 11 percent.
Colgate-Palmolive expects 2021 EPS growth at the lower end of its estimate.
P&G's stock rose 3 percent and Colgate-Palmolive's share fell 4 percent.
The Procter & Gamble Company (NYSE: PG) on July 30 reported better-than-expected fiscal year 2021 results, while Colgate-Palmolive Company (NYSE: CL) narrowed its outlook for the full-year 2021.
P&G's stock rose 3 percent on Friday's morning trade. Colgate-Palmolive's shares fell 4 percent.
Procter & Gamble
The Ohio-based consumer products company saw its net sales grow 7 percent year over year to US$76.1 billion during the fiscal year ended June 30. Both diluted EPS and non-GAAP core EPS rose 11 percent to US$5.50 and US$5.66, respectively.
Previously, the company estimated full-year sales to grow up to 6 percent. EPS was expected to increase up to 10 percent.
In the fourth quarter of fiscal 2021, P&G's net sales rose 7 percent to US$18.9 billion from US$17.7 billion in the year-ago quarter as sales in its healthcare, grooming and beauty segment grew in double digits.
Diluted EPS increased 6 percent year over year to US$1.13 from US$1.07, while adjusted core EPS declined 3 percent to US$1.13.
For the fiscal year 2022, P&G projects all-in sales and organic sales to grow between 2 percent and 4 percent year over year. Diluted EPS is forecasted to grow in the range of 6 percent to 9 percent, while core EPS is anticipated to increase between 3 percent and 6 percent
The outlook includes potential headwinds of around US$1.9 billion from higher commodity costs and freight costs.
P&G said it expects to pay dividends over US$8 billion and buy back shares worth between US$7 billion and US$9 billion in fiscal 2022.
READ MORE: Exxon Mobil, Chevron swing to profit in Q2 as global oil prices recover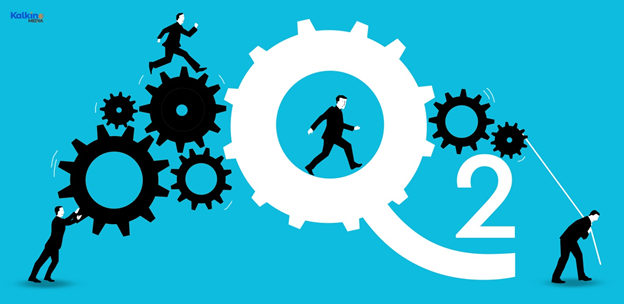 Copyright ©Kalkine Media 2021
Colgate-Palmolive
The New York-based consumer products company now expects its full-year 2021 EPS to grow at the lower end of its previous low to mid-single-digit forecast range. Non-GAAP EPS is projected to increase at the lower end of the earlier estimate range of mid to high-single-digit.
However, Colgate-Palmolive continues to expect its net sales to grow up to 7 percent. Organic growth is anticipated to be within the long-term expectation of between 3 percent and 5 percent.
In the second quarter ended June 30, net sales climbed 9.5 percent year over year to US$4.26 billion following volume growth and higher pricing. Organic sales 5 grew percent during the period. Earnings per share came in at 83 cents, up 12 percent. Non-GAAP base EPS rose 8 percent to 80 cents.
Colgate-Palmolive noted that it's a 39.3 percent market share in toothpaste and 30.8 percent in manual toothbrushes.
READ MORE: Amazon's Q2 profit surges as net sales surpass $100B for third time
Share performance
P&G' currently market cap totals US$350.9 billion and has a P/E ratio of 25.66. Its stock gained 3 percent year to date. During the last 52 weeks, the share price was between US$121.54 and US$146.92.
As of 11:16 am ET, P&G stock was trading at US$144.06, up 3.28 percent.
Colgate has a market capitalization of US$67.15 billion. It has a P/E ratio of 26.92. The stock lost almost 7 percent this year. Its share price was in the range of US$79.38 to US$81.06 in the last 52 weeks.
As of 11:17 am ET, Colgate stock was trading at US$80.09, down 4.11 percent.
READ MORE: Facebook doubles Q2 profit; PayPal's net profit declines 23%
Please note: The above constitutes a preliminary view, and any interest in stocks/cryptocurrencies should be evaluated further from an investment point of view.
The reference data in this article has been partly sourced from Refinitiv.