Summary

Home Depot, Inc. net sales rose 32.7% to US$37.5 billion in Q1 ended April 2021.
Earnings per share diluted rose to US$3.86 from US$2.08 in the same period a year ago.
The home improvement retailer saw robust growth during the pandemic.
The first-quarter net earnings of Home Depot, Inc. (NYSE: HD) rose to US$4.15 billion, or US$3.86 per share diluted, from US$2.25 billion, or US$2.08 earnings per share diluted, in the year-ago period.
The company's net sales rose 32.7% to US$37.5 billion, compared with US$28.26 billion in Q1 of 2020.
With a market capitalization of around US$342 billion, Home Depot has 2,298 retail stores across the U.S., Canada, Mexico, and Latin America at the end of April 2021.
Founded in 1978, the company is headquartered in Atlanta. Its recent collaboration with SkillsUSA for the National Signing Day has boosted its public perception.


Also Read: 2 Major M&As Today: IBM-Waeg & Performance Food-Core-Mark


Commenting on their partnership, SkillsUSA Executive Director Chelle Travis lauded Home Depot's critical role in the construction space. He said that it has been providing unfailing services to both its private and business clients.
The government had permitted Home Depot to keep its stores open during the pandemic, a key factor for its strong performance. Besides, the government's stimulus checks have helped boost sales.
The stock was trading at US$316.75, down 1.02% from the previous close, on Tuesday, May 18. Its average trading volume is around 3.6 million. The stock gained more than 20% year to date.


Also Read: Warren Buffett Buys Shares in Aon; Cuts Stake in Wells Fargo, Chevron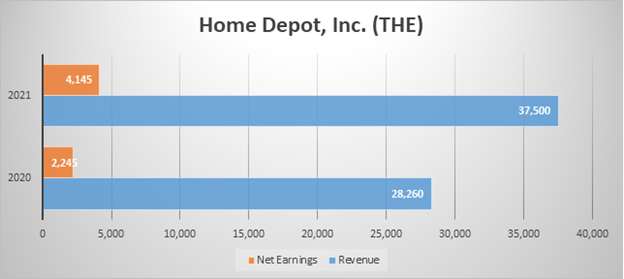 Copyright © 2021 Kalkine Media LLC.


Home Depot's customer transactions rose 19.3% to 447.2 million during the quarter, compared to the figures in the corresponding period of the previous year.
It had declared a dividend of US$6.60 for its shareholders in March. As the work-from-home trend gains ground and the offices lay empty, Home Depot sees an opportunity in it to serve and grow.
Also Read: Walmart's Revenue Up 2.7% On Pent-Up Demand, E-Commerce Boost